In the evenings over the course of each week, you'll have the opportunity to enjoy a top entertainer's performance, dance to a live band, participate in a night of bingo with an edge, hear an expert's thought-provoking lecture or a take in a nightly movie. Each week at the Ranch is different. Our Specialty Weeks are health and fitness programs held in addition to regular classes. Visiting instructors, including top writers, artists and leading thinkers, are dedicated to enriching your mind/body/spirit experience. In addition to our guest presenters, Ranch co-founder Deborah Szekely gives an inspiring evening talk each week (schedule permitting) followed by a question and answer period.
[wptabs mode="horizontal"][wptabtitle]Lectures/Presentations[/wptabtitle] [wptabcontent]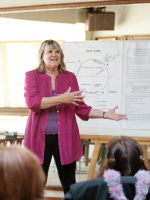 Each week, we invite noted guest speakers, talented performers and workshop leaders—authors, politicians, musicians, artists and other leaders in their fields—to present afternoon learning experiences and evening lectures. (See Events Calendar.). Our own staff members are experts in many fields and may also present exciting evening lectures. Recent topics, for example, include a travel narrative and slide show of a trek in Bhutan, a cross-country bicycle ride, and a climb to the summit of Mt. Kilimanjaro.[/wptabcontent]
[wptabtitle]Entertainment[/wptabtitle] [wptabcontent]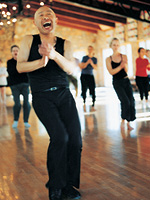 Evening entertainment at the Ranch includes guest-star performers, most often virtuoso musicians and singers. Broadway veterans, songwriters, dance troupes, and others present cabaret-like shows after dinner.
Yuichi, a movie- and musical choreographer and dancer, joins us each Friday to lead an afternoon Broadway dance class and a scorch-the-dance-floor party at the evening's farewell dinner. Our own Ranch Band performs every Friday night during dinner, after which we all push back the chairs and let loose.
Bingo! A hilarious event with a cult-like following, the evening is part stand-up comedy routine and part game, where everyone gives themselves permission to have fun and laugh at themselves and with one another.
Movies every night: DVDs of first-rate features chosen by our staff and long-time Ranch visitor Roger Ebert, shown on a giant screen television in the library lounge.
[/wptabcontent]
[/wptabs]