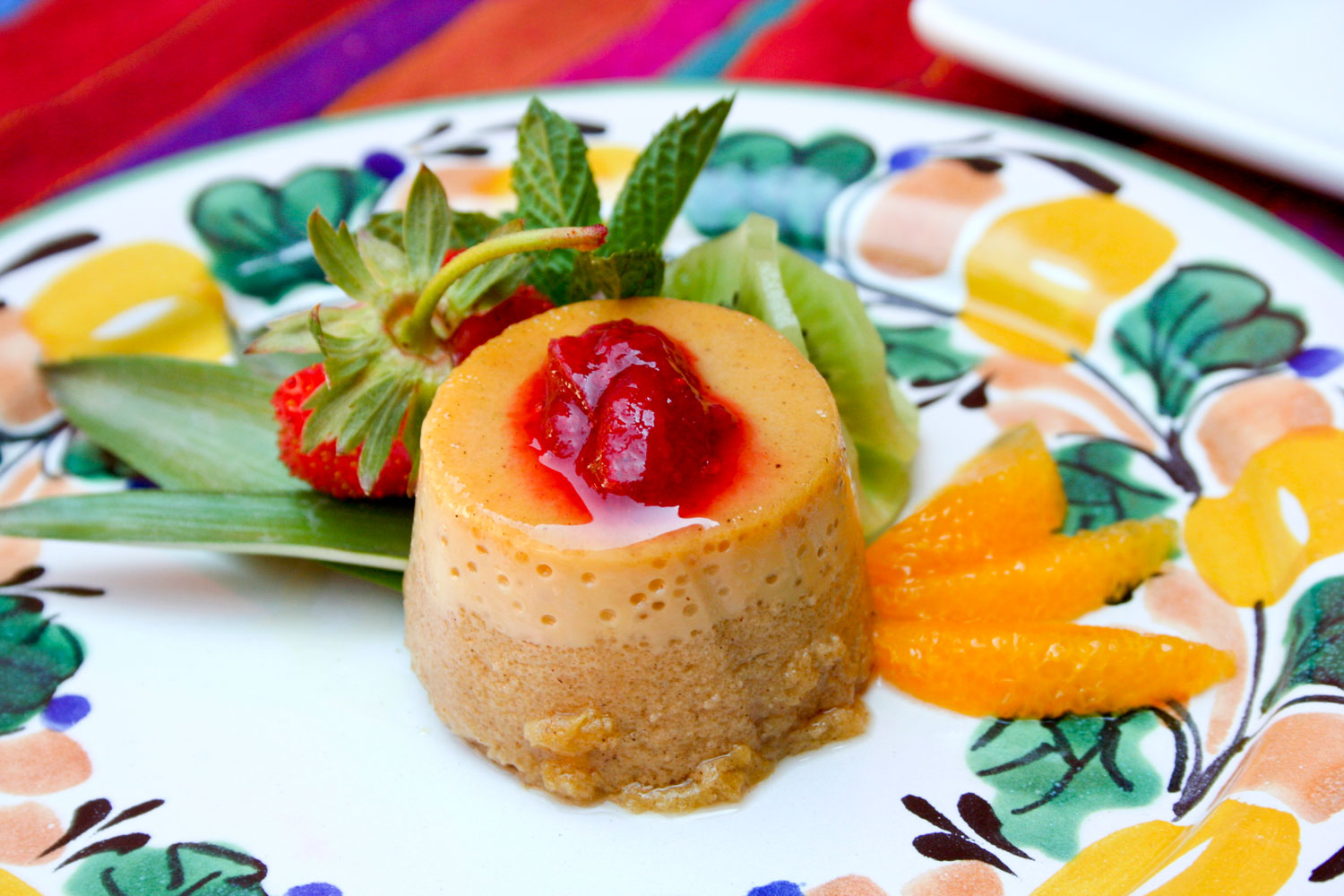 Traditional flan is creamy, rich, and heavy. This lightened version is based on naturally sweet butternut squash puree with a zing of orange in the syrup. Baked pureed yam may be substituted for the squash.
Serves 6
Ingredients:
⅓ cup plus ¼ cup packed light brown sugar
3 tablespoons fresh orange juice
3 cups milk
4 extra-large eggs
¾ cup cooked, pureed butternut squash
1 teaspoon ground cinnamon
1 teaspoon vanilla extract
Finely grated zest of 1 orange
Seasonal fruit
Directions:
1. Preheat the oven to 350 degrees F.
2. In a small saucepan, combine ⅓ cup of the brown sugar and the orange juice, and cook over low heat until the sugar is melted and bubbles form across the surface of the syrup, about 3 minutes.
3. Divide the syrup evenly among six 6-ounce ramekins.
4. In a medium saucepan, combine the milk and ¼ cup brown sugar. Heat over low to medium heat, stirring constantly, to dissolve the sugar. Set aside to cool.
5. In a bowl, whisk the eggs until frothy. Add the squash, cinnamon, vanilla, and orange zest. Stir in the cooled milk mixture. Strain the custard through a fine-mesh sieve to remove any traces of the squash fiber.
6. Divide the custard evenly among the ramekins, filling to within ¼-inch of the rim.
7. Place the ramekins in a rectangular baking pan with high sides and carefully pour 1 inch of boiling water into the pan. Cover with foil and bake on the middle rack of the oven for 30 minutes, or until the custards are no longer jiggly in the center and a toothpick inserted in the center comes out clean. Remove from the oven, take off the foil, and let the custards cool in the water bath. Once they are cool, remove from the pan, cover, and refrigerate for at least 3 hours.
8. To unmold, press gently around the edge of each flan to break the seal. Invert onto a dessert plate. If you prefer, the flan may be served right in the baking dish. Top with seasonal fruit.
Enjoy!