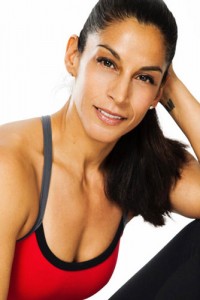 Patricia Moreno, a mind body coach and fitness expert with over 20 years of experience, recently taught her signature Sati Life workouts at The Ranch. Patricia is an incredible force; she has a vivacious and inspirational energy that lifts the vibration of any space she enters. Patricia has been twice-nominated Best Fitness Instructor by Allure magazine and made the "Ten Women Who Shape the World" list by Shape magazine.
Patricia's Sati Life classes are a combination of aerobics, martial arts, yoga, and strength training exercises. Her workouts go beyond the physical – positive verbal affirmations are linked to each movement. For example, students chant the mantras, "I love my life!" and "I will not complain," as they flow through their workouts.  The combination of powerful physical movements and inspirational messages help to manifest beneficial changes in the body, mind, and spirit.
I recently attended Patricia's danceSati class, which was one of the most moving dance classes that I have ever taken (pun intended). Kuchumaa gym was packed with guests who were all smiling ear to ear, and the energy was so positive that it was practically tangible.
Our class danced to Fight Song  by Rachel Platten, which is currently number #3 on iTunes top song list. Rachel Platten is Patricia's student in New York City, and Patricia choreographed all the moves to the song (you can see them on this video). As we danced we sang the lyrics, "This is my fight song… My power's turned on…Starting right now I'll be strong…" Once the class learned the choreography, Patricia divided the students into two groups.  She encouraged one group of students to dance and sing along with the song, and not judge themselves if they did not perform each move perfectly. She told them to dance as well as they could, and to let the music guide them without worrying about how they looked. Patricia then urged the other half of the class to watch the dancers and clap, cheer, and holler as loud as they could. It was a blast. After the first performance, the viewers switched places with the dancers. It was an incredible sight – everyone clearly had a great time.
Our dance workout was powerful. It connected our voices and movements with the beautiful message of Fight Song. Patricia's teachings are 100% aligned with the philosophy of The Ranch, as they promote a healthy body and mind connection.