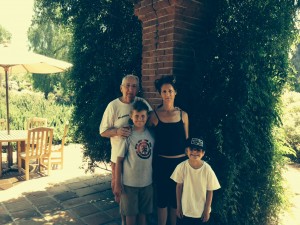 Recently we interviewed Roger Weaver, a member of Rancho La Puerta's board of directors who was the board's Chairman from 2003-2013. During our annual Family Week in 2014, his daughter and grandchildren took as much pleasure in The Ranch as Roger did when he was a child.
That's right: when he was a child! Roger's relationship with Rancho La Puerta goes all the way back to the 1940s when he was a "permanent resident" here. We like to think that his long and distinguished career in education might have been inspired by his early days at the Ranch (when afternoon lectures by Edmond Szekely were the norm)—although Roger was probably much more interested in the first swimming pool, which replaced a swimming hole in the river, and our thousands of acres of oak groves and mountainsides.
Today Roger is a consultant to non-profit organizations and leaders, sits on numerous boards, and is currently president of the Crossroads Community Outreach Foundation, which provides fully funded arts and academic programs to Title I public schools. With over 40 years of experience in independent schools, Roger served as Headmaster and CEO of Crossroads School for Arts and Sciences (K-12, 1150 students) for 16 years, completing his service in 2009.
We hope you enjoy this interview as much as we did—for Roger's experiences then and now form a unique bridge between past and present.
Kathryn B.: What is your family history with Rancho La Puerta?
Roger Weaver:  My family has been intimately involved with The Ranch for over 65 years.  My father, Purcell Weaver, had a relationship with Professor Edmund Szekely before The Ranch began.  He knew the Professor and Deborah when they were in Tahiti. He translated the majority of the Professor's written works from French to English.  My father spent a lot of time with the Professor and was involved with helping establish the center that the Professor founded in the United States before he moved everything to Mexico.  My dad spent time helping the Professor bring people with special interests in the Professor's work from Europe to the U.S., and then to Tecate.
My mother [Winifred] read the Professor's books, which were translated by Purcell Weaver, when she was in London.  She was so taken by what she read that she decided she wanted to join the Professor's center.  My mother wrote the Professor a letter, and he ultimately wrote back, "Yes come, there's a place for you here." She bought a one-way ticket and went to Mexico, to Rancho La Puerta, with me.  I was three and a half at the time.  And my mother became the Professor's secretary for a number of years.  Then Purcell Weaver, who cycled through Tecate on a regular basis, met my mother. They fell in love, got married, and Purcell adopted me.  My parents celebrated their 50th wedding anniversary at The Ranch.
I moved to The Ranch at age three and a half.  It's not entirely clear to me how long I lived there –  I think five to seven years. At that time, The Ranch didn't have any plumbing or electricity.  I remember watching the first generator get put in.  I remember the first swimming pool being dug. That was about the most exciting thing to happen in my life – just imagine a little kid seeing that!  I had an idyllic life at The Ranch.  And then when Purcell and Winifred got married, they decided to try to live in the U.S.  According to my mom, they were significantly concerned about the educational opportunities for me at that point.  There were immigration quotas at the time so we had to wait.  So we moved to Canada for a couple of years and ultimately came to California.  But we retained our connection with The Ranch and visited it regularly over the years.
Fast forward to around 2002, when Deborah formed a board of directors at The Ranch.  I was enjoying a career as a teacher and educational leader in pre-collegiate education, with a particular interest in how the creative, expressive and imaginative lives of kids are recognized (or not) in the educational process. I guess Deborah had followed the fact that I had several leadership positions both as a practitioner and as a board member in numerous organizations, and she asked me to chair the Rancho La Puerta Board, which I was honored to do for the ten years.  Then a year and a half or so ago, I stepped down as chair, but I still remain actively involved on the board.
This year I brought my younger daughter and my two grandsons and their dad down to The Ranch for Family Week.  I was able to watch them enjoy The Ranch and see them running around at an age that I had been running around The Ranch, only 55 years later.  It's a wonderful experience to see fourth generation Ranch guests!
KB: Was it their first time at The Ranch?
RW:  It was the first time my grandsons were old enough to participate in Family Week.  They absolutely loved it.  I love the feeling of all that youthful light on the property, which is a different kind of energy from a regular week at The Ranch.  And regular weeks at The Ranch are great, they're very enjoyable and relaxing, but I love the contrast.  I like kid energy.
KB: Yes, it almost comes alive in a different way.
RW: Exactly.  I thought that Family Week was extremely well done and maintained a balance between being appropriately kid centered and still having the classic Ranch feel to it.  It didn't just go over into being a kid's camp, but was done in way so the kids got a sense of what The Ranch was about.  Even my nine-year-old grandson exclaimed over dinner one evening, "Wow, spa portions are different than portions at restaurants at home."  Yes, he used that phrase!
KB: How would you describe Family Week to a family that's looking for a different sort of experience with their kids?
RW:  There's plenty of activity for kids, and there is also time for parents and kids to be together in an environment where they're not being bombarded by television, popular culture, and social media.  It's a vacation from all of that.
It's a family experience in a setting where there are opportunities for kids to experience some cultural and lifestyle differences in a context that is safe and enjoyable, fun, and different. It has a rich offering for parents who are interested in cultural diversity, diet, exercise, and a healthy lifestyle. It teaches children about health and wellness in subtle, but interesting ways that even the youngest kids notice.
I think that the real significant opportunity that The Ranch Family Week represents for families is that whole shift in orientation.  It shifts them out of traditional connectivity to media and television and frenetic popular culture to much more balanced views of activities, food, communication, and community. I think that is a very important but rare experience for a young family.
KB: I find your history with The Ranch fascinating and I think our readers will too.  I don't know of anyone else besides Sarah Livia and Alex Szekely who grew up here in the way that you did. I appreciate you taking the time to share your experiences.
RW: It was my pleasure.
Family Week August 1-8, 2015
Now entering its fourth year, Family Week gives you the best of both vacation worlds:
Kids-only camp program that runs from 9 a.m. to noon and 2 p.m. to 5 p.m. each day.
Drop-in daily classes for children and teens only.
Family Time options every hour so if you like to take a class with your child, you can!
PLUS OUR FULL ADULT PROGRAM