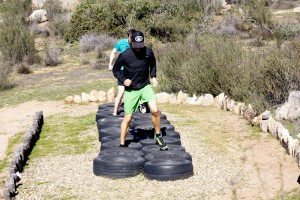 Summer is here and there's no better time to step up your game in fitness and health. Here at Rancho La Puerta we provide an overall mind, body and spirit program that appeals to all, but fear not: If you really want a very challenging workout during your week, we have just the ticket!
However if you're looking for a week specializing in hardcore, more intense workouts, The Ranch has ample classes and activities to keep you training throughout the week.  Whether you're into weight lifting or running marathons, we have you covered.  So join us down in beautiful Baja California to get #RanchFit!
Circuit Training  This fast-paced class begins with a 15-minute cardio segment that is followed by a vigorous balance/strength/coordination workout around a multi-station circuit. Circuit Training is a fun way to target strength building and muscular endurance without having to follow a routine or stay on a beat.
Core Challenge  Our Core Challenge Class is a 30-minute core workout that targets, strengthens, and defines the mid-section muscles; four abdominal muscle groups along with supporting back muscles. The approach this class takes is integration, rather than isolation. Many men may experience lower back pain and often this can be attributed to weak core muscles.
Trail Running and Parkour Course Rancho La Puerta offers a variety of hikes and activities, ranging from beginner level to very challenging. Two of The Ranch's most challenging adventure programs include the Road Runner Trail Run, a 5-mile lowland trail which weaves through the meadows and is usual taken at a running pace, as well as the Seven-Mile Mountain Breakfast Hike. This strenuous 3 1/2 hour trek takes hikers 7 miles over steep, rugged mountain terrain, though allows for a scenic breakfast stop midway. In addition, there is a parkour fitness course and ropes course that guests can use freely on their own time, once they have first experienced it with a group or a Ranch staff member.
Kettle Bells  A unique training tool for building deep down strength. Think of a cannon ball with a handle. Kettle bells will challenge your arms, legs, and core to the max. (Level 2)
*Not suggested for those with shoulder, back or knee conditions.
Weight Training  Our solid strength training routine in our fully equipped weight room will increase strength, bone density, boost metabolism, and help to improve posture. Muscle tissue is active tissue so the benefits lasts beyond the time spent training.
Yoga: Level 2  Our instructors bring a wide range of teaching styles including Iyengar, Ashtanga and Vinyasa and will include various combinations of sun salutations, inversions, back-bends, twists, pranayama, and yogic philosophy. This invigorating and creative practice enhances strength and improves flexibility.
The Ranch offers a variety of workshops, presentations, entertainment, and learning experiences to accommodate all of our guest's requests and interests.
Interested in learning more about achieving a marvelous balance of mind, body and spirit?  Join us for a week at our 3,000-acre health and fitness resort in Tecate, Baja California, Mexico—about an hour's drive from San Diego, all with transportation provided. Make your reservation or request more information by calling 800-443-7565, or use our convenient online reservation form by clicking below.