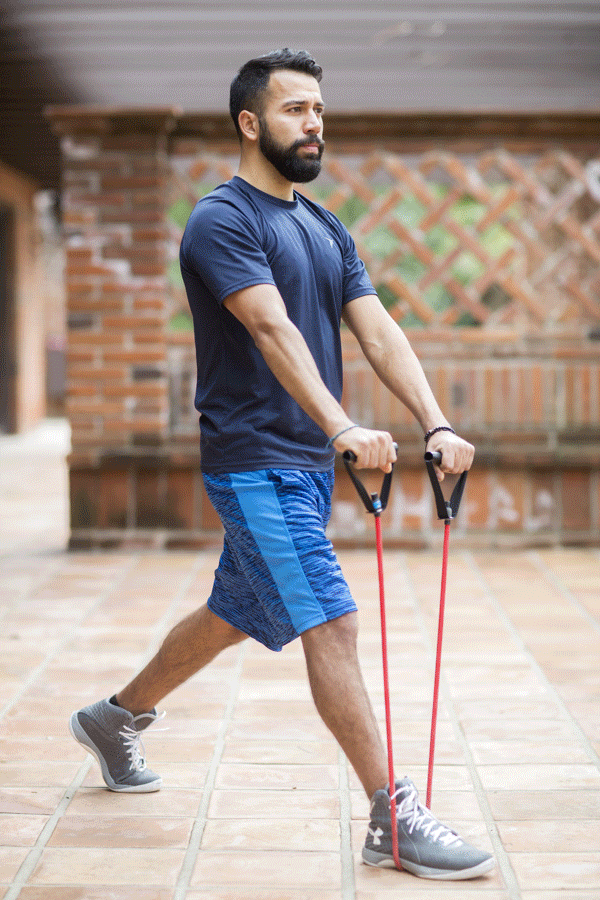 With over 50 fitness classes and lectures offered at Rancho La Puerta each day, it's sometimes tough to pick a workout since they all look like a healthy challenge. Sculpt and Strengthen was just what my body needed!
In the 45 minutes class, I did tube resistance repetitions, a few squats and lunges, and crunches. It was a great cardio and full body workout that fitness instructor Alejandro (pictured above) turned into an energizing, fun, and sweaty time.
Instead of using traditional weights we used resistance tubes, which are thin and stretchy rubber bands with handles that provide tension on the upswing and downward motion. They're at maximum resistance at the peak of a movement, so your muscles don't rest at the top of a curl like they would with weights. Typical workout routines like lunges, squats and curls were enhanced and more rewarding through the resistance of these tubes.
We also used a small, soft, and inflated exercise ball for back support during crunches. The ball relieved some of the stress on my spine but still allowed me to engage my abdominal muscles. It was also a great relief as I put it under my lower back and laid down on it for a fantastic stretch afterwards.
When the workout was over, I headed to the steam room at the Men's Health Center for detoxing and relaxing.
You can learn more about the Sculpt and Strengthen class and other fitness classes here: rancholapuerta.com/strength-and-core