Please come and enjoy a combined exploration of ground-based movement practice and functional strength training, centered on using fundamental movement patterns to generate stability and skill from the ground up. Tools used will be your own body, TRX straps, and weights.
M/W/F @ 10am in Tolteca Gym
S/T/Th @ 3pm in Tolteca Gym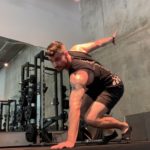 Ridge is a Seattle-based strength and movement coach who has worked extensively with both clinical and performance populations. He believes everyone can and should benefit from physical culture, and that safety and performance are interlinked and vital to one another.