Day 1
Jump-Start Your Skin Rejuvenation at the Ranch and Look Younger Today!
Why You Need a Facial
Organic Skincare Products at the Ranch – Effective Products can be Clean & Safe!
Botox & Fillers – Look Lovely, Not Overdone!
Day 2
Teitsa's Favorite Techniques for Smoother, Younger Skin
Exfoliate Like You Mean It!
Acids & Retinols – Potent Anti-Aging Products for Great Results
Organic Sun Protection Is a Must – Don't Leave Home Without It!
Day 3
Teitsa's Skin Cocktail Recipe for Radiant Skin – Everyday!
Try Teitsa's Eye Cocktail Recipe to Rejuvenate Your Eye Skin
Tinted Sun Protection – Set your SPF to Last for Hours
Try Soft Bronzing Powders for Blush:  You Never Looked So Fresh!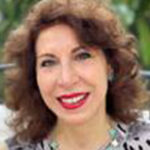 Teitsa Mann's passion for skincare products and treatments developed early, when she realized how easily her own skin scarred. Certain that she could never have surgery, she proceeded to become an Aesthetician, mainly to ensure that her own skin would age well. She was licensed in California over 40 years ago, and she performed Facial Treatments in her salon in San Francisco. Later, she worked for Chanel Beauty, La Prairie, Erno Laszlo, and Lancôme, to name a few. Teitsa loves sharing her product and treatment favorites with women all over the country, and her all-day, skincare masterclass, Get Ready to Look 5 Years Younger, has benefited charities and private groups. This year, Teitsa released the 6th edition of her book of the same name, and it features all her best skincare product, facial treatment, and makeup recommendations.