Children: The 3rd Annual Great Guacamole Throwdown
Tweens: The 3rd Annual Great Guacamole Throwdown
Think you have what it takes to make authentic Mexican guacamole?  Learn what makes a great bowl of guac and compete against your fellow Ranchers to create your signature version of this beloved dish.  You and your teammate(s) will choose from a variety of fresh ingredient options and use a traditional molcajete and tejolote (Mexican mortar and pestle) to craft your delicious creation!  Our panel of three expert judges will taste all of the creations and award prizes for the best-of across several categories.
Teens: RLP Cake Boss Challenge: Quinceañera Fruit "Cakes"
The quinceañera is a time-honored Mexican tradition that celebrates a girl's 15thbirthday, similar to an American "Sweet 16."  No celebration is complete without a showstopper of a multi-tiered decorative cake. In this healthy competition, you and your teammates will compete to create the most beautiful, elaborate "cake"—made entirely of fresh local fruits carved into creative, decorative, Instagram-worthy imposter cakes.  Our panel of expert judges will be on hand to demonstrate fruit carving techniques if needed and to crown one fresh fruit cake the winner. All the gorgeous creations will be devoured by RLP campers for their snack!
Adults and Teens: Weight Stigma and Your Wellbeing
Weight stigma is the experience of perceiving negative attitudes from others as the result of your weight. The experience of feeling stigmatized because of body size has been associated with both physical and mental health risks. In this session we will address some common myths about weight and health; learn about weight stigma in the medical field and how it can affect your care; explore the impact of weight stigma on children and teens; examine the role of culture and social media in perpetuating internalized weight stigma; meet the Health at Every Size (HAES) movement; and learn practical things you can do to change the culture and conversation around body size within your own family to safeguard yourself and your children from the impacts of weight stigma.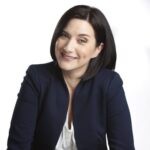 Tamara Duker Freuman, MS, RD, CDN, is a New York-based registered dietitian, author and America's Trusted Digestive Nutrition Expert. A nationally-known authority on digestive health and medical nutrition therapy for gastrointestinal diseases, Tamara is a member of New York Gastroenterology Associates. She holds a Master of Science degree in Clinical Nutrition from New York University and completed her training at Mount Sinai Medical Center. Tamara is the author of the acclaimed books, The Bloated Belly Whisperer (2018) and Regular (2023), and serves on the Medical Advisory Board for US News, for whom she has also written hundreds of articles on digestive health and nutrition.