Join Life Coach, Lisa Lewtan, on an experiential journey into our inner world where we focus less on information and more on transformation. Learn how to generate your inner resources, cultivate tools to foster growth, and trust your inner wisdom. Leave with easy-to-use take-home tools to integrate into your daily life.
In five sessions:
1. Ditch Your Inner Critic B**CH
2. Intro Tapping (EFT)
3. Intro to Breathwork
4. More Tapping (EFT)
5. Your Body knows the Answer
Ditch Your Inner Critic B**CH
Do you know that voice in your head that tells you that you are not good enough? That inner critic b**ch loves to remind us of all our shortcomings and insecurities. In today's session, we will start understanding where she came from and practice both inviting her in for a cup of tea and telling her to pack her bags and leave town!
Intro Tapping (EFT) – It may just change your life
Emotional Freedom Techniques, or EFT (often known as Tapping), is a healing tool that can help with physical, emotional, and performance issues. Come find out why it is so popular!
Intro to Breathwork
Breathwork is a quick and easy practice that can be incorporated in your daily routine to reduce stress and lower anxiety. Come learn some simple breathing techniques guaranteed to relax you within minutes!
More Tapping (EFT)
In case you missed it the other day, Emotional Freedom Techniques, known as Tapping, is an amazing healing tool that can help with physical, emotional, and performance issues. Fine for first timers or those who already attended the other day and want to learn more!
Your Body knows the Answer
So often we get stuck in our heads when making decisions and not realizing that our body has untapped wisdom. Come learn how to listen to and start trusting the wisdom of your own body to see what it is trying to tell you ao you can make positive choices and ease the decision-making process.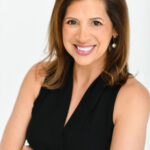 Lisa Lewtan is a Health & Lifestyle Coach, the founder of Healthy, Happy, and Hip, an award-winning author of "Busy, Stressed, and Food Obsessed!", and a podcast host on The Healthy View. After co-founding a successful tech startup, Lisa collapsed from years of stress overload. Using the skills she developed as an entrepreneur, she self-hacked her own mind and body to restore her health go on to feel better than ever. With private coaching, online courses, workshops, and retreats, Lisa helps highly successful hungry go-getters to slow down, chill-out, develop a better relationship with food and stress, reframe negative self-talk, investigate habits and triggers, and set strategies for success.
Lisa's has been featured in numerous publications including The Boston Globe, The Huffington Post, MindBodyGreen, and Better After 50, and has been a speaker at companies such as Kripalu, Canyon Ranch, WGBH, and Google.