For decades there has been an epidemic rise in the number of people suffering from common musculoskeletal imbalances that are not caused by an injury. These imbalances are caused by other factors, such as movement dysfunction, activity choices, prolonged static postures, footwear choices, surgeries and sedentary lifestyles. Many with common musculoskeletal imbalances do not need physical therapy, whereby corrective exercise is evolving to fill the gap in care. The use of musculoskeletal assessments, self-myofascial release, restorative stretching, and corrective strengthening exercises in health and fitness settings is fast becoming commonplace to help remedy and relieve muscle & joint discomfort and pain.
As a Corrective Exercise Specialist Laura's skill set is focused on addressing the body as a whole and identifying underlying causes of chronic pain not just the symptoms and help prevent the body from breaking down in the future. A sequenced method of structural assessments, myofascial release techniques, stretching, body centering and corrective exercises are applied. The benefits of this training can result in not only the elimination of pain, but lead to a reduction in stress and improvement in active performance and functional daily living.
Beginning on Sunday and throughout the week each class will incorporate movement and usable information. We will focus on different zones of the body using several of the techniques mentioned above in order to give participants more structural awareness, pain alleviating "hacks", and corrective exercises to be able to easily replicate at home. Friday's class will wrap everything up, ending your week with an energized feeling, full of vitality – moving more functionally and feeling GREAT!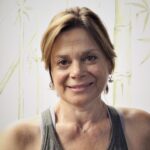 Laura Gideon M.S. CPT, CES is a Clinical Exercise Physiologist, Certified Corrective Exercise Specialist, Certified Pilates Practitioner, and Workshop Presenter. She has been involved in the fitness/health/wellness industry since 1981 and is a Two Time Corrective Exercise Specialist of the Year Top Finalist from The Biomechanics Method global certifying organization. Her signature "Myofascial Roll, Release & Mobilize classes" are geared toward "Hands-off self-treatment" to help clients eliminate pain, stiffness, and discomfort and help create more postural alignment awareness and body sense helping correct compensatory movement patterns. A great "adjunct" therapy to any exercise regime and functional daily movement activity. Laura enjoys educating her clients/students "beyond training" by teaching students "self-care" methods and how to advance performance in an injury-free setting.