Beethoven's Magnificent Late Sonata Opus 106 (the "Hammerklavier")
One of Beethoven's most innovative, challenging, and deeply moving works, performed by Aleck Karis.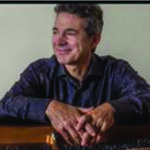 Aleck Karis has performed recitals, chamber music, and concertos across the Americas, Europe, Japan, and China.  As the pianist of the new music ensemble Speculum Musicae he has participated in over a hundred premieres and performed at major American and European festivals.  His appearances with orchestra have ranged from concertos by Mozart, Beethoven and Chopin to those of Stravinsky, Messiaen and Carter.  His seven solo discs on Bridge Records are: Chopin/Carter/Schumann, Mozart, Stravinsky, Cage, Feldman/Webern/Wolpe, Poulenc, and most recently, Debussy.  His two discs on Roméo Records are Music of Philip Glass and Late Chopin.  A Distinguished Professor of music at the UCSD, he has studied at the Manhattan School and Juilliard, and his teachers include William Daghlian, Artur Balsam and Beveridge Webster.