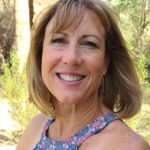 Nancy Meyer is a long-time tennis player, as a Certified Teaching Professional (USPTA). Her expertise in racquet sports started young, playing tennis and badminton in college, which turned into teaching and coaching youth across the valley in Phoenix, AZ.
Nancy came to the sport of Pickleball five years ago and her passion and enthusiasm for the sport is boundless. She is a Certified Pickleball Professional with the International Pickleball Teaching Professional Association (IPTPA) since 2019 and recently completed her Professional Pickleball Instructor (PPR) certification in 2021.
Nancy keeps herself involved in Pickleball by competing in tournaments and as Head Pickleball Instructor at an esteemed tennis and pickleball facility in the Phoenix area. Her talent for the sport and ability to connect with people makes for a fun and memorable experience.