Pilates Mat: Fundamentals Level 1 (Progressive)
Sunday – Friday, 9 AM
Am introductory progressive class is for those who have never experienced the benefits of this core strengthening, posture aligning methodology. Clear, concise and simplified for those who are a novice or need a brush up of the fundamental basics.
Pilates Mat: Level 2 (Intermediate)
Sunday – Friday 10:00am
A moderately quicker paced Pilates mat class for those individuals who regularly practice Pilates mat at home. Many classic exercises with a twist, occasional use of props, and moving at a slightly faster pace – this Pilates class will leave you invigorated, stretched, and strengthened!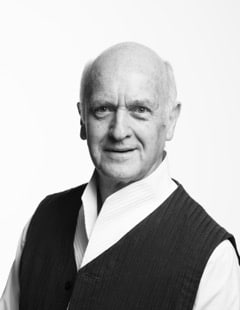 Alan Herdman studied at the London School of Contemporary Dance and was working as a teacher and dancer when, in the late 1960s, he was invited to New York to learn about the Joseph Pilates Method. There he worked intensively with Carola Trier and Bob Fitzgerald, two instructors who had been trained by Pilates himself.
Although well-regarded amongst New York's dance fraternity, Pilates was unknown in the UK at that time and Alan returned in 1970 to set up Britain's first-ever Pilates studio.