Pilates Mat: Fundamentals (Progressive)
Sunday – Friday, 9 AM
Am introductory progressive class is for those who have never experienced the benefits of this core strengthening, posture aligning methodology. Clear, concise and simplified for those who are a novice or need a brush up of the fundamental basics.
Pilates Mat: Level 2.
Sunday – Friday 10:00am (not progressive)
A moderately quicker-paced Pilates mat class for those individuals who regularly practice Pilates mat at home. Many classic exercises with a twist, occasional use of props, and moving at a slightly faster pace – this Pilates class will leave you invigorated, stretched, and strengthened!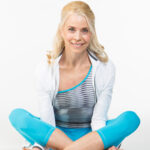 Elizabeth Larkam authored the book Fascia in Motion: Fascia-focused movement for Pilates (Handspring, September 2017) and the Pilates chapter for the book Fascia in Sport and Movement (Handspring, 2015, second edition 2021). She is co-editor of the book in preparation, Pilates Applications for Health Conditions: Programs and Perspectives (Handspring, 2023). As a Dancemedicine Pilates Specialist at Saint Francis Memorial Hospital, 1985-2000, Elizabeth developed Pilates programs for orthopedic, spine and chronic pain diagnoses. As Director of Pilates & Beyond for Western Athletic Clubs, she helped create the internationally acclaimed Mind & Body Center at The San Francisco Bay Club. Elizabeth is a  National Certified Pilates Teacher, Feldenkrais® practitioner and a Gyrotonic® and Gyrokinesis® instructor qualified in specialized equipment. She filmed 50 programs for PilatesAnytime.com and ten for fusionpilatesedu.com. Elizabeth participated in eight dissection lab courses and the Fascial Net Plastination Project sponsored by the Fascia Research Society at the Plastinarium in Guben, Germany. She hosts the webinars 'Moved to Learn!'  produced by Handspring Publishing.