Over the course of the week, Taly will introduce participants to the joyful and effective practice of Qigong through a form known as the "The Nine Phases." Leading you through a series of gentle yet potent exercises, she will help you tap into the power of Qi, unlocking the body's capacity for self-healing and rejuvenation. Along with teaching the form, she will present the philosophy and science behind Qi and Qigong, including western medical evidence now validating what has long been understood in the East about the gift of Qigong.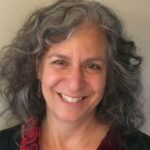 Taly Rutenberg, Lcsw, is a psychotherapist and longtime practitioner and teacher of Qigong, an ancient self-healing practice she is honored to share with guests at the Ranch. She is a certified Qigong teacher, having studied with renowned masters from California, New Zealand and the sacred mountains of China, where Qigong was born.
Taly lives in Berkeley, California, with her husband, storyteller/author Joel ben Izzy, a long-time presenter at the Ranch. When not seeing patients and teaching Qigong, she enjoys hiking in the hills, reading, cooking, sewing, and spending time with family and friends.
"Rancho La Puerta is a magical and sacred place, rich in healing and inspiring Qi that has been cultivated through many years of engagement in heartfelt practices and in building Ranch community. It is the perfect setting to nourish body, mind and spirit through Qigong".  – Taly Rutenberg