A Sondheim Legacy
A presentation of the musicals of Stephen Sondheim presented by "A Little Night Music" conductor, Steven Gross.  He'll be joined by violinist Monique Mead to perform beloved songs from legendary Sondheim musicals.
Songs My Mother Taught Me
Music inspired by mother, homeland, and planet earth, featuring music by Bach, Vivaldi, DeFalla, and Bernstein performed by Monique Mead, violin and Steven Gross, piano.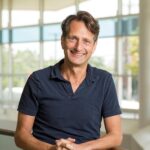 Steven Gross has worked on Broadway and the West End as a music director, conductor, pianist, and vacation conductor on such shows as Phantom of the Opera, The Life, Urinetown, The 25th Annual Putnam County Spelling Bee, Chicago, Miss Saigon, The Wedding Singer, Saturday Night Fever and Dreamgirls and on the New York City Opera productions of A Little Night Music, Sweeney Todd, The Most Happy Fella and Candide. He is a Lortel Award nominee for Best Musical for his adaption of The Pirates of Penzance at the South Street Seaport. He has also worked in many of the major regional American theaters and was principal conductor of Berlin's Theater Des Westens and led the European premieres of many American musicals.
Steven has collaborated on new musicals with Award-winning creators including Benny Andersson & Bjorn Ulvaeus, Cy Coleman, David Friedman, Greg Kotis and Mark Hollmann, Marcy Heissler & Zina Goldrich & David Malloy. He also works as an orchestrator and arranger for many symphony orchestras, television, radio, video and on-line stations. As an opera conductor Steven has worked with such companies as the Hamburg Staatsoper, Berlin Staatsoper, Zurich Opera, Opera Marseilles, Tel Aviv Opera, Opera Factory London, Opera Factory Zurich, Danish National Opera, Lisbon Opera and the New York City Opera. He has been assistant conductor to Michael Gielen and Daniel Barenboim and has premiered new operas by composers such as Chandler Carter, Laura Kaminsky, Brett Macias, Aribert Reimann, Daniel Schnyder & Nancy Van Der Velte. He has also appeared with many national and international symphony orchestras and festivals including the Sao Paolo Orchestra, Czech Radio Orchestra, West German Radio Orchestra, Capetown Festival Orchestra, and the Cincinnati and New Haven Pops Orchestras. Steven holds a Doctor of Musical Arts in Conducting from Yale University and is a Fulbright and Rotary Scholar. He is currently an Associate Professor of Theater at Temple University where he heads the newly created MFA in Musical Theater Collaboration program and is an active lecturer and clinician worldwide.
Steven is also Founder & CEO of MusicalTheaterSongs.com, an 11,000+ song data base dedicated to all thing's musical theater. Check out http://www.musicaltheatersongs.com/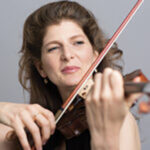 A passionate ambassador of classical music, violinist Monique Mead enjoys a rich career as a performer, educator, and innovator. Working internationally with ensembles such as the Pittsburgh Symphony, San Diego Symphony, Cologne Philharmonic, Munich Radio Orchestra, Düsseldorf Symphony, Berlin Radio Orchestra, and the RIAS Chamber Choir, her innovative programs have raised new audiences for classical music and deepened the experience for seasoned concertgoers. In addition to her performing career, Monique currently serves as currently serves as Director of Music Entrepreneurship at Carnegie Mellon University and Artistic Director of the Rancho La Puerta Chamber Music Festival. As an advocate for the healing power of music, Monique has spearheaded initiatives surrounding music for mental health, such as "Beethoven in the Face of Adversity," in which she performed the Beethoven Violin Concerto 50 times in 250 days for people suffering from various adversities. In response to the current mental health crisis, Monique now partners with Pittsburgh's Awareness & Wellness Center, where she offers trauma-informed sound healing classes.