Partners in music and life, vocalist Clairdee and pianist Ken French share a mutual passion for life and music making, alternating between touring, recording, and as music professors at the San Francisco Conservatory of Music.
Over 24 years together, the husband-and-wife's performances are a harmonious blend of intimacy, emotional subtlety, and joy in a repertoire embracing jazz standards, pop, blues, and original compositions.
The couple's discography includes five highly regarded albums on their Declare Music label. The most recent album, "A Love Letter to Lena" (inspired by Lena Horne, the legendary singer, actor, activist), garnered wide-spread international press and recognized in three categories in the 2020 Grammy® first round nominations.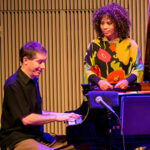 "A whole lot of interpretive brilliance" is how JazzTimes describes Clairdee's soulfully alluring style and rich timbre. She swings, has an intimate, vulnerable way with a ballad, and can shout at will, revealing roots in the gospel church. Her masterly interpretation of lyrics is a gift aptly described by the inimitable Nancy Wilson who said, "In the tradition of all great vocalists, Clairdee infuses each song with her own unique style while always remaining true to the song itself."
In addition to her work with Ken, Clairdee sings in night clubs, concert halls, and festivals in Edinburgh, Tokyo, Bangkok, Toronto, Moscow and St Petersburg Russia, New York, San Francisco, Monterey, and points in between with pops orchestras, big bands, with some of America's most notable jazz instrumentalists.
2018 recipient of the Bay Area Jazz & Blues Artist Lifetime Achievement Award, Clairdee is a passionate advocate for music education: Professor of Jazz Voice, San Francisco Conservatory of Music; Teaching Artist for SFJAZZ and San Francisco Symphony; and Artist Advisory member and mentor for Bay Area-based non-profit, Jazz in the Neighborhood.
A pianist, composer and arranger, Ken French is passionate about jazz, blues, and the rich tradition of the American Song Book. With early training in classical piano, and university studies in philosophy and music composition, Ken has honed his craft for over three decades on world class stages from New York to Tokyo, including the Monterey Jazz Festival and SFJAZZ Center in San Francisco. He is inspired by performing with such celebrated artists as Mary Stallings, John Handy, and Wynton Marsalis. As an educator, Ken shares his musical passion as Professor, Jazz Piano, San Francisco Conservatory of Music; Teaching Artist, San Francisco Symphony "Adventures in Music" concerts for children; private teaching; and his creative arrangements and musical direction while touring with international jazz vocalist Clairdee.