Sound Immersion Workshops: 
The sacred sound family — Tibetan Bowls, Gantas,Tingsha's  — have a rich history and a unique sound. Two consecutive workshops will introduce the history and healing qualities of the instruments and show how energy is moved with sound. Sessions are interactive so participants can practice playing the instruments. Each day builds on the information of the previous session. Each session ends with a short sound healing meditation.
Gong Workshop:
Workshop 1: Introduction to the Alchemy of Sacred Sound Healing
Using Gongs tuned to a Planet Earth frequency we will explore the use of sacred sound for the purposes of healing, meditation and expanding consciousness.
Topics include:
• Healing properties of Sacred Sound
• Approaching the Gong
• Tonal regions of the gong and body interaction
• Q&A
Workshop 2: Introduction to the Alchemy of Sacred Sound Healing (continued)
• Therapeutic techniques/craftsmanship – including
• Sacred Geometry constructs
• Vibrational "layering" of octaves
• Gong improvisation
• Q&A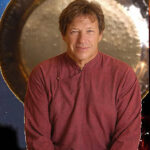 Richard Rudis has been a student of Buddhist philosophy for nearly thirty years and is an American practitioner of the Tibetan 'Vajrayana' school.
As a long-time pilgrim of Himalayan sacred sites he has received Buddhist teachings and traditional instructions/research into the use of sacred sound instruments for ritual and healing purposes. While in Tibet in 1996 he was granted refuge in the Buddha via His Holiness Gyalwa Karmapa (17th reincarnation and head of the Kagyu lineage). His Holiness renamed him Sonam Dorje; (Meritorious Thunderbolt).
Richard has been teaching the Buddhist Dharma of Vibrational Healing across the U.S. and abroad for twenty years and is considered most knowledgeable in this esoteric field. His unique playing craftsmanship is a fusion of his rarefied studies in sacred sound playing techniques, tantric education, engineering background and Buddhist principles. Principally using a tuned 'Paiste' Earth Gong he creates a 'Sound Mandala', known as a 'Gong Bath™, that is naturally physically, emotionally and spiritually healing. He is often a prominent speaker/presenter at various conferences having to do with transformative energy, healing, meditation and well being.
He began teaching via the establishment of the 'Sacred Sound Workshops' in the 1990's formalizing the curriculum by joining with the 'Tibetan Bowl Healing School'  (www.tibetanbowlschool.com) in 2008.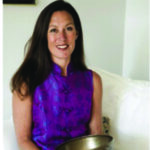 Diáne Mandle is an internationally known sound healer, teacher, recording artist with Sounds True and award-winning author based in San Diego. A frequent presenter at the Deepak Chopra Center, the Golden Door and Rancho La Puerta, she has been part of the Integrative Therapy Team at San Diego Cancer Center, presented workshops for cancer patients at Sharp and Scripps hospitals, and worked with incarcerated returning veterans with PTSD. Diane offers workshops and concerts internationally and operates the Tibetan Bowl Sound Healing School in southern California. She is featured in the film: Tao – Living in Balance. In her present life and as a former regional director of the American Cancer Society, Chamber of Commerce director and Transformational Coach, Diáne's objective has always been to bring hope, and wellbeing through helping people develop empowering belief systems, perspectives and deeper insights into their personal and professional lives.