Inner Life: Developing Mindfulness and Self-Awareness to Unlock Focus, Clarity & Presence
In this interactive class, learn about the benefits of mindfulness, mindfulness meditation and its relationship to self-awareness. We will look at the brain science behind mindfulness and, through fun exploration of tips, tools and practices, we will discover practical ways to enhance our personal presence, cultivate focused attention and improve our body awareness. Participants will receive a combination of dedicated and integrated mindfulness and mindfulness meditation practices for future use.
Living Your Purpose & Values: A Journey of Self-Discovery & Whole Life Integration
Join us for a playful and engaging conversation about purpose and values and how each influence motivation and interactions with others. Through a combination of short lecture, discussion and small group exercises, we will discover our top 5 values and explore how we can live into our values each day before concluding with a personal commitment plan for purposeful and values-based daily living.
The Power of Vulnerability: Cultivating Courage & Gratitude for Resilience & Sustainable Well-being
Learn the lessons and power of vulnerability and how it fuels connection, healing and forward movement. Through the work of Brené Brown, Don Miguel Ruiz and others, we will explore the roles of courage and gratitude as ways to skillfully navigate difficulty and build resilience and well-being. Participants will leave with helpful gratitude journaling prompts and easy-to-implement practices that can be used as part of a vulnerability toolbox.
Unconscious Bias: Turning Discovery & Awareness Into Action & Impact
We all have biases – our brains are hardwired that way. Join us for an eye-opening experience of insights and self-discovery about what unconscious bias is and isn't, how it operates and how it impacts those around us. With self-kindness and compassion, we will dive into this topic as a way to deepen our self-awareness, grow our understanding of others and cultivate belonging and unity at work, home and in our communities. Participants will take home their own Top Trusted / Biases chart as a guide for after the program. (Note: This session is best experienced when also taken with Day 5, Empathy & Compassion.)
Empathy & Compassion: What It Really Is, What It Looks Like & Why We Need It
Empathy and compassion are the driving ingredients for healing, understanding and connection. In this class, we will explore the difference between empathy and compassion, how each is expressed to ourselves and then others as well as the science and research behind its impact. As a wrap up to the five class sessions, join us for lively conversation, the practice of Seeing Similarities and Offering Kindness meditations and more to help us cultivate our capacity for these two super powers and enable focused presence, purposeful living, mitigation of bias and expressions of gratitude. Participants will receive two audio meditations to support their daily practice following the class.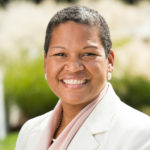 Michelle Maldonado is Founder and CEO of Lucenscia, a human flourishing and mindful business transformation firm dedicated to developing leaders and organizations with positive impact in the world. She leverages her more than 35 years of contemplative practice and two plus decades of business and legal experience to create relevant and practical solutions to transform how we "show up" as more compassionate, impactful and resilient leaders and members of our communities and families.
Michelle is a Certified Genos International Emotional Intelligence Practitioner® and serves as a faculty and Meta-Coach for Daniel Goleman's Emotional Intelligence Coaching Certification program. She is leadership faculty for 1440 Multiversity and the True North Leadership Program as well as a Certified Mindfulness Teacher – Professional Level (CMT-P) with the International Mindfulness Teachers Association and the Search Inside Yourself Leadership Institute. She is a Founding Member of Mindful. Org's Mindful Women Meditate and Board of Director for the Institute for Organizational Mindfulness.
In recognition of her work, Michelle was inducted as an honorary member of the Golden Key International Honour Society, has been named "Top Corporate Leader" by HR.com's Leadership Essentials and "Woman of The Year" by the National Association of Professional Women. As a recommended speaker in SHRM's Speaker's Bureau, her work has been featured across industry publications and venues including The Mindful Leadership Summit, HR Transform, Human Capital Institute, Talent Management Network, Leadership Excellence, Chief Learning Officer and the Huffington Post Blog community.
Michelle is a graduate of Barnard College at Columbia University and The George Washington University Law School. She currently resides in Northern Virginia with her family. You can learn more about Michelle and her work by visiting www.lucenscia.com.