Three presentations on the latest science that demonstrates how we can use our bodies as tools to get the very best from our minds.
Move! The New Science of Body Over Mind
In this lively and accessible talk Caroline will reveal the emerging body-brain-mind pathways that explain why moving in certain ways has real life benefits for mental and cognitive health. Learn about the links between the core and stress control, physical strength and emotional resilience and why different ways of walking can help you think in different ways.
The Creative Mind
Why is it that our best ideas turn up in the shower? Or while we're drifting off to sleep? The answer comes from the way the brain works and, the good news is that there are many ways to help your brain get into the right 'zone' for creativity to flow. Join Caroline for some tips and tricks on how to harness your body, brain and mind for your best ideas yet!
Breathing and the Brain
Humans are unique in being able to control the depth and rate of our breath, and it's no secret that how we breathe can affect the way we think and feel. In this fascinating, interactive talk Caroline will explain how the simple act breathing through your nose opens up a hotline to the brain, and how this, in turn can change our outlook on life. She will present the latest scientific developments, communicated in accessible, fun and user-friendly ways that are easy to take into your daily life.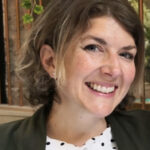 Caroline Williams is a science journalist, editor and author based in the UK. She has spent several years researching how body movements can dramatically change the way we think and feel, vising scientists in their labs all over the world and meeting expert movers, from yoga gurus to stuntmen and from dancers to ultra-marathon runners.
She is the author of two books, Move, and My Plastic Brain, and is a consultant for New Scientist magazine. She has also written for the BBC, The Telegraph, Times and Guardian newspapers and the Boston Globe.
Caroline gets her movement fix from yoga, paddle-boarding, mountain biking and hiking with her New Zealand sheepdog cross, Jango.
Caroline Williams, author and science journalist