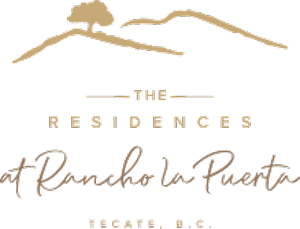 Dear Home Buyer,
Congratulations on taking the next step toward purchasing your home at The Residences at Rancho La Puerta. We are pleased to share that nearly 50% of the properties have sold to date, essentially locking in and increasing the value of your home.
Rest assured you have made a timely investment in your physical, spiritual and mental wellbeing, and also in your ongoing financial peace of mind. And now, you are about to be part of The Ranch in a unique way.
We are happy to inform you that "The Trust" (Fideicomiso), has been established and positioned to allow us to officially commence with the construction of your residence. Given the special circumstances we find ourselves in today, coupled with limited travel to Mexico, we have created a concise and practical process by which you can confidently move forward with your purchase.
Let us begin with an overview of the acquisition process:
Starting today, emails will be sent to launch the coordination of the final stage of your home purchase process. Emails will be sent according to the date of hold deposit payments and direct requests from homeowners wanting their units to be built first. Residences will be built in the order of completed contracts and down-payments. Please contact your sales agent for details.

The email will propose the date and time for an initial 60-minute Acquisition Process call. The call will include the following participants:

You, the home buyer
Rancho La Puerta Executive
Notary Public
Grupo Espiritu's Architect
Grupo Espiritu's Sales member
Immediately after and via DocuSign, we'll send you a form for you to complete and send back electronically, with all the necessary information needed for us to accurately prepare your closing documentation. Also, please send all updated supporting information (passport picture, recent bill with current address – less than 30 days old, etc.) to RLPdocuments@grupoespiritu.com. This is very important for the Trust (Fideicomiso) Bank to accept all documentation.
After the date for the initial call has been set, a digital folder will be sent in advance for your review. The folder will contain all necessary documents required to purchase your residence at Rancho La Puerta. The documents will be clearly labeled, and instructions will be provided.

Here is a list of documents to look for in your digital folder:

Trust Bank's KYC (Know Your Client document)
Terms and Conditions (Contract Summary page)
Contract of Adherence to the Trust (Fideicomiso)
Payment Schedule
Construction Schedule
Architectural Package: Floor Plans, Elevations, Master Plan Positioning and Renderings
A detailed list of furnishings (if you purchased any of the optional furniture packages.)
Added to the digital folder, you will receive a sample of the Mandate Letter. The purpose of this letter is to instruct Rancho La Puerta to transfer the amount of your unit hold deposit to the Trust Bank, as part of your total down payment. The official Mandate Letter will be sent via DocuSign, attached to a separate email, in the next few days
NOTE: ALL OF THESE DOCUMENTS HAVE BEEN TRANSLATED INTO ENGLISH FOR YOUR CONVENIENCE. OFFICIAL DOCUMENTS WILL BE SIGNED IN THE ORIGINAL SPANISH LANGUAGE
During the 60-minute Residence Acquisition Process Video Call, we will address the following key areas:

Legal Buying Process Review for this region of Mexico (we will also answer any other legal, tax related or foreign residence questions you may have, etc.). This part will be conducted by the Notary Public (a legal expert) managing the entire acquisition process.
Architectural Pre-review to discuss master plan drawings, floor plans, elevations, renderings and provide details on next steps. A full Architectural Review Meeting (ARM), will be conducted within the next 14 days after the contract signature and payment / down payment is completed. The ARM video call will provide you with all necessary information and options to make any upgrades to your residence and understand all of its standard features. This part of the call will be conducted by our architectural team.
Community Lifestyle Review: Any questions about the CC&R's, Rental Programs, Community features, etc. will be discussed during this part of the call. This segment will be conducted by RLP's CEO or another RLP Executive representing the operator.
After the meeting has concluded, you will receive a package mailed to your main residence. In the package there will be the following documents (some will be sent back while some you will keep). Documents will be clearly labeled, and instructions will be provided:

Documents that require a signature and must be sent back to Grupo Espiritu for submittal to the Notary Public and Trust (Fideicomiso Bank). This must be sent back using a provided prepaid DHL label.
And finally, please follow the directions provided in your package to make your down-payment or complete payment directly into the Trust (Fideicomiso) Bank account. The Trust Bank, Actinver (actinver.com) has partnered with Deutsche Bank Trust Co., Americas to complete the transaction. Please send a transaction receipt directly to RLPdocuments@grupoespiritu.com when the payment is made. Our team will send you a confirmation email when all documentation and payment are received.
As always, please do not hesitate to contact your sales representative for questions or concerns. We thank you again for your trust and support in us. We remain at your disposal throughout and until the very end when you cross the threshold into your new residence at Rancho La Puerta.
Sincerely,
The Team at The Residences at Rancho La Puerta