Yoga Class with Hazel Stricker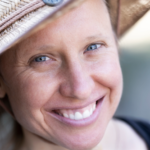 What do years of competitive gymnastics, a degree in Exercise Science, and living and studying at the Himalayan Institute ashram have in common? They all perfectly prepared Hazel Stricker for life at The Ranch, where she's been teaching a variety of classes from yoga to sound healing to hula hoop since 2006.
Hazel has always felt honored to teach at The Ranch, learning from both our incredible instructors (full-time and passing through) as well as our amazing guests. She's always been grateful for the opportunity to begin again and again, as if each class was fresh and new.