Glass (Of Wine!) Half Full
Join Lydia Mondavi and she talks with Barry; how do we keep our glass half full, the power of grape seed and other antioxidants and, of course, wine.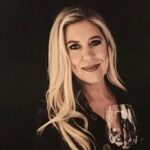 Lydia Mondavi is a true entrepreneur at heart with over twenty-five years in the luxury market. She has consulted, created, launched, licensed and sold numerous companies all over the world.
Her work with companies such as Ralph Lauren and in designing and developing spas and resorts guided her to create a line of products for the luxury market. Lydia launched 29 Cosmetics, a Grape Seed Anti-Oxidant Age Protecting collection exclusively in Neiman Marcus and Saks Fifth Avenue. The hotel resort amenity division of 29 is featured in luxury resorts all over the world. 29's organic skincare launched exclusively with Target as part of their premium luxury skincare department. Prior to the launch of 29, Lydia founded The Abernathy Group, a spa and resort developmental design and branding company. She has consulted for companies such as Auberge Resorts, Rosewood Hotel Group, and boutique luxury hotels such as The Old Edwards Inn and Spa and The Dewberry.
Lydia's most recent endeavor, Mondavi Home Collection, is a collaboration and partnership with Williams Sonoma, among other luxury retailers and designers. Lydia's Southern hospitality and her husband, Rob Mondavi's four generations in winemaking -along with their passion, eye for design, entertaining and love of true craftsmanship, inspired the collection.
Lydia is also involved in the wine business with her husband, Rob Mondavi, Jr. They have successfully launched several wine brands such as Spellbound and Medusa. Their newest wine, Rutledge & Vine, an Oakville Cabernet Sauvignon, is symbolic of the marriage of two pioneering families in the United States. The name represents the vines from Rob's family heritage and Lydia's ancestors from Charleston, South Carolina, John and Edward Rutledge signers of the Declaration of Independence and the Constitution of the United States. Two barrels of this exclusive wine were made for the first vintage release; each is hand-signed and numbered, expressing the true art of craftsmanship.
Lydia was born in Atlanta, Georgia, and resided there until she married Rob Mondavi, Jr. in 2001. They have two sons, Robert Michael Mondavi, III (10 years old) and Robert Alexander Mondavi (5 years old). They live in Napa, California and also enjoy time in their family home in Beaufort, South Carolina.