HiHe- High-Intensity High Energy Circuit Training Class
Brooke and Emily will be leading you through this fun full body workout! This class will help burn fat while building strength and endurance for your entire body. This high energy class will work your upper and lower body using body weight only as resistance mixed with some fun cardio bursts to keep your heart rate in the optimal fat burning zone. This type of Bodyweight training utilizes simple abilities such as pushing, pulling, squatting, bending, twisting and balancing.
Class will also include an active warm up, core work and a cool down with stretch.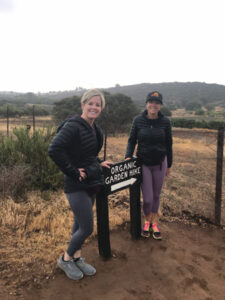 Emily Lawrence Imler
Emily's professional experience in teaching mind body fitness encompasses a broad range of exercise techniques. Her career began in 1990 teaching classes in step, aerobics, aqua, weights and a variety of dance classes. Since receiving her Bachelor of Science degree in Exercise Physiology from Springfield College (Ma.) in 1993 Emily joined the fitness staff at the world- renowned Rancho La Puerta Resort and Spa and quickly became an integral part of the fitness program specializing in Pilates. Furthering her studies of the Pilates method Emily completed several Pilates certification programs and became a representative for the American Council for Exercise contributing to the advancement and awareness of the Pilates method by presenting numerous workshops for exercise leaders and personal trainers. She helped implement a Pilates program for the Copper River Country Club in Fresno California in addition to helping implement and manage a program for the Pacific Athletic Club in Pacific Palisades. Emily's fitness career has taken her around the world. As a fitness director for the Golden Door Spa at Sea she supervised programs aboard cruise ships traveling throughout Europe and Scandinavia for Cunard Cruise lines. Emily then went on to open her own fitness studio in Santa Monica California.  Through her thriving sole proprietorship, she provides fitness training to a diverse client base with various levels of fitness. Emily specializes in developing individual programs with an emphasis on creating balanced bodies through Pilates-based work, personal training and sports specific conditioning. Her clientele includes dancers, actors, children, the elderly, recreational and professional athletes including the Los Angeles Lakers. Emily continues to teach group exercise classes and run her Personal training business in Dana Point Ca.
Brooke Dietz has been a fitness trainer since 1987 and the Fitness Director at Copper River Country  Club in Fresno California since 1996. Having gained experience at Rancho La Puerta he also worked for The Golden Door in Escondido, California. During her tenure at these resorts, Brooke traveled the world promoting health and wellness through The Golden Door's "Spa at Sea" program.
In 1994, Brooke was featured in an eight-page full-body workout routine for In Shape Magazine. She is a certified personal trainer through NASM, National Academy of Sports Medicine. Her other numerous certifications include The Athletics Fitness Association of America, Muscle Activation Techniques Jump Start Programs, Total Barre, Yoga, Pilates Mat, and Pilates Reformer. Brooke's passion and motivation shows vibrantly through her work. Her dedication and knowledge of her craft bring unmatched expertise to our faculty.