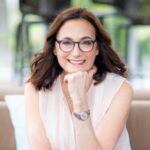 Dr. Randy Kamen is a psychologist, leadership coach, educator and bestselling author of Behind the Therapy Door: Simple Strategies to Transform Your Life.
Dr. Kamen had served as part-time faculty at Harvard Medical School teaching women's leadership and writing, publishing and promoting your book. She also leads workshops and retreats at YPO, Chief, Pepsi, Proctor and Gamble, and Pfizer.
Dr. Kamen also leads retreats, courses and workshops at health retreats (Omega Institute, Kripalu Center, Canyon Ranch, Rancho la Puerta, Red Mountain etc.) as well as at her own facility on Martha's Vineyard.
She researched new territories in mind-body medicine and positive psychology and leadership training at Boston University's Schools of Medicine and Dentistry and Harvard's Spaulding Rehabilitation Hospital.
Dr. Kamen appears on NPR, NBC, radio, television, print and online media outlets. She shares stages with luminaries such as Arianna Huffington, Deepak Chopra, Jon Kabat-Zinn, Herbert Benson, Daniel Goleman and Gabrielle Bernstein.
For more information please check my website DrRandyKamen.com or email me at: Randy@DrRandyKamen.com