[wptabs mode="horizontal"][wptabtitle]La Puerta Core Essentials[/wptabtitle][wptabcontent]Our fresh, pure, and natural La Puerta Core Essentials signature formulas nurture, replenish, and restore your skin and hair. Each product is infused with a symphony of fresh, floral, and calming notes that will sweep you into a state of relaxation. Intended for both men and women, this handcrafted line is part of the amenities offered in our Spas and guest rooms, and it is available for retail at both Skin Care Centers.
[wpspoiler name="Body Lotion" open="true"]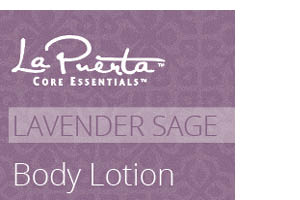 La Puerta Core Essentials Lavender Sage Body Lotion's relaxing aroma cradles your body in a veil of serenity. This perfect blend of botanicals, nutrients, and oils lightly moisturize the skin, leaving it smooth, hydrated, and incredibly soft.
[/wpspoiler]
[wpspoiler name="Body Wash" open="true"]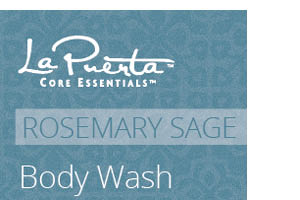 Drift away to the lush green fields of Tres Estrellas Organic Farm each time you step foot in the shower. La Puerta Core Essentials Rosemary Sage Body Wash is a natural way to refresh after a long day of classes. This aromatic wash gently cleanses skin with healing rosemary and sage extracts, leaving your body feeling silky and refreshed.
[/wpspoiler]
[wpspoiler name="Shampoo" open="true"]
Excellent for all hair types, La Puerta Core Essentials Rosemary Lavender Shampoo gently cleanses, nourishes, and maintains the health of your hair. This aromatic shampoo is fortified with a blend of restorative botanical extracts, and is perfectly pH balanced to remove impurities without stripping the natural oils of your hair.
[/wpspoiler]
[wpspoiler name="Conditioner" open="true"]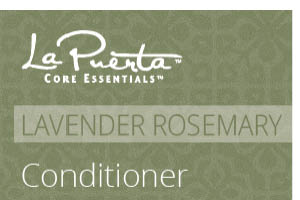 Bring out the best in your hair with La Puerta Core Essentials Lavender Rosemary Conditioner. This lightly scented conditioner will revitalize, hydrate, and smooth your strands. Made with an array of beneficial botanical extracts, this naturally formulated conditioner will keep your hair beautiful.
[/wpspoiler][/wptabcontent]
[wptabtitle]More Spa Products[/wptabtitle][wptabcontent][wpspoiler name="Juice Beauty" open="true"]

Juice Beauty and Rancho La Puerta place pure, natural restorative health as a high priority, offering authentically organic facials in a serene and invigorating setting. 
Juice Beauty's revolutionary formulations started with a basic premise.  Founder, Karen Behnke believes that by formulating with an antioxidant, vitamin-rich organic juice base rather than water (which dilutes) or petroleum derivatives (which suffocate the skin and are often laced with harmful chemicals), combined with powerful organic age defying and blemish clearing ingredients, it would yield better results than conventional products. Several outside clinically validated studies on the efficacy of Juice Beauty products have proved her right. Juice Beauty products are free of parabens, petroleum, pesticides and packed full of USDA certified organic ingredients so that every drop feeds your skin.
[/wpspoiler]
[wpspoiler name="Coola – Sun Products" open="true"]

Our quest is to spoil your sometimes finicky, always worthy skin with the most pure, eco-conscious products possible. After all, you may obsess over what you put in your body, but think about what you put on it. We thought about it, quite a bit actually. And we consciously chose to develop our line using ingredients that are organic, sustainable and locally sourced, much like the foods we prefer to eat. Green, yet still luxurious, each of out products will protect and nourish your skin with vitamins, natural-protectors and age-defying antioxidants.
COOLA offers three distinct lines of certified organic sun protection, including our new Plant UV line and recently reformulated Mineral and Classic collections. Each line is formulated with different active ingredients and offers unique products, such as our award winning Mineral Baby or best selling Classic Face Cucumber. Additionally, we just launched our Environmental Repair Plus line (ER+) for pre+post sun skincare. When it comes to organic and natural sun protection, COOLA has you covered!
Our products are up to 97% certified organic and are manufactured using solar power (we protect from the sun using the power of the sun – and we think that's very COOLA!). In addition to solar powered™, we also incorporate farm to face™ which describes our sourcing policy for local ingredients and vendors. In 2012 we introduced plant protection™ after revolutionizing the use of plant stem cells and plant phyto-protectors to boost sun protection naturally.
[/wpspoiler]
[wpspoiler name="Pino Spa" open="true"]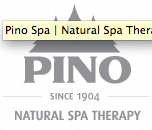 Founded in Germany in 1904, PINO has developed products and therapy concepts used by spas throughout Europe.
For generations, spas have trusted PINO to provide proven, modern products for use in traditional European therapies. PINO applies its extensive knowledge of the natural sciences and combines this knowledge with over a century of experience in the development of natural products. Today, PINO continues its commitment to the ongoing development of natural, environmentally responsible products.
PINO Natural Spa Therapy products provide the benefits of nature without chemical stress by providing formulations made up of natural ingredients, which are up to 95% organic*. All PINO Natural Spa Therapy products are dermatologically tested by an independent laboratory and never tested on animals.
[/wpspoiler]
[wpspoiler name="Daily Concepts" open="true"]

We are individuals who think & sing in the shower, offering the best "Functional Bath Scrubber" with an expiration tag to remind you when to replace it.
Mission
We are individuals who think, live in the present and care about you.
Company Overview
"Your bathroom is your sanctuary, that's why Daily Concepts spends most of their time in the shower thinking of new ways to cleanse your body & mind. This new line of clinically tested (always cruelty free) bath accessories gives the ultimate bath and body experience with a concept that is all about functionality.
What makes Daily Concepts so unique is the label indicator which fades when it's time to replace your bath accessory (approximately 90 days). This well-designed line also has a functional packaging that allows the product to be placed in any of your shower walls and the packaging contains bottom holes for the product to be drained. Designed with natural cotton-based layer & nylon exfoliating loops for ideal texture and a built-in antimicrobial that helps eliminate bacteria, mold and mildew. In a world that is so hectic, take a second in the shower to exfoliate your body with environmentally friendly, soy based products that will leave your skin feeling smooth and luxurious…A little song wouldn't hurt either."
[/wpspoiler]
[wpspoiler name="jane iredale" open="true"]

The most beautiful cosmetic you can wear is a healthy skin. That's why everything janeiredale develops is a true extension of skin care. jane iredale makeup is not just a refinement of conventional makeup; it's a new technology. It's so effective it is recommended by plastic surgeons, dermatologists and skin care professionals.
Jane Iredale's micronized mineral bases are concentrated pigment. (They use no fillers such as talc.) Because of this concentrated pigment, a minimum amount gives unsurpassed coverage and becomes a foundation, powder and concealer all in one. This concentrated pigment also gives high sunscreen protection without the need for synthetic ingredients.
[/wpspoiler]
[/wptabcontent]
[/wptabs]