Live Talks With 

Barry

 from The Ranch!
We look forward to connecting with you virtually every week with our fascinating presenters and talented staff.
UP NEXT
Jill Thiry
How and Why to Use Hiking Poles
Thursday, July 1, 2021
2:00PM PST/ 5:00PM EST
Join Jill Thiry and learn some of the Hows and Whys to use hiking poles.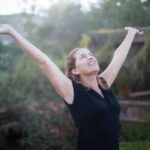 Did you buy poles and just start using them?  With no instruction book? Are they truly helping you with balance posture and strength?  When used correctly the poles (yes, TWO of them…we'll discuss why) add so many benefits we can't think of any reason why anyone would NOT use them!   Any age or skill level welcome. We'll discuss why, how to "size" them, how to use them for ups, flat and downs, as well as steep terrain. Bring your poles to the class and be on a rug that is two steps long (which is what Jill will be on) and in a  space where you can take two steps, or at least be able to get the feel of using them correctly from the comfort of your own living room.  Or dial in from your phone with great outdoor coverage and carry us around while you learn???