Live Talks With 

Barry

 from The Ranch!
We look forward to connecting with you virtually every week with our fascinating presenters and talented staff.
Today's Voices of The Ranch has been canceled due to technical issues. We are rescheduling Barry's interview with John Scott Marrone and  will email you the details soon.
Thank you for your patience as we work to resolve this. 
John Scott Marrone
Conductor and Director
TBD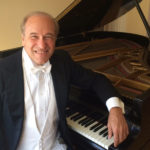 John Scott Marrone has been recognized as an outstanding conductor and director of many musical organizations. His experience covers the entire spectrum of orchestral and choral music from Renaissance to Contemporary, leading an impressive array of performing organizations both in the United States and Europe. In addition to his own Allegro Chamber Ensemble, Mr. Marrone has worked with the English Chamber Orchestra, Solisti di Roma, Orchestre de Paris, Oratorio Society of New York, Mendelssohn Choir of Connecticut, Greenwich Choral Society, and many other organizations including concerts and tours. His choir performed for Pope John Paul II in St. Peter's Basilica and at the papal audience before 250,000 people in Rome. With the Allegro Chamber Ensemble, Mr. Marrone performed a series of concerts at the Salzburg Music Festival, St Martin-in-the-Fields in London, and at the Sainte Chapelle in 1994 for the 50th anniversary of the Liberation of Paris. With his choirs he has conducted at St. Mark's Basilica in Venice, Notre Dame Cathedral in Paris, Westminster Abbey in London, the Duomo in Florence and many other locations throughout Europe. Mr. Marrone holds a Professional Diploma in Piano from the Brooklyn Conservatory and a Master's in Conducting from Columbia University.