Live Talks With 

Barry

 from The Ranch!
We look forward to connecting with you virtually every week with our fascinating presenters and talented staff.
Meet the RLP Staff: David de la Paz
Wednesday, November 25, 2020
11:00AM PST/ 2:00PM EST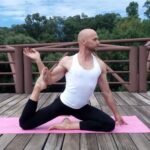 David de la Paz is an international presenter and instructor trainer for Yoga and Pilates. His personal approach towards a slow mindful practice focuses on quality versus quantity, he often refers to his work as to "finding the balance between minimum effort and maximum outcome".
After having explored the fields of dance, fitness, yoga, meditation and philosophy for over 30 years his commitment to contribute for the betterment of life and humanity is now stronger than ever and Rancho la Puerta is the perfect platform for that.