Have you heard of "The Ranch Glow?" It's a term guests use to describe people when they look incredible after spending a week on property.  "WOW, you look phenomenal. You have The Ranch glow!" This phrase is most often heard on Saturdays when guests depart. The Global Wellness Institute states: "there's overwhelming evidence of the positive effects that diet, exercise, sleep and stress reduction, to name just a few, can have on our outward appearance."* It's no wonder that radiating beauty is a natural side effect of a retreat in paradise. If you're reading this from home and want to re-create this special glow, we've got a few tips to share.
Taking a 20-minute bath while using a face mask checks off tons self-care boxes in one fell swoop.
Baths help:**
Soften connective tissue, increase collagen extensibility, and decrease joint pain.
Provide relief from muscle pain, muscle spasms, and cramps.
Resolve skin eruptions, exudates, and edema.
Stimulate elimination of toxins from the cells into the bloodstream, and through the skin.
Stimulate the immune system and vital organ chemistry.
Promote relaxation, rest, and recovery.
End your evening with a warm bath to calm your nervous system as you prepare for bed. Start with the water temperature at 96 degrees F, and slowly increase to 101 or 102 degrees. Adding botanical salts and oil to your bath will help re-mineralize the tissues, soothe muscle tension and create a beautiful aromatherapy experience.
But don't stop there! Try beauty's version of planting two trees with one seed: masking and bathing! Facials at the Villas Health Center include either Amala skincare or La Puerta Core Essentials, so these are the ideal brands to use to recreate The Ranch glow.
Terese Linke, Director of Education at Amala, suggests, "Make the most out of your soak in the suds and treat yourself to a Cleansing Face Mask. While the water fills up, use a mild, all-natural facial cleanser to cleanse your face thoroughly, and then apply Amala's Deep Cleansing Charcoal Clay Mask, which contains Rhassoul Clay and Bamboo Charcoal.  It's the perfect choice for deeply cleansing the pores and smoothing out dull, flaky texture without dehydrating the skin."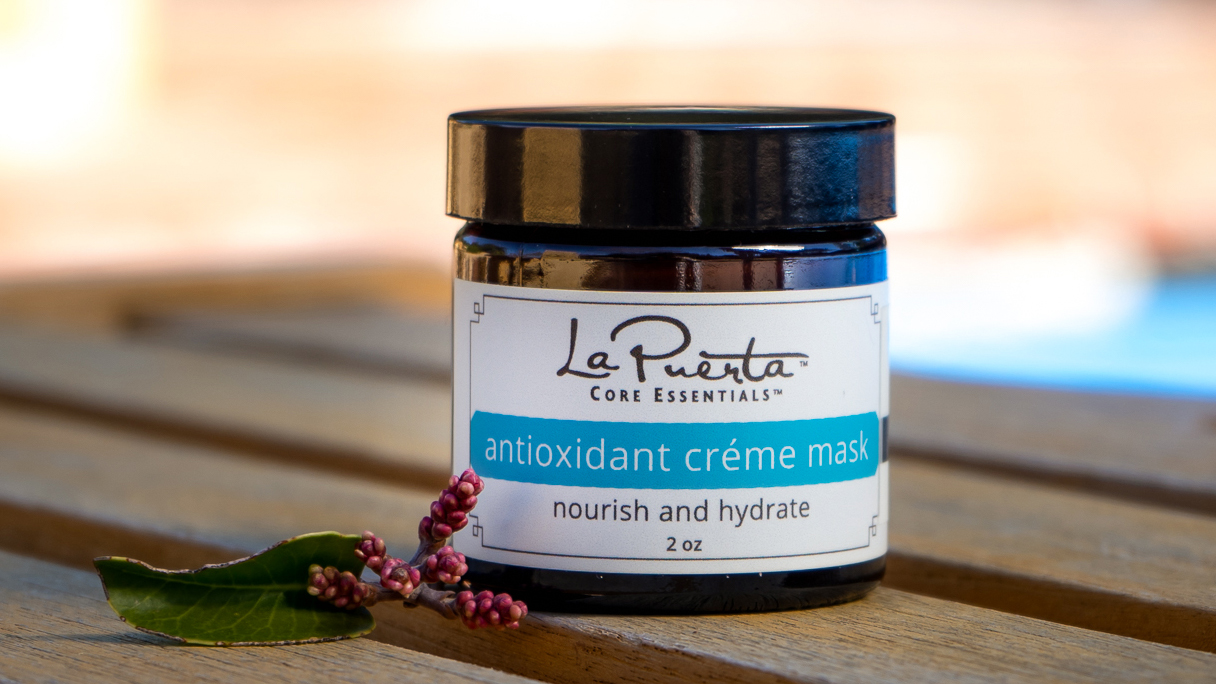 Tara Grodjesk, who developed La Puerta™ Core Essential's Signature Collection, suggests using the Antioxidant Créme Mask while relaxing in the tub. "The steam from the bathwater will keep it from drying out and keep it moist and luscious to moisturize the skin and infuse the antioxidants into the skin." The mask is ideal for anyone who needs extra hydration.
These two options are ideal for a wide range of skin types. They are available through Mercado Online. We hope this divine self-care duo helps you get your glow on!
Sources:
*https://www.globalwellnesssummit.com/wp-content/uploads/2018/08/8WellnessTrends_2017_WellnessRemakesBeauty.pdf
** https://taralivingwellness.com/therapeutic-baths/