Bay Area music writer Richard Scheinin attended our Classical Music Festival and here are his reflections from the week.
In February at The Ranch, something wonderful happened. The Inaugural Music Festival brought five world-class musicians to perform on five consecutive nights in Oaktree, turning the pavilion into an intimate and quite perfect little concert hall. There was a fire roaring over in the corner as 100 or so listeners – perched on pillows, wrapped in blankets – drew close to the music: elegant Beethoven, super-charged Schubert. After long days of hiking up the Professor's Trail and performing warrior poses in yoga class, the listeners drew sustenance from the musicians, who were themselves feeding off the audience. It was a circle of inspiration.
Clarinetist Julian Milkis – the festival's artistic director and a regular in morning yoga classes – recruited some of his closest colleagues. Cellist Alexander Rudin and pianist Polina Osetinskaya flew in from Moscow; pianist Konstantin Lifschitz from Lucerne, Switzerland; violinist Mikhail Kopelman (and Milkis) from New York. It was a grand reunion, as all five had grown up in the former Soviet Union before scattering around the globe.
And so the festival embodied "the music of friends" – a phrase often applied to chamber music, which originally was played among friends in a salon or chamber, not in Carnegie Hall. To hear these five artists conversing musically in a living room-sized pavilion in the shadow of a sacred mountain at the fitness spa in Tecate was as perfect as it was improbable. These musicians more typically play in major concert halls, often as soloists with leading orchestras.
The festival began with a night of J.S. Bach.
Rudin's no-fuss playing of Cello Suite No. 5 radiated contentment, as if he were settling into a cozy nook with a favorite book. Then Lifschitz leaped into the Suite in E Major: Bach's lines unfolded with startling energy, as if the result of a controlled atomic reaction in which each note fired off the next in a chain.
The second night's program began with Beethoven's Trio in B-flat Major, Op. 11 for Clarinet, Cello and Piano. It was exquisite. Osetinskaya is a pianist of sheer refinement; her fingers zipped like hummingbirds through impossibly soft feathery runs. Milkis's floating entrance to the slow second movement was out of this world. And then came Schubert's Trio No. 2 in E-flat Major – a haunting, nearly hour-long performance by Kopelman, Rudin and Lifschitz that kept building to new emotional heights and left the audience drained – and cheering.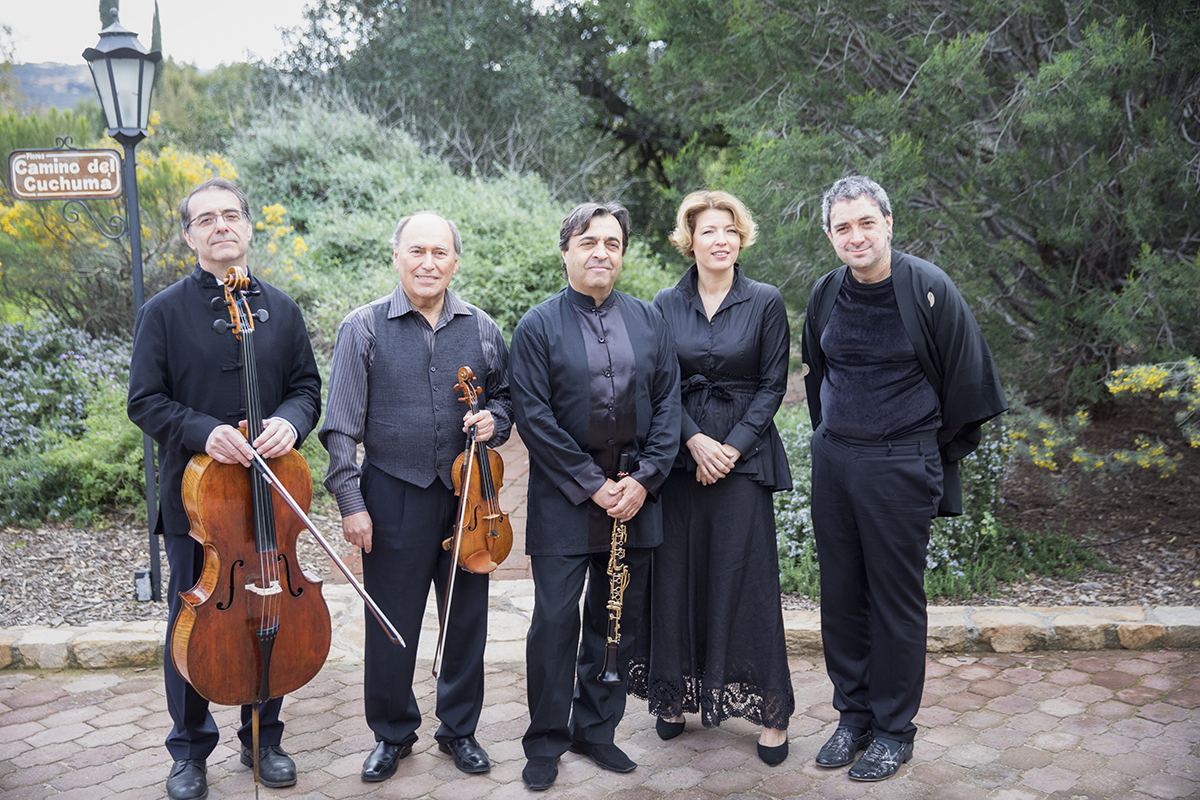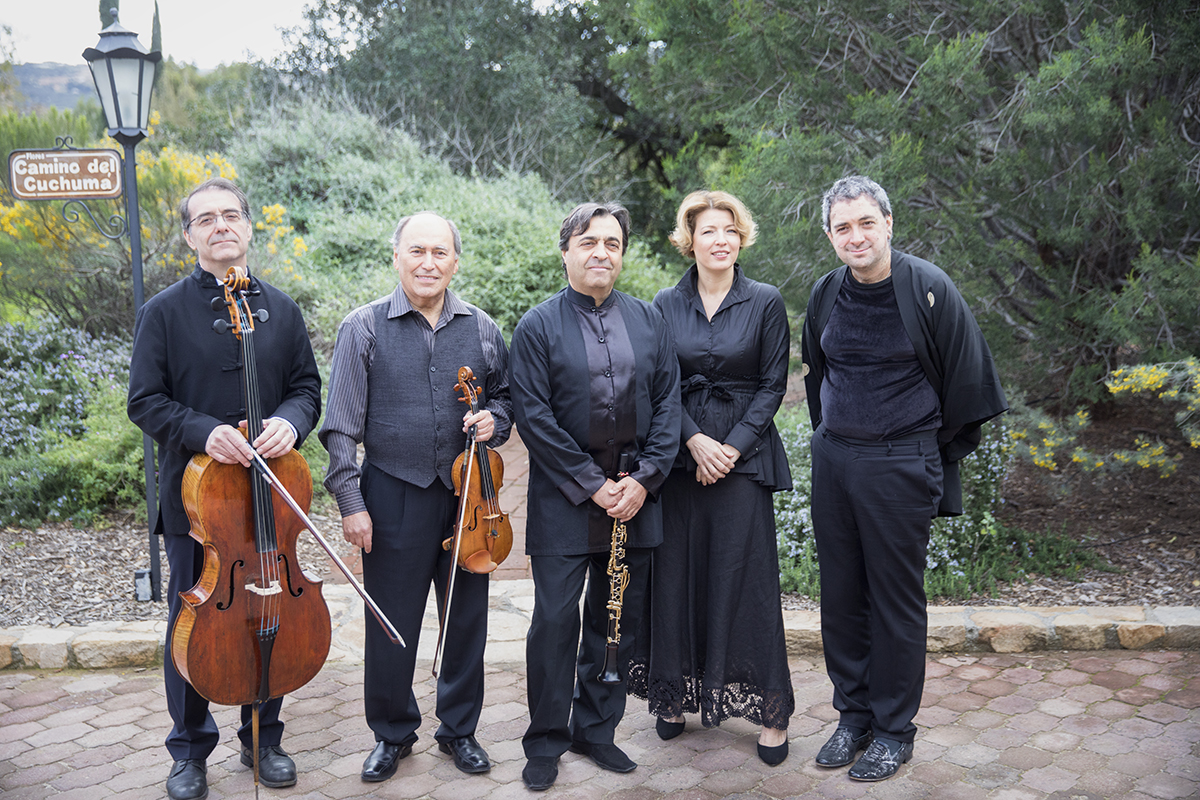 Deborah Szekely – who co-founded The Ranch in 1940 with her late husband Edmund Szekeley, "the Professor" – was moved to tears. She stood and told the audience that the music was the fulfillment of the original vision she and Edmund had brought to Rancho La Puerta nearly 80 years ago.
On the third night, Milkis ventured far outside the standard repertory, programming a work by Georgian composer Giya Kancheli, his Miniatures for Clarinet and Piano, subtitled "Music of Theatre and Cinema."
This is music for walking alone through city streets at midnight, as Kancheli's melodies, one after the next, emerge from a background of silence. It's a work of great personality, occasionally breaking out into a march or woozy jazz tune. But mostly, it is about economy of expression. Osetinskaya showed just how many gradations of pianissimo are possible when a pianist truly controls the keyboard. Milkis, for whom the piece is something of a calling card, showed off his airy, Stan Getz sound – lovely across all registers, extending long sustained melodies with his special brand of circular breathing and occasional roars and guttural haroomphs.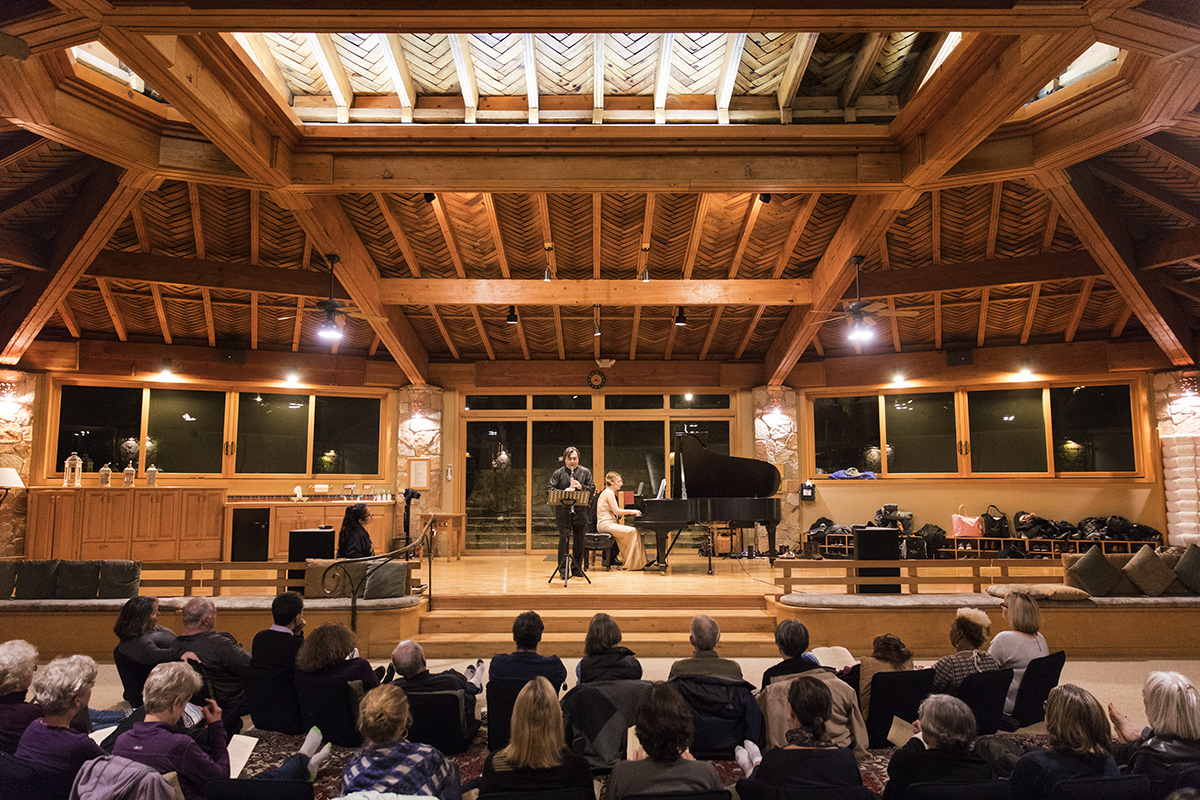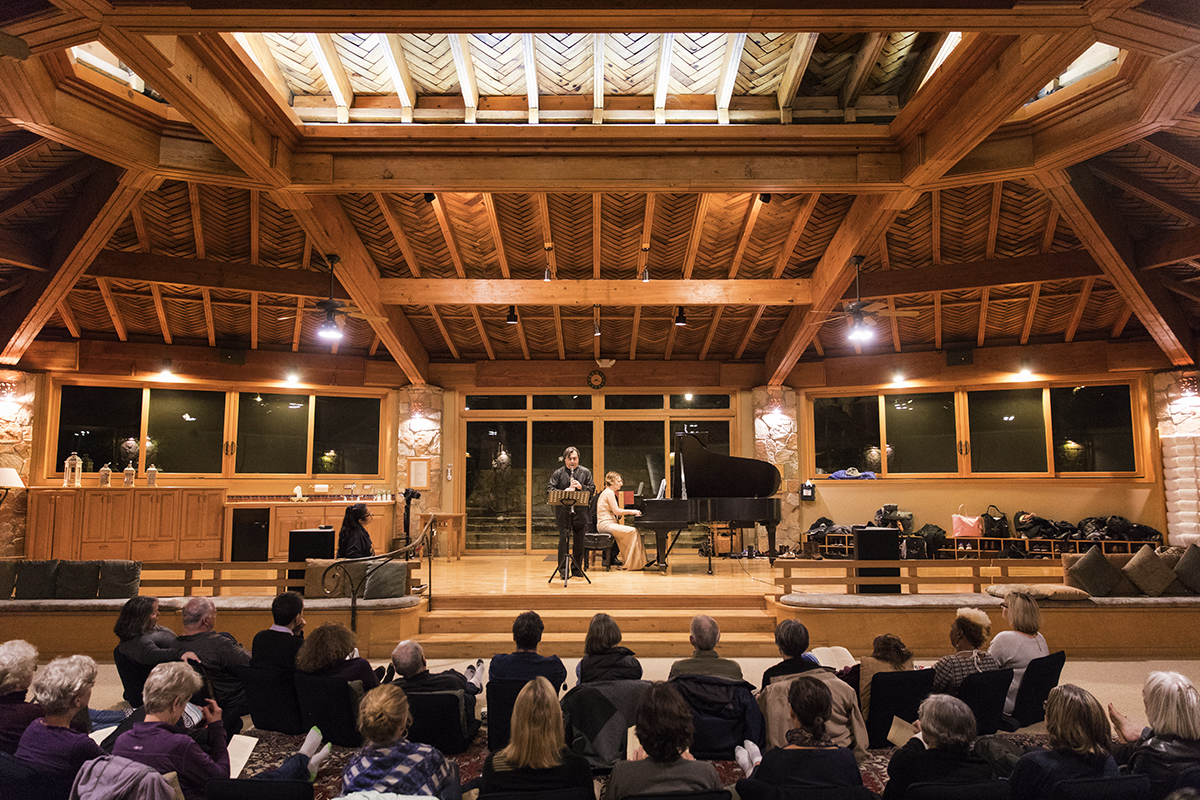 There was a surprise on the fourth night: a tribute to Benny Goodman, who was Milkis's teacher in Manhattan from 1983-86. Not everyone knows that Goodman, the King of Swing, was also a committed classical musician for whom pieces were composed by Francis Poulenc, Darius Milhaud and Bela Bartok. Works by those composers formed the axis of the program, which also included "The Last Gloomy Sunday" for Clarinet and Piano, an inspired elaboration on "Gloomy Sunday," the mournful ballad made famous by Goodman's friend Billie Holiday. "The Last Gloomy Sunday" is by Alexy Shor, a mathematician and self-taught composer who grew up in Kiev, met Milkis in New York and was a fixture at The Ranch throughout the week.
The concert ended with "Contrasts" for Clarinet, Violin and Piano by Bartok, who composed it for Goodman. Their recording of the piece (with violinist Joseph Szigeti) was formative for Milkis when he was a young man. At The Ranch, he performed "Contrasts" with Lifschitz and Kopelman; they pounced on the piece, prodding one another and generating an intensely physical performance, filled with Bartok's black humor.
The final Gala program was full of romance: Schubert's "Fantasia," a Mendelssohn trio, more Shor, a bit of Gershwin and then Rachmaninoff – his Waltz in A Major and Romance in A Major for six hands. Lifschitz, Osetinskaya and Rudin (a pianist, as well as a cellist) crowded onto the piano bench and went at it. The music felt like a celebration – almost demanding champagne, which in fact was served to the audience once the performance was over.
Quite a week.
I was privileged to be part of it, leading daily pre-concert interviews – "public conversations" – with the musicians, who talked about the meaning of art, the creative process, life in the Soviet Union and lots more. Mostly they told stories.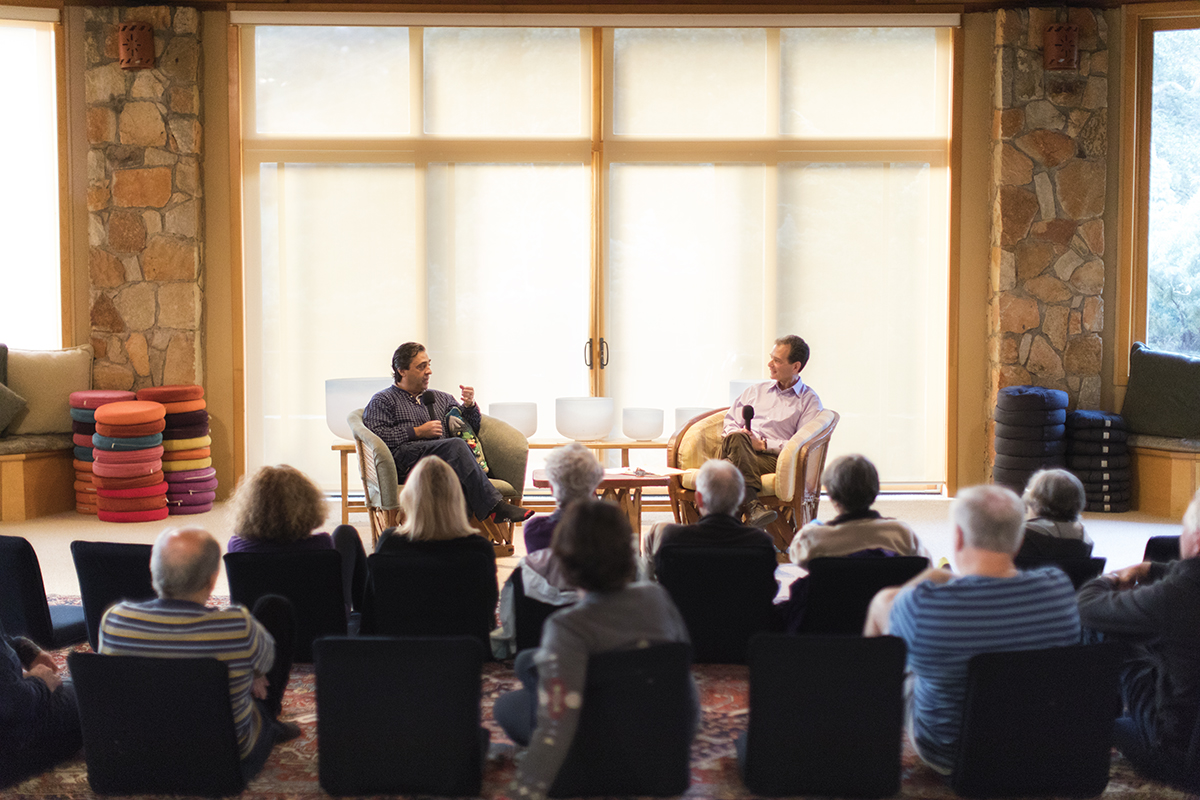 Here are two.
In September 1983, while a student at Juilliard and preparing for his Carnegie Hall debut, Milkis paid his first visit to Goodman at the legend's Upper East Side apartment. Goodman "opened the door, wearing a nice suit and shoes," remembered Milkis, who had less than $500 to his name at the time. "He let me in and said, `OK, let's hear you play.' I was so nervous that I could not play one note. He asked me, `Are you nervous?' And I answered, `Mr. Goodman, if I were you and you were me, would you be nervous?' "
Bada bing.
But let's end with Kopelman, who once served as concertmaster of the Moscow Philharmonic and spent two decades as first violinist of the illustrious Borodin String Quartet. An understated storyteller, he remembered being 12 years old in his hometown of Uzhhorod, a small city in Ukraine near the border of Slovakia. This would have been around 1959, he said, recalling how a stranger from Moscow arrived in town one day. The stranger was on vacation and wanted a suit made, so he asked around for a tailor and someone told him, "Go see Kopelman," meaning the budding violinist's father.
The stranger showed up at Kopelman's shop and began deliberations over the new suit, only to be interrupted by the sound of a violin; Mikhail happened to be practicing in an adjoining room.
"Who is playing the violin?" asked the stranger, who turned out to be a professional violist from the big city.
"That's my son," the tailor answered.
"Bring him here," the violist said. And so, 12-year-old Mikhail came out and played for the stranger, who declared that the boy had talent and needed to study in Moscow, 1,000 miles and a 42-hour train ride away. Within days, Mikhail was on the train, soon to be enrolled in one of Moscow's prestigious music schools, eventually coming under the wing of leading pedagogues. And that's how Mikhail Kopelman came to be one of the world's great violinists, and not a tailor.
An improbable story.
Then again, this was an improbable festival. Have you heard of another classical music festival featuring some of the world's best musicians at a fitness and spa retreat?
But the Ranch, as we all know, isn't any old spa. It takes chances. It enhances people's lives – that's part of the vision mentioned by Deborah Szekely. And so The Ranch is bringing Milkis and a cast of his handpicked players back next year for the Second Annual Rancho La Puerta Classical Music Festival.
Mark your calendars. It starts Feb. 17, 2018.
Bay Area music writer Richard Scheinin has interviewed and profiled hundreds of musicians, from Ike Turner to Michael Tilson Thomas, Philip Glass, Wynton Marsalis and Elvis Costello. Over the last five years, he has led classical music and jazz appreciation workshops at The Ranch. Scheinin lives in Santa Cruz, CA, and is a staff writer at the San Jose Mercury News.