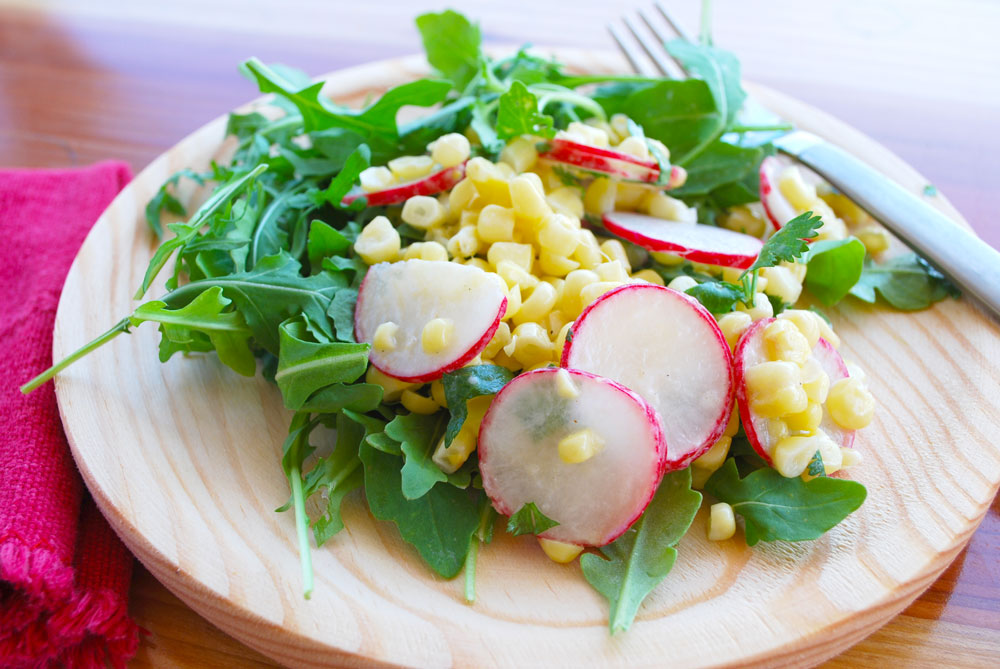 This delicate corn salad tastes as delicious as it looks.  Enjoy this salad from our Ranch cookbook, "Cooking with the Seasons at Rancho Puerta" by Deborah Szekely, Deborah Schneider and Robert Holmes.  
Here, the combination of cilantro in two forms—fresh green leaves and crushed seeds (called coriander), which have a distinct flavor of their own—is a perfect example of the dimensions of taste that our chefs teach culinary students. This colorful salad is a burst of Mexican tastes using all of Tres Estrellas' summer stars: barely cooked sweet corn, waves of dark green, peppery arugula leaves to wake up your taste buds, and a tangy, creamy dressing. Red radishes add color. Look for unusual radish varieties like lovely pink and green watermelon radishes.
Serves 6
Ingredients: 
Salad
4 to 5 ears large sweet corn, shucked and silk removed
1 tablespoon olive oil
4 cups baby arugula, stemmed
12 large radishes, thinly sliced
1 teaspoon coriander seeds, crushed
2 tablespoons chopped fresh cilantro
Yogurt Dressing
¼ cup yogurt
¼ cup white wine vinegar or cider vinegar
1 tablespoon Dijon mustard
¼ teaspoon sea salt, or to taste
1½ tablespoons olive oil
¼ to ½ teaspoon ground chipotle (optional)
Directions: 
With a sharp knife, cut all the kernels from the cobs. You should have about 4 cups.
In a 10-inch sauté pan, heat 1 tablespoon olive oil over medium-high heat. Add the corn, cover, and sauté 2 to 5 minutes, until tender. Set aside to cool.
In a large bowl, mix the corn, arugula, radishes, coriander, and cilantro. Cover and chill for 1 hour.
In a small bowl, whisk together the yogurt, vinegar, mustard, and salt until well blended. Gradually whisk in the remaining 1 tablespoons of oil until emulsified, and add the chipotle, if desired. The dressing may be made ahead of time and refrigerated for up to 1 hour.
Just before serving, toss the salad with half the dressing. Add more dressing to taste.
Note: Cilantro bolts (flowers) quickly in the heat, so you can easily harvest and dry your own fresh coriander seed.