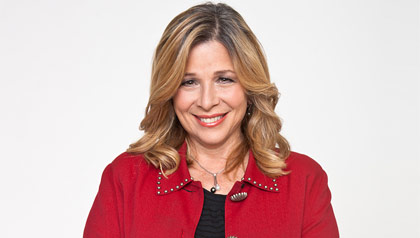 We were lucky to have sex therapist Dr. Pepper Schwartz at the Ranch recently where she held a class about dating tips for after 40 (or waaay after 40). Although I don't fit into this category, I have to say that this talk could apply to dating at really any age, but specifically dating in 2013.
Remember the movie Sleepless in Seattle when Tom Hanks' character enters the dating world after his wife passed away and how "different" things were for him? And that was before the Internet!
So yes, Pepper spoke a lot about online dating because as she said "that's where the people are." But let me back up… she said first you must be prepped and "ready" to date.. .meaning, you need to be over your ex.  Meaning you need to be indifferent about your past relationships. This may take time, but it's essential if you want to meet someone new. You want to bring your best self to the new relationship, right? Right.
If you want to meet someone new, it's imperative to move outside your current social groups and make new acquaintances who could possibly introduce you to someone new. Or there is that whole online dating phenomena. Dr. Schwartz advises joining three paid sites: a small niche boutique site (J Date and C Match are examples of these), a medium size like Perfect Match and a large one like Match.com. This will cover all your bases and allow you to meet people you might not otherwise.
The bottom line is before you're ready to date, you must be in a healthy relationship with yourself.  Second, you need to get out there and meet new people!  Third, take dating with a grain of salt.  Not everyone will be perfect for you, and you will not be a perfect match for everyone.  Have fun with dating, and don't take it so seriously.  Be open, be safe and most importantly have fun!
To learn more about dating from Dr. Pepper Schwartz, check out her book Prime: Adventures and Advice on Sex, Love, and the Sensual Years.