Deborah Szekely at age 100: a life of multiple lifestyles and careers
Deborah Szekely and her late husband Edmond Szekely (1905-1979) started "the Ranch" as a "health camp," and welcomed their first guests to the same location that Rancho La Puerta occupies today. Eighty-two years of operation have seen the once-primitive camp, set in a sweeping valley that flanks a mountain considered sacred by the Kumeyaay, evolve into a luxurious, but also unpretentious, resort. Rancho La Puerta today consistently wins "World's Best" spa-category accolades from Travel+Leisure magazine and other top travel magazines.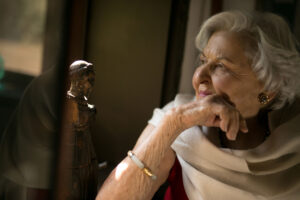 During her long life, she has had multiple lifestyles and careers, all simultaneous with running both Rancho La Puerta and the Golden Door, which she alone founded in 1958.
To name but a few, Deborah has been the head of Inter-American Foundation (IAF)— a U.S. government agency that invests in community-led development across Latin America and the Caribbean; founder of several non-profit organizations (including Eureka Foundation, a mentorship program for the executive directors of inner-city programs); member of prestigious national boards (including Center for Science in the Public Interest); and recipient of Mexico's highest award given to a non-Mexican, "The Order of the Aztec Eagle." Whatever her role, she always became known for her new ideas, fearlessness to be a contrarian when needed, and "can do" attitude, even under impossible deadlines and against insurmountable odds.
Married at age 17 after graduating from Tamalpais High School in Mill Valley, California, her first house in Mexico was a one-room adobe shed used for storing hay, with no running water, no electricity, and a pit toilet. In classic Deborah style, she says that "my husband would have carried me over the threshold, but there was no threshold, and no doors or windows!"
The couple asked their first group of guests to the "Essene School of Life" to "bring their own tents." It may sound grim, but the property, rented from a rancher, had a year-round river, a seasonal stream, shady groves of oaks and sycamores, and a vast boulder-strewn mountainside clad each spring in robes of purple mountain lilac—the very stuff of dreams, postcards, and love-of-nature superlatives. At 1,700 feet elevation, the year-'round climate was ideal for an outdoor life. In addition, Tecate is next to the U.S.-Mexico border, and only an hour's drive from San Diego, allowing easy access for guests from the U.S.
The foremost attraction back then was Edmond Szekely. Edmond was "a brilliant, charismatic man," says Deborah. "He had a following of health-seekers—my parents included—who attended his health camps each summer in places like Rio Corona in the state of Tamaulipas, Mexico, and Lake Elsinore, California."
Today their once-primitive health camp has evolved into an Eden of extensive gardens and modern accommodations designed by her daughter, Sarah Livia Brightwood, the resort's president. Sarah Livia took over from her mother almost two decades ago. Winding brick paths connect 80+ individual casitas (little houses), pools, a European-style spa, and a large village of gyms and other fitness facilities—all at the edge of over 4,000 acres of the Ranch's own nature preserve, perfect for hiking.
Early days in Tahiti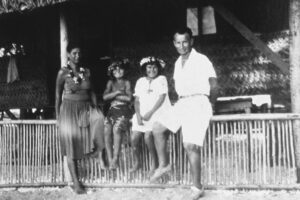 To echo the old phrase, "But that's not all!", Deborah Shainman was born in Brooklyn, New York, to a mother who was vice president of the New York Vegetarian Society and a father in the garment business. At age 7, when her father lost his business in the Great Depression, the family moved to Tahiti. They lived in a palm-thatched house on a beach, where the young girl and her brother Joseph learned to paddle their pirogue (outrigger canoe) well out from shore to tend fish traps located just outside a coral-ringed lagoon.
"My mother brought us out of our life in a dark brownstone, in a city where she could find very few fresh fruits and vegetables, to her dream of sunlight, milk, and honey. " Deborah recalls, "It was an idyllic childhood." Soon Deborah learned Tahitian and French, attended a local school, and found herself immersed in the island's daily life.
Her parents met and were impressed by a young man named Edmond Szekely, in Tahiti's ex-pat community: Szekely was a Hungarian health advocate and soon-to-be author of an opus he titled "Cosmos, Man & Society" — a philosophy and health-advice book that became especially popular in England. After six years, the family returned to the United States and lived in the San Francisco Bay Area.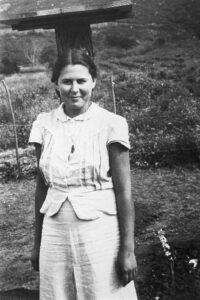 The Shainman family continued their pursuit of a vigorous lifestyle (some might call it challenging!) by attending a series of summer "health camps" promoted by Szekely in far-flung locales. His guests nicknamed him "The Professor" or "The Prof" for his eruditeness, phenomenal memory, and prescient health theories such as the dangers of cigarettes, lack of exercise, Vitamin D deficiency and agricultural chemicals, and life in general in "the stone colossus"—the American city. His advice was mocked by the mainstream in the '30s but proven again and again by science since.
By age 17, Deborah Shainman became Mrs. Edmond Szekely, and soon found herself on the road to Mexico. Her new husband's Romanian-issued visa to the U.S. had expired; if he was found in the U.S., he would be deported back to Europe to serve in the Romanian army despite being Jewish—surely a death sentence. Edmond found a remote valley near the U.S. border in which to stage another health camp, fled the U.S., and they soon welcomed their first guests. A lifetime of incredible challenges, successes, and some tragedies, was underway. Epic novels are seldom so interesting.
"My early life in Tahiti was the perfect preparation for those primitive days at the outset with 'The Professor,'" she says. "I knew how to cook on a kerosene stove, and 'chop wood, carry water' as the old Zen saying goes."
Life today at age 100
Today she maintains an active and sprightly daily life of taking long walks, answering a flood of emails, and receiving visitors. She attends symphony, opera, and live-theatre performances in San Diego regularly. Home base is her historic house designed by a disciple of Frank Lloyd Wright on the edge of a San Diego canyon.
Once a week she travels to Rancho La Puerta to address the guests at an evening presentation. A one-time member of AFTRA (American Federation of Television and Radio Artists), her performance covers everything from personal history, humorous quips, and wellness advice, to her many concerns, which include her belief that organic farming should replace "Big Agriculture's" reliance on chemicals, and that poor childhood nutrition, Americans' lack of daily exercise, and global climate change threaten life as we know it.
… all this despite never going to college and leaving the United States at age 18 to live in a remote northern Baja California valley. In the words of this new centenarian, "Always be curious about what will happen tomorrow, next week, next year, next decade!"