Life is like
Riding a bicycle.
To keep your balance
You must keep moving!
—Albert Einstein
Dear Friends,
Miracles do happen, and I'm living proof on my 95th birthday. By now a good number of you know the saga of my accident (a bad fall) and recovery—which has progressed amazingly well. In a matter of months I am almost back to normal…and back to doing my weekly lectures at The Ranch.
Why have I been given another chance at living for some years to come? I don't yet have the complete answer, but I am grateful and most appreciative—as I know all of you would be! As always, I thank my guardian angels (I must have more than one).
I don't yet know what I'm supposed to do with this gift of life…and time. I DO know the emotion I will pursue without fail, and this is JOY. The quest began with the many many visitors who have come to see me, and the food, flowers, phone calls, cards, and more. I was very well taken care of!
Sometimes it takes an unexpected hiatus to help us really appreciate all that we DO have. For example, my "new" house has welcomed me back home with open arms. I think my angels decided to find this house for me: so warm and wooden, so high up in the trees above a Mission Hills canyon. From the moment I saw it I envisioned a koi pond along one side of the house where an old drive led to a traditional garage.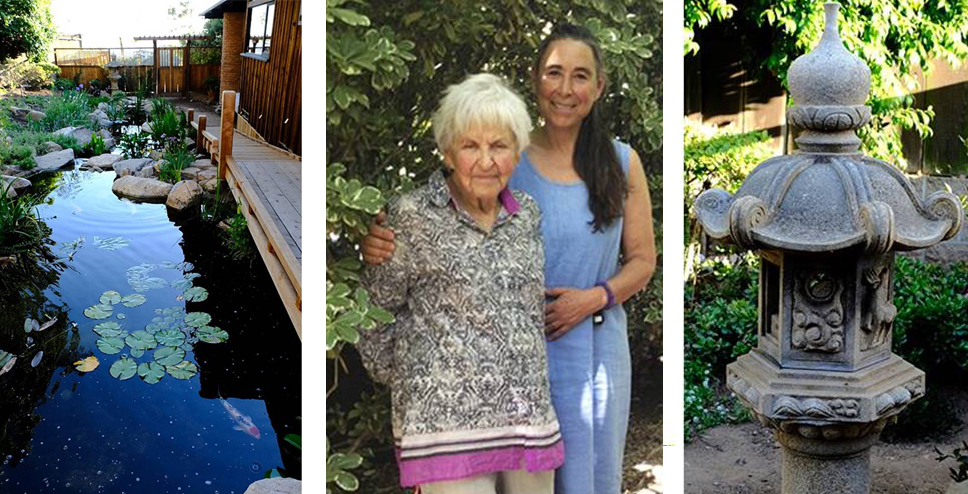 Now the waterfalls and ponds are done, and they are a joy to behold. I sit and watch my school of large rescue koi (yes, there are organizations that rescue koi who get too big for their home ponds!). My daughter Sarah Livia has designed a paradise for me with such artistry and attention to detail that I am amazed every time I step outdoors. Why, even the various types of iris are positioned in the pond's edges to bloom in sequence so that I have months of enjoyment. This is home. This is my sanctuary, and it talks to me.
I do know one thing that will never change. At my age, my brain must be challenged, must continue to look at life as a university with countless and inspiring professors, all at my beck and call.
Most of you know that I believe life comes in thirds: the first, youth; the second, a middle time when career and family dominate; and the third a time of wisdom and repurpose. What happens now that I'm 95? I'm in my FOURTH third! I will find new life and joy as I always do: through friends like you, through The Ranch and its guests—your ideas and passions. May we all travel more, explore fearlessly, and pursue our dreams and causes with greater passion than ever.
Most especially, on my actual birthday yesterday, May 3, I gave thanks for all the joy and comfort my daughter Sarah Livia has brought me. She has devoted these past months to bring me back to health. Without her, I doubt whether I'd be here. I'm so fortunate to have her, for from the top of her head to the soles of her feet she is a writer, a gardener, a musician, a dreamer, an artist…and yet she put her life on hold to take on the burden not only of caring for me, but the incredibly complex details of operating the Ranch and planning for its future. There are no words with which to express my admiration and gratitude.
I'll close with my favorite Tibetan proverb:
"The secret to living well and longer is:
eat half, walk double, laugh triple,
and love without measure."
It works! The next time I see you, let's all "laugh triple!"
Love,