Detox and Cleansing Retreat… For a Healthier, Longer, Life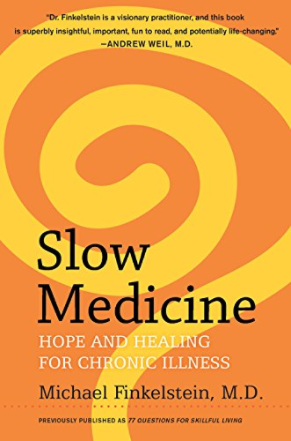 Are you interested in reducing inflammation, feeling younger, renewing physical balance and mental clarity, and shedding extra pounds? Join Dr. Michael Finkelstein, the Executive Director of The Slow Medicine Foundation, and author of Slow Medicine: Hope and Healing for Chronic Illness as he leads the Detox and Cleansing Retreat at Rancho La Puerta from Saturday, September 23 to Saturday, October 7, 2017. This program will support you in mind, body, and spirit. Dr. Finkelstein will bring decades of experience as a director of several hospitals and an expert in integrative medicine to this 14-day program. Dr. Finkelstein recently visited The Ranch and answered all our questions about his new program. Read on for highlights from our interview:
Tell us about your background and why you were inspired to start the Detox and Cleansing Retreat at The Ranch: 
I have been practicing medicine for 35 years but my practice initially was conventional; my training at the University of Pennsylvania School of Medicine was classical. It wasn't until I came to Rancho La Puerta for the first time in 2001 that I had was exposed to a more holistic view of life and living. When I came here, I needed stress relief for myself. I was working 14 hour days, I was the Medical Director of a hospital, I was practicing internal medicine which I had trained for, and it was all going well, other than the fact that I was exhausted and I was stressed. I arrived and was blown away by the beauty of the landscape all the intentionality of the gardens as well as the programs and the people. I was impregnated with experiences that percolated through my system over the ensuing months after I left. It led me on a journey to study holistic and integrated medicine.
Two or three years later, I closed my medical practice, I left the hospital, and I opened my own small version of Rancho La Puerta outside of New York City. After 15 years or so from my first experience at The Ranch, and after my book Slow Medicine was published in 2015, I reached out to The Ranch to offer myself as a teacher and to come and speak about my work in Slow Medicine. In the audience was Sarah Livia Brightwood Szekely who is the daughter of the founders Edmond and Deborah Szekely and the current President of Rancho La Puerta. She asked me about my interest in working with her to develop a fasting and detoxification program.
Why should guests participate in the Detox and Cleansing Retreat?
We have put together what I think is going to be the premier detox program that exists in this area. It includes all the features of The Ranch, the environment, the people, and the services. Participants will find it thrilling to feel their body as it gets this chance to finally rest. That's really what a fast process is, it changes our metabolism from the day to day. Let us assimilate nutrients, let us bring them into our body and build to a rest period where we can finally take out the garbage, where the cells that accumulate toxins finally get a chance to release what has accumulated and that contributes to so many of our symptoms. Whether that's an inflammatory state or a state of immunity on our immune process, diseases like cancer and heart disease, stomach nervous system syndromes are all exacerbated by this underlying accumulation of toxic material.
This detox program is designed on the physical level to give you the chance and to support the cellular function with specially designed juices that provide the nutrients, the vitamins, minerals, and enzymes that are required to facilitate that process. At the same time nourishing you enough physically so that you're not starving. People will say they feel entirely refreshed and rejuvenated.
How is the Detox and Cleansing Retreat structured?
This program is designed to include three days before and three days after so that the entire 14-day period allows for us to reorganize our approach to living and go back home with a discipline, an organization, a knowledge and inspiration to carry this forward so that the results that are achieved during the 14-days here are consolidated and sustainable.
Read more about the Detox and Cleansing Retreat, and let one of Experience Planners help you plan your perfect week.