We've all been through a tough year and a half. It's hard to calculate our cumulative stories of grief and loss. Now, as strict COVID regulations in the USA are lifting, we can gain some perspective and reflect upon what we have endured and how we wish to approach the next phase of our lives.
All of us have paid the price of loneliness, isolation, and grief. According to the Psychiatric Times, loneliness is a state of mind that is characterized by feeling unwanted, empty, and cut off from others.* In my experience, we all have bouts of loneliness when we compare what we have against what we think we want.
Loneliness, as you may know, is not only a matter of being alone. You've likely experienced the feeling of loneliness in a crowded place at some point in your life. Loneliness hurts and can create a thought loop that is accompanied by negativity, anxiety, pain, and low self-esteem.
Strengthening our resiliency is crucial as we emerge from following strict COVID-19 regulations into a different world from the one we knew a year and a half ago. It is sometimes useful to consider the most obvious tools to help us deal with stress and loneliness.
On a positive note, the pandemic created an opportunity for many of us to deepen our capacity to reflect and discover what matters the most to us. Maybe we're all more conscious now about the precious gift of time and how we want to live our lives going forward. The skills that I see as the most significant to focus on now are strengthening the ability to:
Relax and self-soothe on demand
Reframe negative thoughts
Effectively communicate
Some Basic and Powerful Tools
The way you breathe matters. You've learned this before, especially if you've come to Rancho la Puerta or have spent time in the yoga or mind-body communities. The most immediate and effective tool to bring you a sense of calm has everything to do with the way you breathe. Breathing seems like a basic and automatic event that does not require our attention. Yet, when we do become conscious of the way we breathe, we can vastly improve our ability to relax and tune into the present moment.
Fortunately, this is under our volitional control. A morning routine of 90 seconds of abdominal or belly breathing helps to integrate the ability to relax on demand. Even without yoga or a lengthy meditation, this will make a huge difference in the ability to control stress and anxiety.
It amazes me that by simply making the breath more rhythmic and deeper that such a positive ripple effect is possible. This way of breathing reduces anxiety and depression, helps us to tolerate difficult emotions, decreases heart rate, blood pressure, and muscle tension, as it ushers us into the present.
Concentration and creative thought have also been shown to improve with the deepening of the breath. After even a single practice session, you'll likely notice the relaxation and ability to self-soothe that results. While belly breathing may not be the first thought that comes to mind when under duress—it will be a key resource under most circumstances.
Reframing Negative Thoughts. We all have thousands of thoughts a day and regrettably, many of them are negative and repetitious. In psychological terms, these are often called looping negative thoughts and, not surprisingly, they can bring us down. For example, whenever I've told myself, "Today is going to be a drag or overwhelming or stressful," my mind runs with these thoughts and turns them into self-fulfilling prophecies.
If you find yourself in that situation, become aware of the specific negative thought, take a breath and ask yourself, is this necessarily so? Then reframe that thought into a series of small steps that put you in a positive direction. Over time and with practice at reframing, you will become much more adept at managing your inner thoughts.
Healthy Relationships for Optimal Health, Happiness, and Longevity. We all know that healthy relationships are critical to our emotional, mental and physical well-being. Healthy relationships give us our sense of place, meaning and belonging. They act as a natural buffer against the ravages of stress. Effective communication is essential for us to be able to bond with each other in deep and meaningful ways and yet we sometimes forget the obvious.
Some reminders of good communication include the following:
•Listening to each other without judgment
•Communicating openly with authenticity and kindness
•Trust and respect for the other
•Consistently making time for each other
•Remembering details about each other's lives
•Engaging in healthy activities together
Healthy relationships are indeed the single most important predictor for our health, happiness and longevity. As we become more lenient and slowly emerge from this global pandemic it's important to know that we continue to build and strengthen our ability to calm ourselves, connect well with the people in our lives and find the happiness and fulfillment we crave. Clearly, coming to Rancho La Puerta is one powerful way to get a jolt and slew of these reminders, as they are built into the system.
We are all works in progress, and remaining on the path to our personal and relational evolution is essential in the quest to remain resilient, joyful and connected.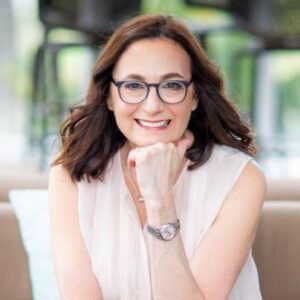 Dr. Randy Kamen is a psychologist, leadership coach, educator, and bestselling author of Behind the Therapy Door: Simple Strategies to Transform Your Life.
Dr. Kamen had served as part-time faculty at Harvard Medical School teaching women's leadership and writing, publishing, and promoting your book. She also leads workshops and retreats at YPO, Chief, Pepsi, Proctor and Gamble, and Pfizer.
See Dr. Kamen's Life Strategies in her Chat with Barry or learn more about her.