David Azose, 33, the Head of Engineering for a large Seattle tech-based company, recently came to The Ranch for a week to take time for himself. David was kind enough to share his experience with me.
SD: How did you hear of Rancho La Puerta?
DA: I talked to a friend who visited a few years ago and highly recommended it, and I did research online. I wanted to focus more on what I was doing and less on where I was, and I like the rustic vibe of The Ranch. I wanted to be more attentive to my health and fitness and create some headspace. The Ranch seemed conducive to that. Mostly, I wanted to get away for a week from the stress of life, the stress of work, be able to unwind, and focus on fitness and health.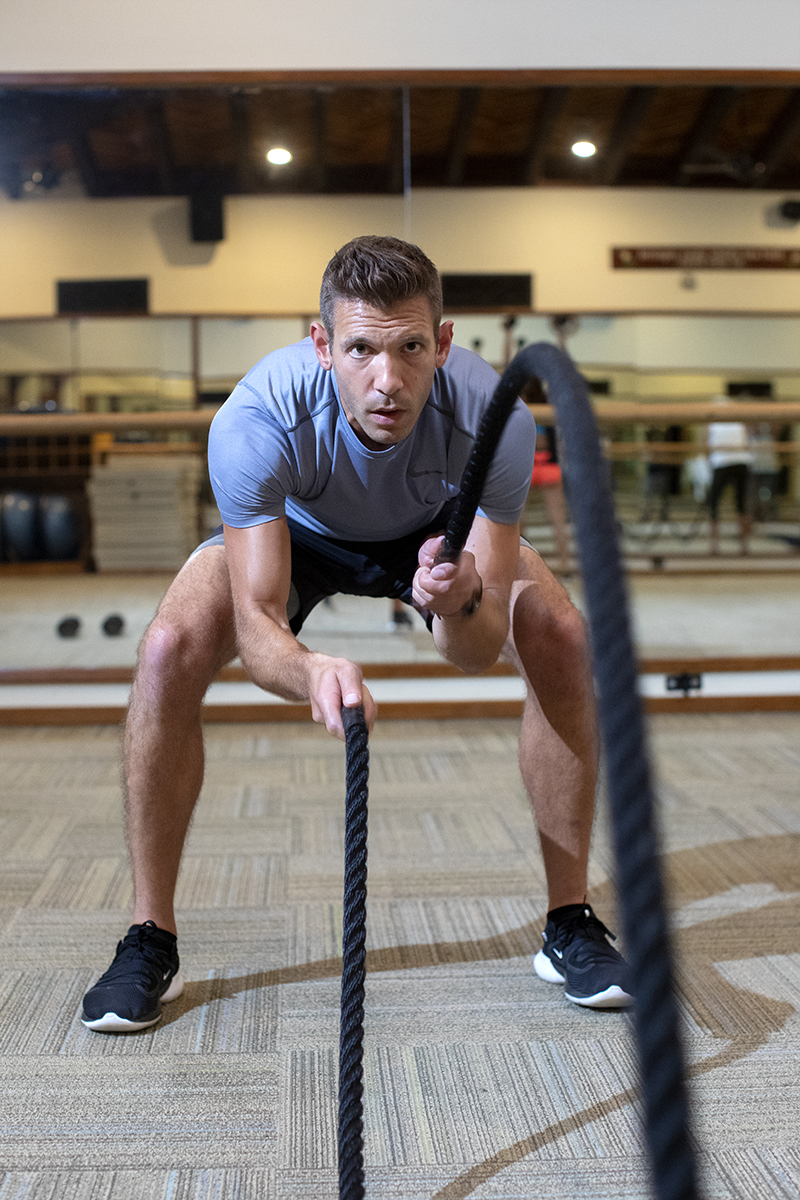 SD: How has The Ranch met your expectations?
The one thing I was worried about was the food. I work out a lot and eat a lot of protein. The food here has been amazing. I've been eating differently than I usually do. I typically eat more poultry and red meat, so I was worried about missing that. But the food has been incredible, and I feel fantastic.
I've been working out 5-6 hours a day plus morning hikes. So, I've had no shortage of fitness, and I've done a lot of things for the first time — Pilates, yoga, and aerial silks, which was super cool. I did the yoga on the mats in the pool (Boga Fit), which is probably my highlight. Instructors have been a ton of fun.
There are so many places to workout. The gyms are great. I was expecting The Ranch to be a place where I could be active, but I didn't know there was going to be super high-intensity training. I'm a regular cyclist and tried to avoid duplicating that, but the spin classes here were great too.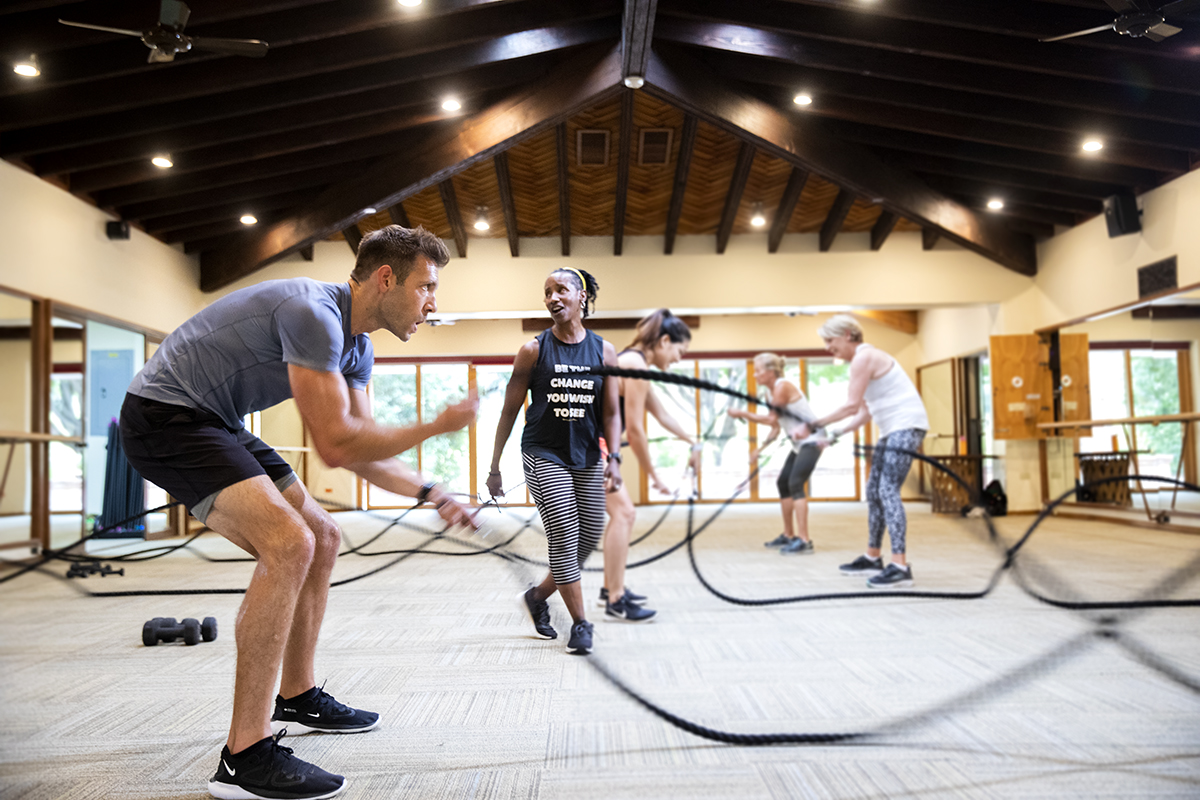 I tried to do a balance of low impact and intensity, focusing on higher intensity classes. I hiked every morning then did 2-3 cardio classes throughout the day. In the higher-impact ones, I was able to chart my course, so they met my expectations. In cardio HIIT, or circuit training, or spin you set your weights or pace and determine your intensity in terms of the cardio, the speed and what machines you pick. You can push yourself as hard as you want. What's nice is your still in an environment where you have an instructor playfully pushing you. There's a bunch of equipment I don't get to use back home since I'm one dimensional and stick to riding my bike. It definitely met my expectations in terms of pushing myself and was also a lot of fun.
SD: How has this vacation differed from others?
DA: Usually, on vacation, I'm always connected, always checking email. This trip is the first time in my career where I have gone away for a week and have not checked work once. It's not just a vacation for me, it's a total disconnect, a complete detachment. That was one of the number one draws for me, to be able to disconnect, and I never do that. It challenged my ability to get headspace and focus, be attentive, and be present, which has been excellent for me.
On the first day, Saturday, I was not sure I could do this. I put my phone in the little phone sleeping bag and put it in the safe. Then the next day was high energy, and I tried all this new stuff. Monday morning, I wasn't sure I could disconnect for a week. But by Monday afternoon, I had a new routine and no worries.
I've been sleeping well, my energy is high, and I feel way more attentive. In conversations, I'm not distracted by my phone and only half paying attention. My phone pulls me out of the moment, whatever that moment is.
I came by myself and just made the plunge to go here for a week solo, which seems like the exception for a young guy by himself. But it has been a nice cleanse and clearing of headspace for me. I will be back for sure and recommend it to my friends.
SD: Any surprises about being here?
DA: I think there's a false stigma around spa and wellness when it comes to men, especially my age. I've done a sports therapy massage every evening and pushed fitness hard all day long. My muscles have been exhausted. I've had a bunch of spa masseuses, and Juan Carlos has been my favorite. He's been fantastic and very knowledgeable, about the muscles and body. He's been able to help me work through specific pain points. It's been nice. It's like having sports therapy at the end of each day, which is an awesome way to end a highly active day.
I've enjoyed the spas. I've sat in the hot tubs, enjoyed the steam rooms, that sort of wellness and self-treatment component has been gratifying and not the kind of thing I tend to do daily. It's been pleasant.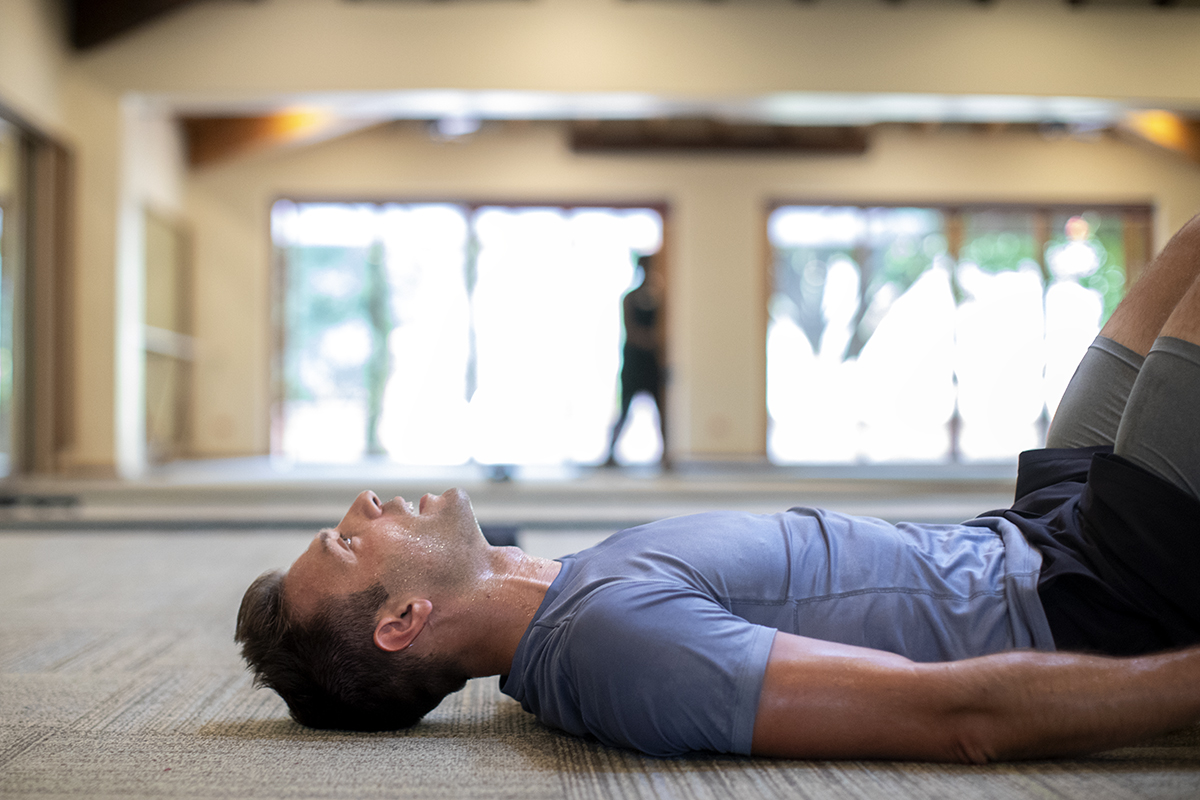 SD: What are your top 4 takeaways?
DA: Top 4 Takeaways
Morning hikes. I'll definitely try to incorporate them at home.
Eating. I have a high protein diet and eat a lot of meat. I always just assumed I wouldn't be able to fill myself up in the absence of that. I feel excellent at the end of the week here. I think I'm going to bring some of these food habits back home. Maybe eat more fish and less red meat. I used to cook a ton, and as I've gotten busy, I don't do it, so I'd like to get back into that.
I'm really into gardening, and the organic farm was amazing. Being able to do farm to table every day is just fantastic.
I'm going to figure out how to get one of those floating yoga mats. I don't have a pool but my friends do so I'm definitely going to figure that out. It was the best class, and I had the most fun. I'd do it every day if they offered it.
SD: Tell me about what a challenging fitness day looked like for you here.
DA: Here's what I did one day:
A 4.5-mile hike at four mph with 1,000 feet of climbing with a good pace getting my heart rate up. Then a one hour cool down walk around The Ranch followed by breakfast. Then I did a low-intensity Pilates class. Afterwards I jumped into circuit training, getting my heart rate back up, and then ran two miles. Then, back to 25 minutes of circuit training on machines. Then yoga for a cool down, followed by lunch. In the afternoon, I did Boga Fit on the water. Then a HIIT cardio class with a couple of more miles on the treadmill. Then restorative yoga. The day ended up at over 9 miles of walking and running.
Think you need a vacation? There are plenty of guests who come for a solo sojourn.