Theodora Stephan is one of 300 hundred olive oil sommeliers in the world. Her cookbooks and olive oil company, Global Gardens, have won accolades for helping introduce a fresh take on olive oil and healthy Greek-influenced recipes. She recently brought samples of her California olive oils and gave tastings and cooking classes at our cooking school. We sat down with Theodora to learn more about the benefits and uses of olive oil.
You don't advocate a Mediterranean diet per se, is that correct? 
I advocate for the Mediterranean lifestyle and cooking because who wants to be on a diet? Nobody. This fits right into Rancho La Puerta's philosophy really well. It's primarily plant-based.
What are good examples of Mediterranean cooking?  
What we're talking about is explicitly about the fat that we use. Nobody likes to use the word fat, but other seed oils aren't as good for us compared to olive oil. When we talk about the Mediterranean diet, we're talking about the fundamentals of how food is prepared and the use of olive oil.
What are some things people need to know about olive oil? Are they all the same?
That's the best question. About 70% of all the oils at the grocery store are blended with other oils, or they're old or rancid. So no, they're not all the same. Today, people are taught on many popular cooking shows that you should not cook with olive oil. Well, you never tell a Greek or an Italian not to cook with olive oil. If you go to Greece or Italy, even fried foods are fried with olive oil. And everything tastes delicious because of it. Everyone knows butter is delicious, but people don't understand that olive oil is delicious. What they're used to tasting from the store doesn't help their food taste good because 70% of it isn't real.
What I'm doing in my cooking classes is teaching people the proper use of olive oil and how to appreciate it. We fry, cook, and bake with it. Most recipes I teach use real olive oil as the healthy fat. I'm teaching people how to use olive oil in ways they've never used it. An extra virgin olive oil goes up to 400 degrees. Deep frying is done at 365 degrees, so there's no reason to get it hotter.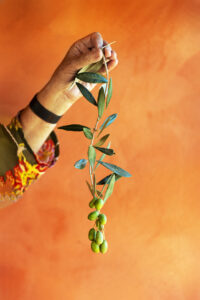 When I'm cooking, and I'm using my skillet, it starts to really smoke. Does this mean I've either gone above 400 degrees or it has another oil in it? 
That's right. It's old or has other oils that aren't olive, and it's unsafe. The Food and Drug Administration does not police labeling on many things: cheeses, fish, spices, olive oil, etc. So consequently, the consumer doesn't know precisely what they're getting.
I teach in my classes how to discern if your olive oil is real or not. We do a tasting of four different olive oil varietals. There are many similarities to the cocoa bean class offered at The Ranch. We're not just learning recipes. We're learning about olive oil, how to use olive oil, and how to discern the quality.
There are three key fundamentals in tastings. When you taste the olive oil, on the back of your palate, making sure that it's not greasy, and it's not greasy on your lips or in your mouth. There's definitely a different viscosity that fresh olive oil has, and when you taste it here at my class, you go, "Wow! I've never experienced that." I encourage everybody to go home and taste the olive oil they have in their cupboard while this is fresh in their memory. A good olive oil will have a fruitiness up front and a mid-tone. It'll have an excellent finish, just like a good wine will.
Even if it's mild and fruity olive oil, it will tickle the back of your throat and have some essence of pepper. There are three categories of olive oils: mild, medium, and robust. The bigger and robust olive oils are going to hit you in the back of the throat and make you cough.
Do you teach that in your class?
I'm an olive oil sommelier. There are fewer than 300 of us in the world right now. One thing we learn and teach is there are distinct flavor notes that you look for and identify. There are also distinct flavor notes you recognize in an older or rancid oil. In a three-hour class, we're not going to learn every one of those notes. I'll introduce the concept of what you should be looking for and how you should properly store the oil, production date, harvest, bottling date, or both. Just giving people the fundamentals so they can go home with something other than a recipe package to make some delicious food.
What do you advise in terms of buying oil? Should I buy the 250ml bottle, or can I splurge on that big tin?
Another great question. Olive oil is bottled once a year, and that's after harvest. It doesn't matter whether you buy a gallon or a teeny tiny 250ml bottle which is like eight ounces, a cup of olive oil. If you're going to use olive oil and it has the production date, then two years from the harvest is the best. If you use a gallon of olive oil in that time, you might as well buy it. It should be kept in a dark glass, not clear glass. There is no such thing as light olive oil, so light olive oil was cut with something and is a total marketing gimmick.
So if it's a dark glass and you're going to use it within two years of that labeled production date, go for it! You're going to save money with a bigger jug. You shouldn't have any problems if it's transported and stored correctly.
What are the three enemies of oil? I leave my bottle on my kitchen counter, and it gets direct sunlight. Is that bad?
There are three big enemies to oil. Light, age, and heat. Not necessarily in that order. You should keep it in the cabinet in a dark glass container. That will help preserve that fruitiness, that wonderful mid-tone with nuances like almond or pistachio or pear – the list goes on – and a nice finish that tickles the back of your throat, a little peppery. Those are common profiles.
Theodora (Theo) Stephan was the first to plant olive trees in Santa Barbara County, California, for extra virgin olive oil (EVOO) in 1996. She celebrates her 24th harvest season this year and was awarded "Olive Oil Sommelier" (one of less than 300 in the world) in 2019. Theo's brand, Global Gardens, offers 12 different varietal EVOO's, 20 hand-crafted balsamic-style wine vinegars, organic snacks and a myriad of pantry items made from her formulas. She was the first in the U.S. to create an olive oil subscription program. Educating people on the nuances of cooking and baking with fresh olive oil is a great passion of Theo's. She specializes in creating full-flavored Mediterranean Diet (on which she was raised by Greek-American parents) cuisine. She has written two popular cookbooks and has been featured prominently in the Los Angeles Times, Sunset Magazine, Better Homes and Gardens, Food and Wine, Bon Appétit, Mother Earth, Home and Family TV show, Oprah, Martha Stewart blogs and many more.
See who is cooking with us next.