Grilling Tips with Visiting Chef Gary Jenanyan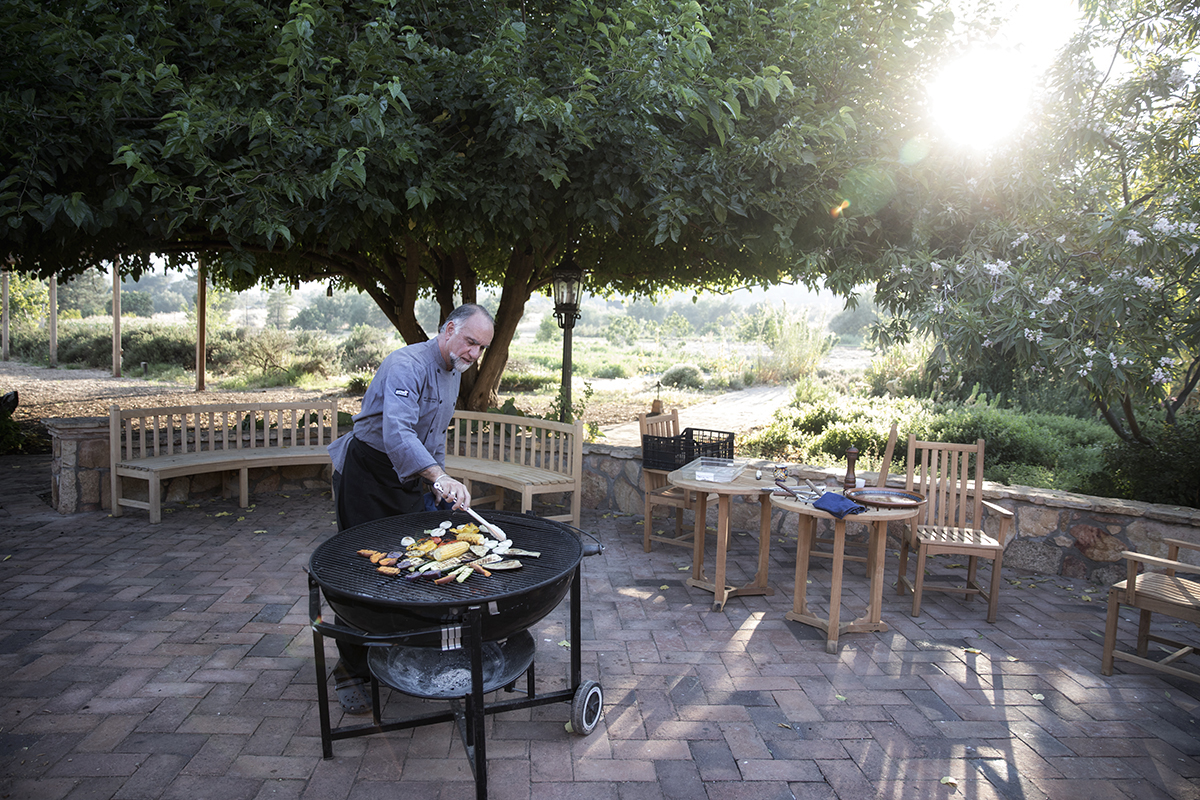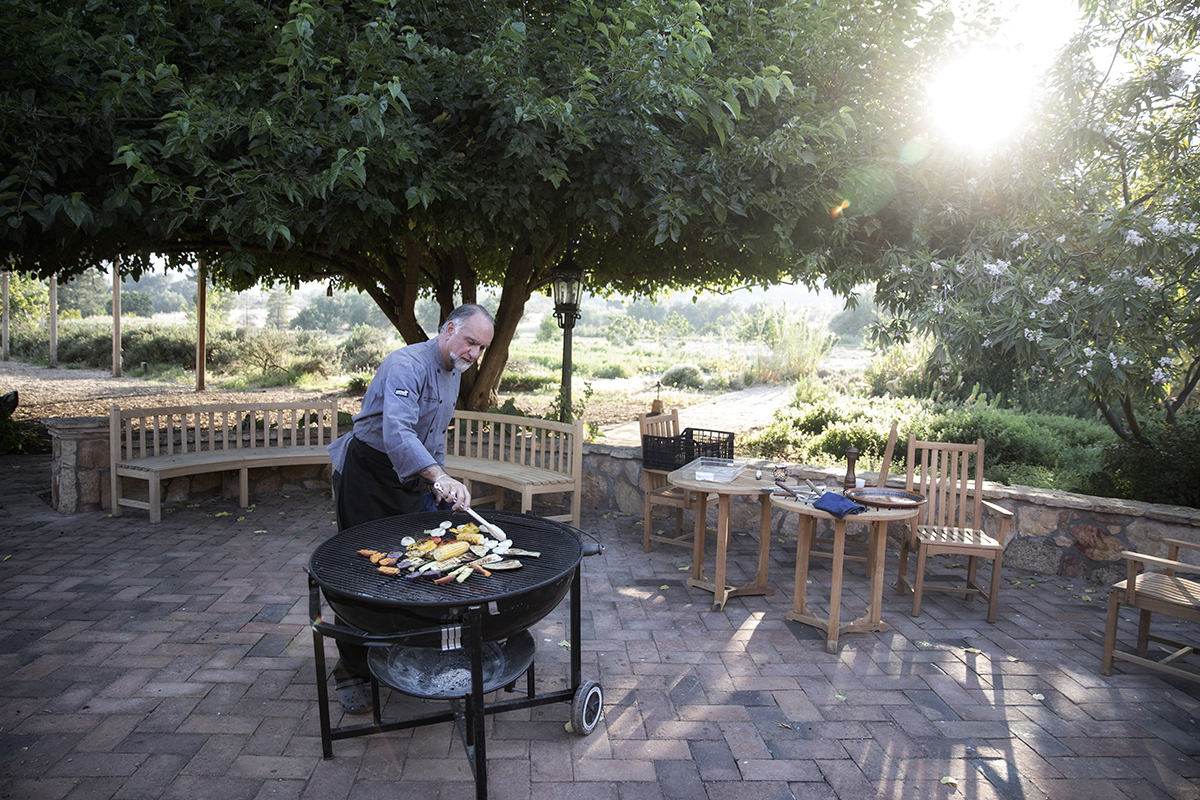 Chef Gary Jenanyan creates smoky and delicious vegetables and fish grilled over mesquite. It's amazing how simple it is. He recently brought his 30 years of experience to The Ranch's cooking school, where he shared his grilling tips. "Heat is a truck with no brakes," Chef Gary says. "If you wait to pull the fish or vegetables off the grill when they're done, they'll be overdone by the time you eat it." Heating vegetables on the grill adds a wonderful smoky flavor, takes away their bitterness, and caramelizes the sugars for a sweet and toasty flavor. And, the grill marks on vegetables look cool.
Here are Chef Gary's tips for grilling vegetables:
Wash the vegetables and then cut them into big pieces. For brown onions, bell peppers, and other spherical veggies, cut them in half or quarters so they don't slip through the holes in the grill. Cut tubular vegetables like Italian squash and sweet potatoes into thin slices, like a fillet or a steak.
Use mesquite since it's a dense wood that creates an excellent charcoal. It gets up to 700° F and holds high heat for longer than typical briquettes you'd buy at the store. In northern Mexico, and at The Ranch, we grill almost exclusively over mesquite.
Once washed and cut, drizzle, brush, or toss the vegetables with just enough oil to give them a nice light coating. Use a neutral oil like safflower, canola, or other oils that can take the high heat of cooking over mesquite. Olive oil has a lower heat point and will burn at higher grilling temperatures. If you like your veggies with olive oil then add it once you pull them off the grill.
To help keep your grill fresh and your veggies from sticking, rub a little oil on the hot grill. Use enough oil to lightly coat it.
Grill times vary from vegetable to vegetable. Once they're on the grill is not the time to be distracted. Bell peppers and lighter vegetable may take three to four minutes per side while denser vegetables like carrots may take a little longer.
The high heat of mesquite will burn salt and pepper. Salt becomes a hard-burnt texture and flavor while pepper gets bitter as it burns. There's nothing like a dash of salt right after you remove veggies from the grill. Use coarse kosher or natural salt. It will melt and blend well.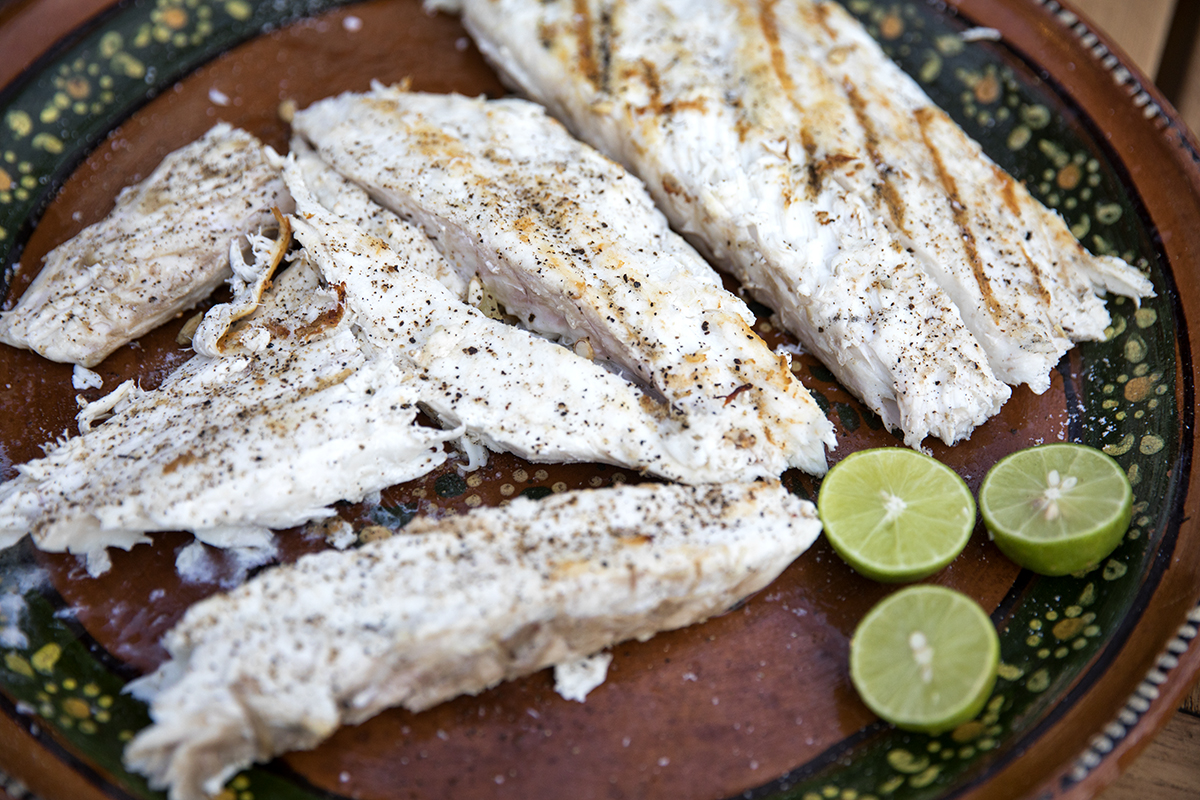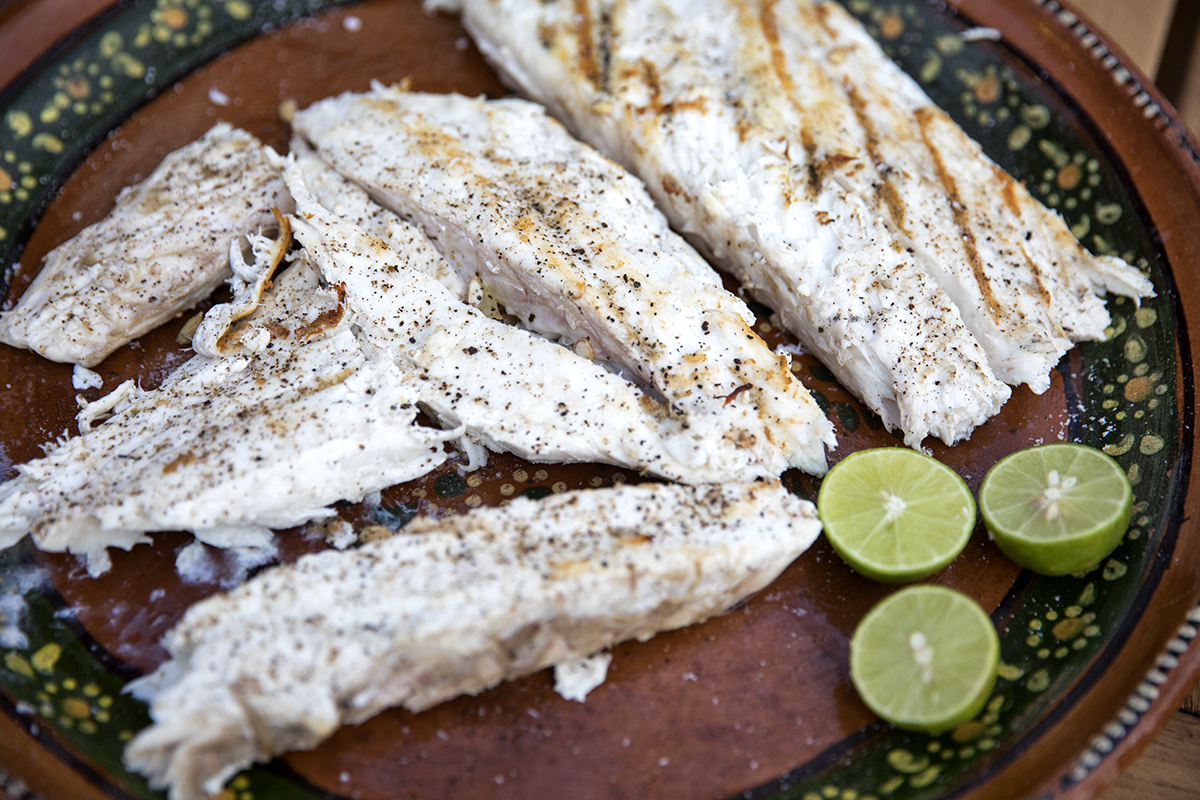 Chef Gary's tips for grilling fish:
Depending on the source of the fish, some of Chef Gary's favorites for grilling over mesquite are halibut, sea bass, and dorado. Check the health of fish populations and recommendations at Seafood Watch.
Prepare your fish by gently rinsing it in ice cold water with three table spoons of lemon juice or white wine vinegar per quart or water.
Cook everything when it's at room temperature, it'll cook faster and more evenly.
Drizzle the fish with a refined oil like canola, safflower, or sunflower seed oil. Again, avoid olive oil over the high temperature of mesquite.
Cook as big a piece of fish as you can handle and confidently flip on the grill. Start with skin side down.
Grilling is one of the worst ways of cooking because it requires you to pay attention. Don't get distracted.
Salt and pepper burn at these temperatures. The salt gets hard and dry, and the pepper gets bitter. That works on red meats but not so well on most fish.
Over mesquite, the ten-minute rule is too long. Fish is typically considered cooked at 145° F degrees in the center.  Raw fish doesn't push back, and cooked fish is more springy. Poke it with your finger before you place it on the grill and see how it feels raw. You'll know you're ready to pull the fish off when it's more opaque instead of translucent. It's easy to overcook fish so it might be best to use a small knife and slice into it a little to check.
Flavor with fresh ground pepper and salt as soon as you pull the fish off the grill.
When you're done, cover the grill with a sheet or two of thick aluminum foil, it'll burn off any excess food and help keep your grill clean.
¡Buen Provecho!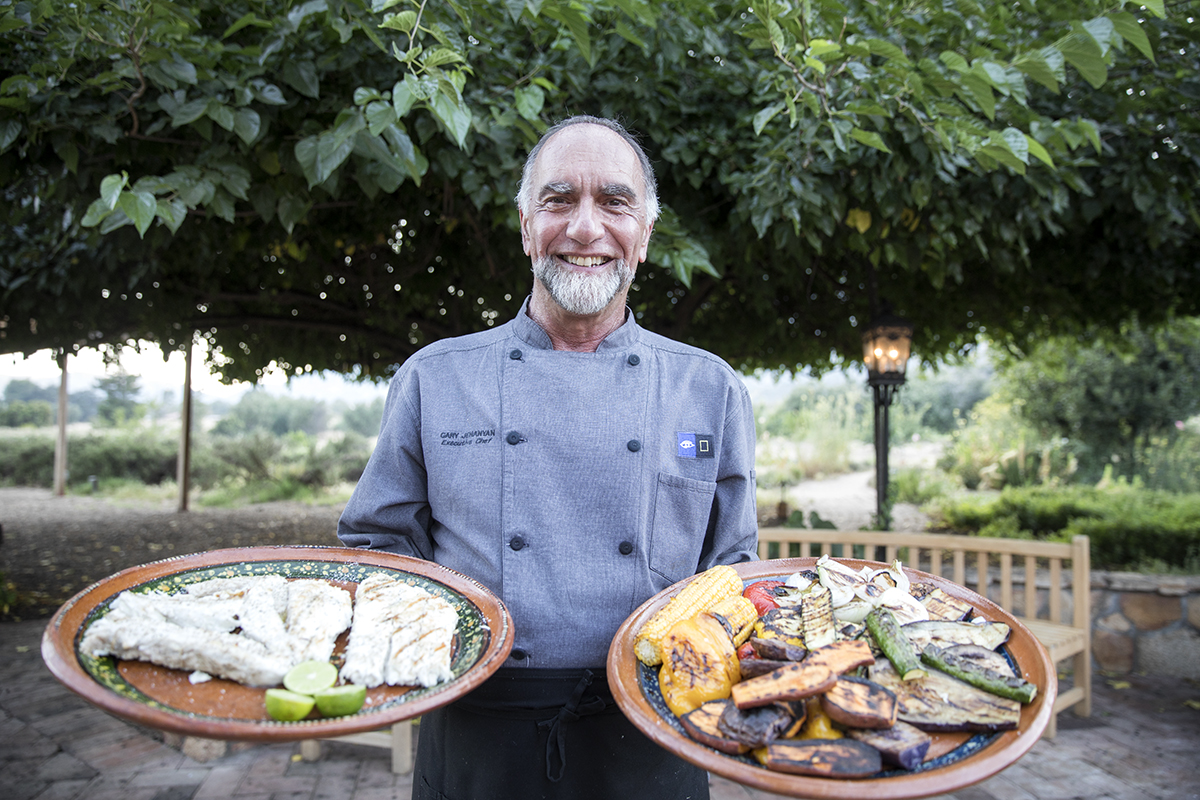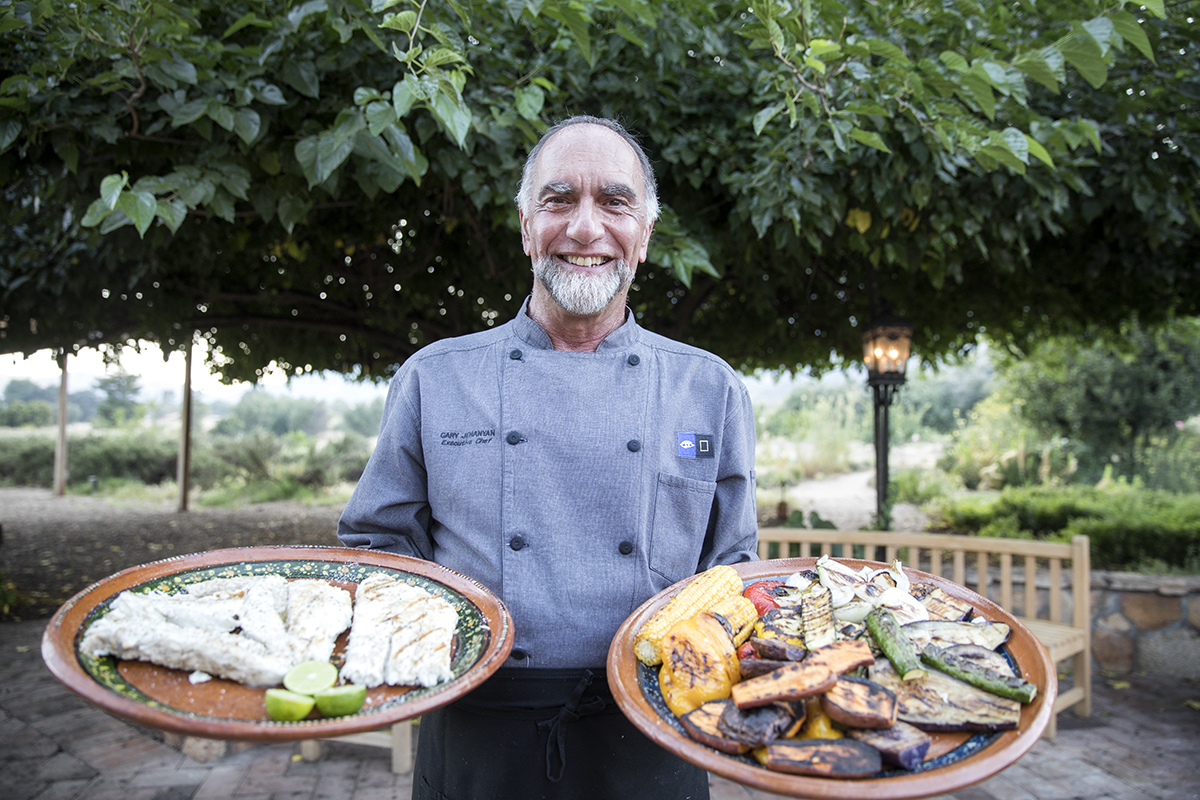 See who's cooking with us and learn more about our cooking school, La Cocina Que Canta. Or let one of our Experience Planners help you find the perfect week.