Get fit in a lovely setting. Our spacious gym facilities make working out a pleasure.
Arroyo Gym
Take an Abs and Back class, or attend an inspiring lecture at Arroyo Gym. Floor-to-ceiling windows provide lush garden views and plenty of sunlight in this high-ceilinged, carpeted gym. – 910 square feet.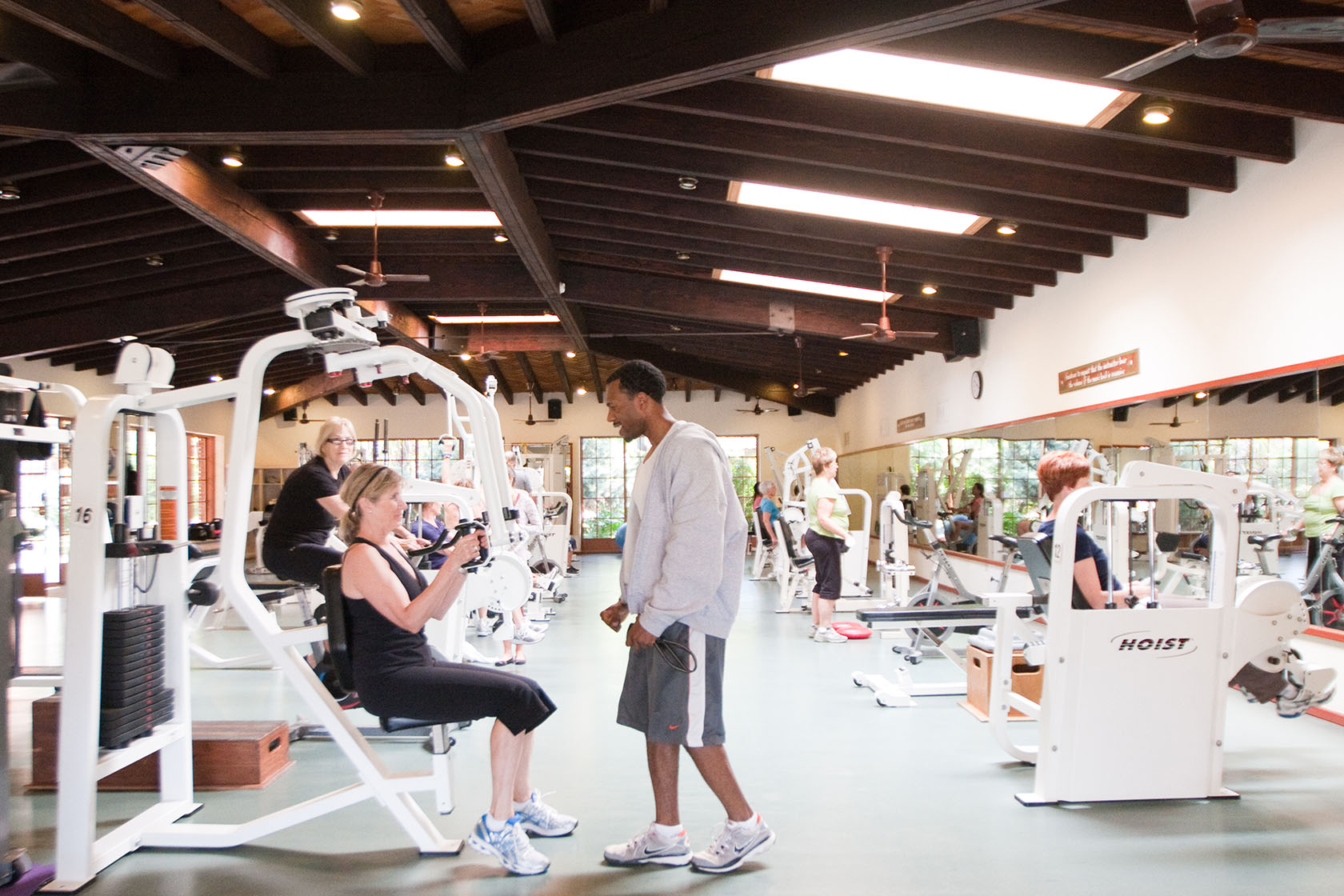 Azteca Gym
Work out in this state-of-the-art weight room, equipped with twenty-five HOIST strength-training stations and equipment, Precor Elipticals, eight Star Trac treadmills, eight Life Cycles, eight Stair Masters, and a complete set of free weights. – 3,920 square feet.
Kuchumaa Gym
Try out Cardio Drumming, African Dance, or Zumba in this beautiful dance studio. This spacious room has tons of natural light, a gleaming wooden dance floor, high ceilings, a chandelier, a sound system, a stone fireplace, a mirrored wall, and large windows. – 2,450 square feet.
Milagro 
Slip into a peaceful state in this tranquil meditation oasis. Equipped with meditation support cushions, yoga blankets, and a carpeted floor, this comfortable space provides an atmosphere that allows you to go deep within yourself. – 514 square feet.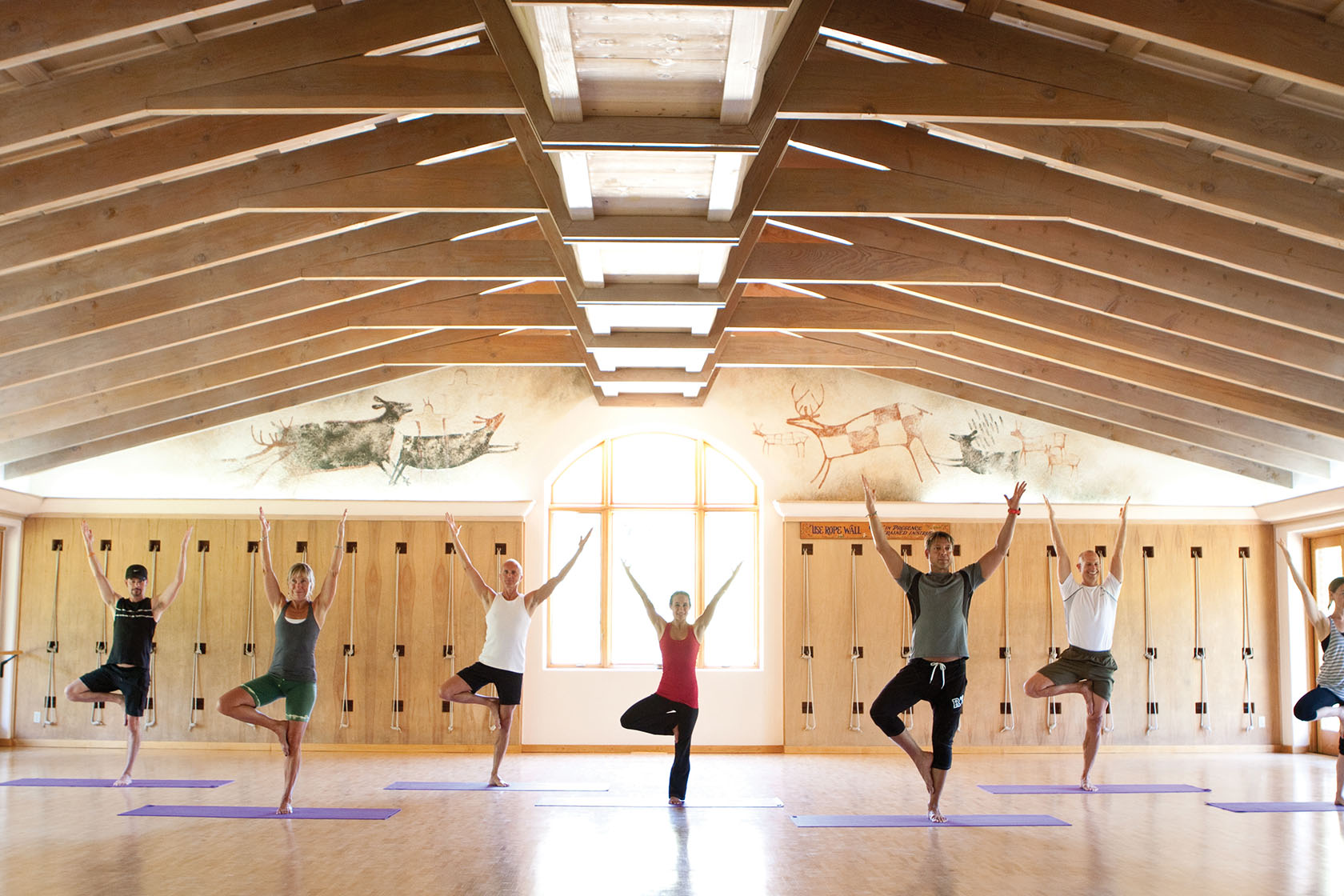 Montaña Gym
Nourish your mind, body, and spirit during yoga classes in Montana Gym, a spacious studio with shining wooden floors, vineyard views, and tons of natural light. Yoga mats, blocks, straps, and blankets are provided. – 2,806 square feet.
Oaktree Pavillion
You will feel at home in this warm and inviting room, with its pillows, blankets, wood-burning fireplace, baby grand piano, and floor-to-ceiling views of the mountain and vineyards. This spectacular round wooden building is the site of life-changing lectures, retreats, and musical performances.
Olmeca Gym
Challenge yourself to an intense fitness class or sit back and learn at an inspirational health and wellness lecture in Olmeca Gym. This room is chock full of exercise equipment, including a ballet barre and a wall-to-wall mirror for the ideal workout session. – 2,112 square feet.
Pai Pai Gym 
Workout in a Ranch Cycling, TRX or Kettlebell class at this fully equipped gym. Large windows provide tons of golden sunshine, which will keep you naturally energized during your workouts.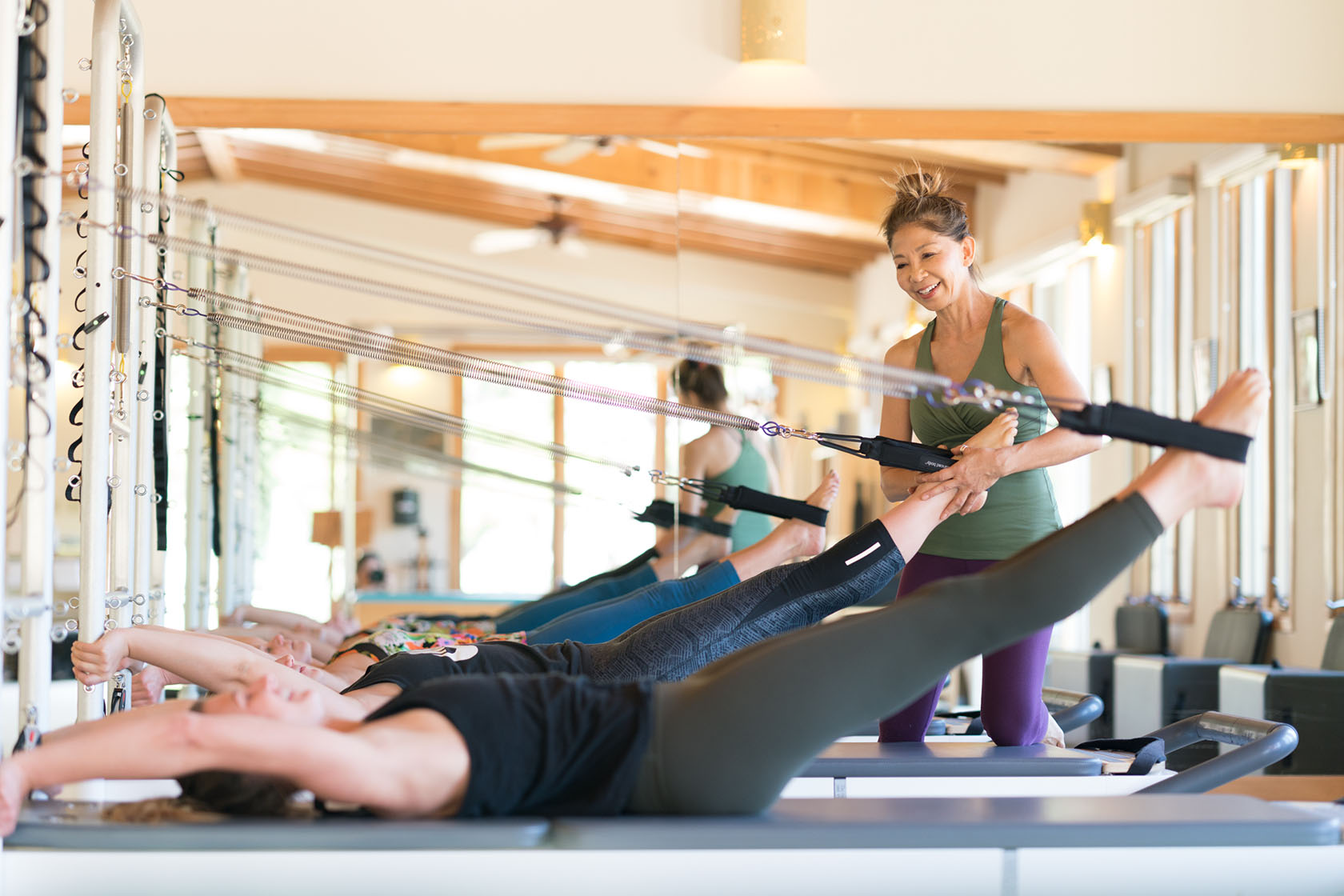 Pilates Studio
This state-of-the-art Pilates studio contains six Pilates Allegro® Reformers, two Studio Reformers®, one Trapeze table, one Wunda Chair, one work table, and a wide variety of supportive equipment. This room is designed to transform the body. – 1,540 square feet.
Pine Tree Gym
This giant workout room is centrally located and is equipped with exercise equipment, hardwood floors, and floor-to-ceiling mirrors. It's the ideal location for stretching classes, basic Pilates courses, and general Releasing and Mobilizing. – 2,444 square feet.
Tolteca Gym
Many activities take place in this carpeted gym that features an array of workout equipment and floor to ceiling mirrors. Challenge yourself to Kettlebells, TRX, or postural therapy, or attend an informative lecture. – 2,138 square feet.
In addition, there is a running track (1/6-mile); four lighted tennis courts; pickleball; sand volleyball and a basketball court; four swimming pools, five hot tubs, and three dozen hammocks (to entice you to rest and read, beneath ancient oak trees).