Transitioning from one season to another is an excellent time to consider a quick self-assessment of how your body is functioning. If your skin is breaking out or overly dry, your digestion is sluggish, or your energy and mood are low, it could be time to consider some gentle dietary shifts and plant-powered support.
Typically, spring is when our bodies respond well to a cleanse, as we move away from the stagnancy of winter into literally creating a spring in our step, but supporting the body's natural detoxification processes is something we can do at any time. If you didn't know, herbs are incredible allies to give us a little push in the right direction.
Nature always shows us the way…
As summer's foliage fades and the temperatures start to cool, the plants focus their energy on building nutrient reserves for the winter through their root systems. Nature's transition is our cue to shift from the lighter summer fare of raw vegetables and salads to the natural comfort of warming soups and stews with squashes, roots, and healthy fats. Eating a dose of fermented foods at each meal will enhance the benefits.
This subtle nutritional adjustment as we enter autumn can calm the nervous system and consequently reduce stress. It is the perfect foundation for a second layer of self-care, which includes drinking herbal infusions that enhance circulation and all aspects of digestion.
The recipe which follows for the Fall Herbal Detox Tea evokes the flavors of the season while giving your system a gentle tune-up, which will be especially effective if you decide to drink the blend 2-3 times a day.
So, let's take a look at the ingredients; the first four may already be in your kitchen.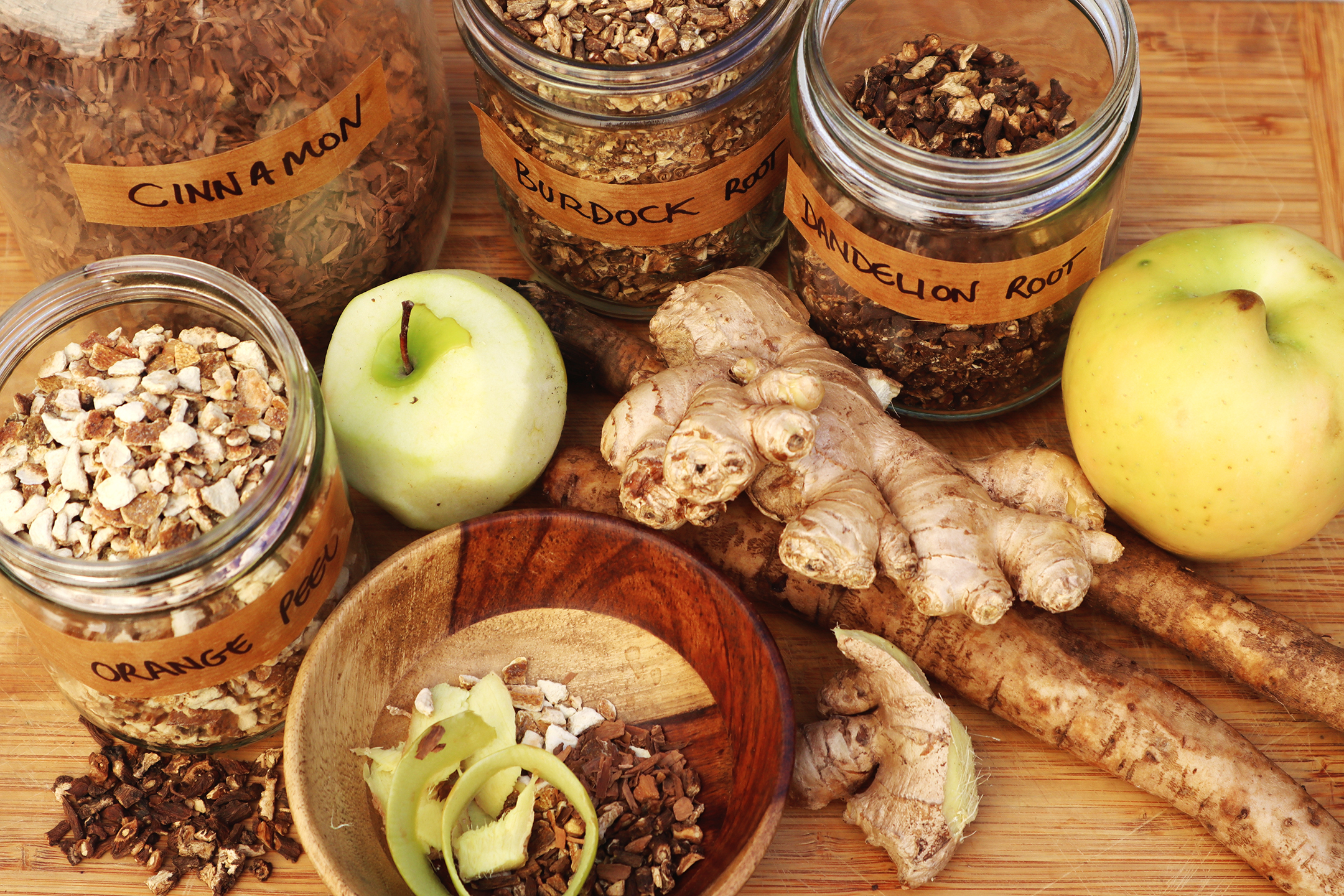 Apple peel, Pyrus Malus is rich in pectin, fiber, quercetin, and vitamins C, E, and K. The peel helps the body clear cholesterol, relieve constipation, and reduces inflammation.
Orange Peel, Citrus Sinensis is a warming, aromatic bitter that supports digestion by relieving heartburn, constipation, and gas. The peel is anti-inflammatory and antimicrobial and can also lower cholesterol. Orange peel is a regular ingredient in herbal digestive blends because it harmonizes flavors.
Tip: If you eat organic oranges, you can save and dehydrate the peel for use in future teas and recipes.
Fresh ginger, Zingiber Officinale is a warming circulatory stimulant that breaks up stagnation, supports the immune system, brightens the mood, aids digestion, and is anti-inflammatory and anti-nausea. Fresh ginger is the preferred form of the herb, as dried ginger is even more warming and drying in quality and thus can be irritating if you tend to overheat and have dry skin.
Cinnamon, Cinnamomum is warming and sweet in quality, lowers blood sugar and blood pressure, is antimicrobial, anti-inflammatory, antiviral, anti-fungal, supports circulation, helps dispel bloating and gas, and is rich in antioxidants.
Tip: Cinnamomum Cassia is most likely what you have on hand if you bought your cinnamon at the grocery store. It's an evenly flavored choice, but if you have options, my favorite version is Cinnaomum Verum, which is so tasty, you will simply want to eat it, and this is available at Mountain Rose Herbs.
Dandelion Root, Taraxacum Officinale is bitter in flavor and cooling in quality, is a nutritional powerhouse; containing inulin, which is the prebiotic fiber that feeds our gut flora. This is a premier digestive tonic that helps the liver function more efficiently while clearing constipation, skin breakouts, lifting the mood, and improving the function of all the organs in the body. It is one of the most revered plants in the herbal apothecary.
Burdock Root, Arctium Lappa is also a cooling digestive bitter but has a sweeter flavor than dandelion and is considered oily in quality, which means it has the ability to moisten dry tissue. It supports the body's natural pathways of nutrient absorption and elimination and is used for skin conditions and digestive complaints. Burdock root is also a delicious wild edible. Here's one of my recipes using the fresh roots, Burdock Latkes.
 Fall Detox Tea: (Ingredients listed are for an 8 oz mug)
Apple peel from 1/3-1/2 of an organic apple 
1/2 teaspoon organic cinnamon chips, or 1/4 teaspoon of cinnamon powder 
A few pieces of organic orange peel, or 1/2 teaspoon dried orange peel*
1/4 teaspoon fresh organic grated ginger (depending on your tolerance for spice)
1/2 teaspoon organic dandelion root*
1/2 teaspoon organic burdock root*
8-10 oz of filtered water
 Ingredients are available at your local herb shop, or online at Starwest Botanicals, Mountain Rose Herbs, or Jeans Greens.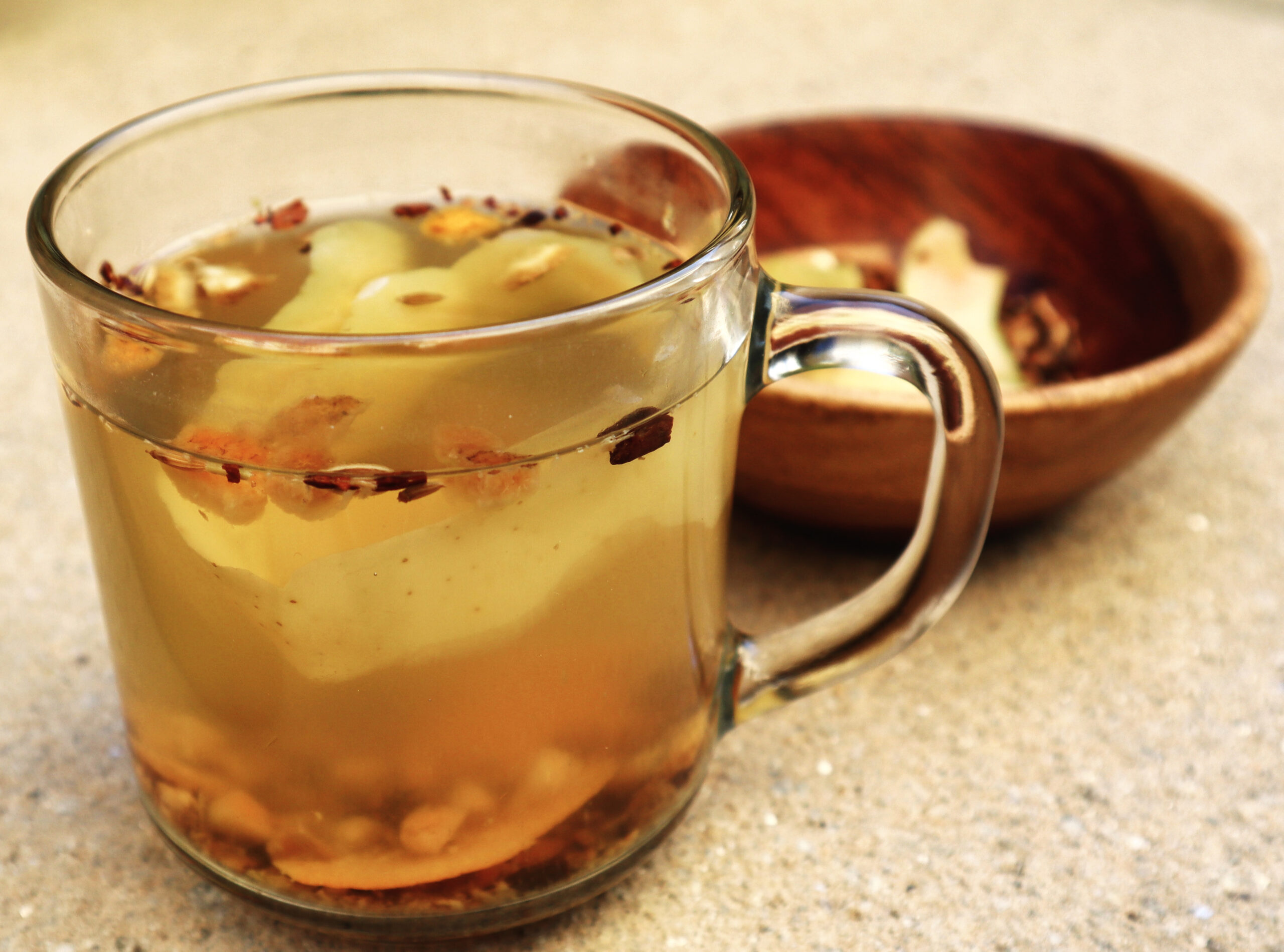 Method:
To make the infusion simmer all the ingredients for 20 minutes in a covered saucepan, and then strain out the herbs before drinking the tea.
Another method (which is especially useful if you intend to drink a full day's worth of infusion) is to make the larger batch in a French press or a mason jar.
Add enough herbs for three cups of infusion, cover with boiled water, and steep overnight. This will make a strong extraction that is just as effective as the simmered version.
Enjoy!
Note:
Always check for contraindications with any prescription medications or medical conditions that you have.
If you have sensitivities to inulin, then avoid using ginger, dandelion, and burdock.
Dawn Petter is a clinical herbalist and flower essence practitioner based in New York City. She's scheduled to be back as a guest presenter in April 2022 to present Herbal Medicine for Everyday Living. She is a graduate of Arbor Vitae School of Traditional Herbalism and is trained as a flower essence practitioner with Delta Gardens and Findhorn Essences. Dawn offers in-depth consults by appointment virtually or in person, and teaches classes and retreats at corporations and institutions including, the NY and Brooklyn Botanic Gardens and The NY Open Center to name a few. She is also the owner of Petalune Herbals, which specializes in small-batch herbal skincare. Her classes are imaginative, accessible, and encourage students to use herbal medicine in everyday life. Visit www.petaluneherbals.com to learn more.
**Disclaimer:
The information provided is for educational purposes only. None of the statements on this page have been evaluated by the Food and Drug Administration, and this information is not intended to diagnose, treat, cure or prevent any disease. If you believe you have a medical condition, please consult with your physician.
See more holistic healing recipes on The Ranch blog.