Holistic Remedies for Dry Hands and Lips
Sometimes it feels like our skin can't catch a break. Cold winter weather, strong winds, and indoor heating contribute to dehydrated hands and lips. Add uncomfortable face coverings, alcohol-laden hand sanitizers and frequent washing, and you have concocted the perfect storm of skin irritants. If your hands are dry from over-cleansing or your lips feel parched from over masking, we have solutions for you.
The Ranch's Spa and Holistic Therapy Specialist, Regina Montalvo, M.S., L.Ac, explains: "Dehydration affects us in two ways, internally and externally. We can eat certain foods to help keep our skin moist, but even if we have a balanced diet, outside factors like weather can affect the skin."
Regina's Tips to Hydrate from the Inside Out:
Drink plenty of water and make sure it is warm or at room temperature during cold months.
Amp up the vitamin E, which helps keep skin moist and supple. Good sources include cold-pressed olive oil, dark green leafy vegetables, nuts (especially almonds, walnuts and hazelnuts), seeds (like flax), brown rice, dulse, and kelp.
Include essential fats in your diet, like the whole food or oil version of fish, avocados, flaxseeds, sunflower and sesame seeds, almonds and walnuts. Eat salmon, mackerel, sardines, herring, or anchovies. If tolerated, consume grass fed dairy products such as milk, butter, ghee, and cheese. Omega 3's help combat dry skin.
Healthy foods can only do so much to hydrate the skin, so pair a balanced diet with a nourishing skincare regimen to attain buttery soft hands and lips.
Achieve Kissable Lips
When it comes to soft lips, hydration is key. Claudia Sugey Villalon, The Ranch's Spa Consultant suggests using organic virgin coconut oil as a lip balm. If you need to heal damaged skin, you can take lip care a step further with specialized treatments. She recommends La Puerta Core Essentials™ Intensive Lip and Eye Serum, which is a rich therapy for extremely dry, dehydrated or mature skin. This nourishing serum helps to bring lips back to life. Use it in addition to a lip mask, such as the one below.
Sugey's DIY Moisture Infusing Lip Mask
1 teaspoon of honey
1 teaspoon of smashed avocado or 1 teaspoon warm organic virgin coconut oil
Mix ingredients together. Smear a thick layer onto lips and let sit for 15 minutes. Rinse with water or wipe off with a warm wet towel. Play with the ingredient combinations! Honey is lauded for its regenerating properties, avocado contains vitamin A, D, E, and coconut oil hydrates.
Lip Exfoliation Myths
Contrary to popular belief, Claudia Sugey advises not to exfoliate extremely dry lips. "Our lips are very sensitive and only some skin types can handle lip exfoliation. We want to make sure we do not break the skin, especially when is dry." If you must exfoliate, use a brown sugar-based scrub, be gentle, and do it once every 28-days so your skin has time to regenerate.
Baby Soft Hands
Cracked, dry, and rough hands are side effects of wintertime and the need to stay germ-free. If your hand lotion isn't doing the trick, it's time to try a new approach. Regina and Sugey recommend combining Core Essentials™ face and body products to banish wear and tear.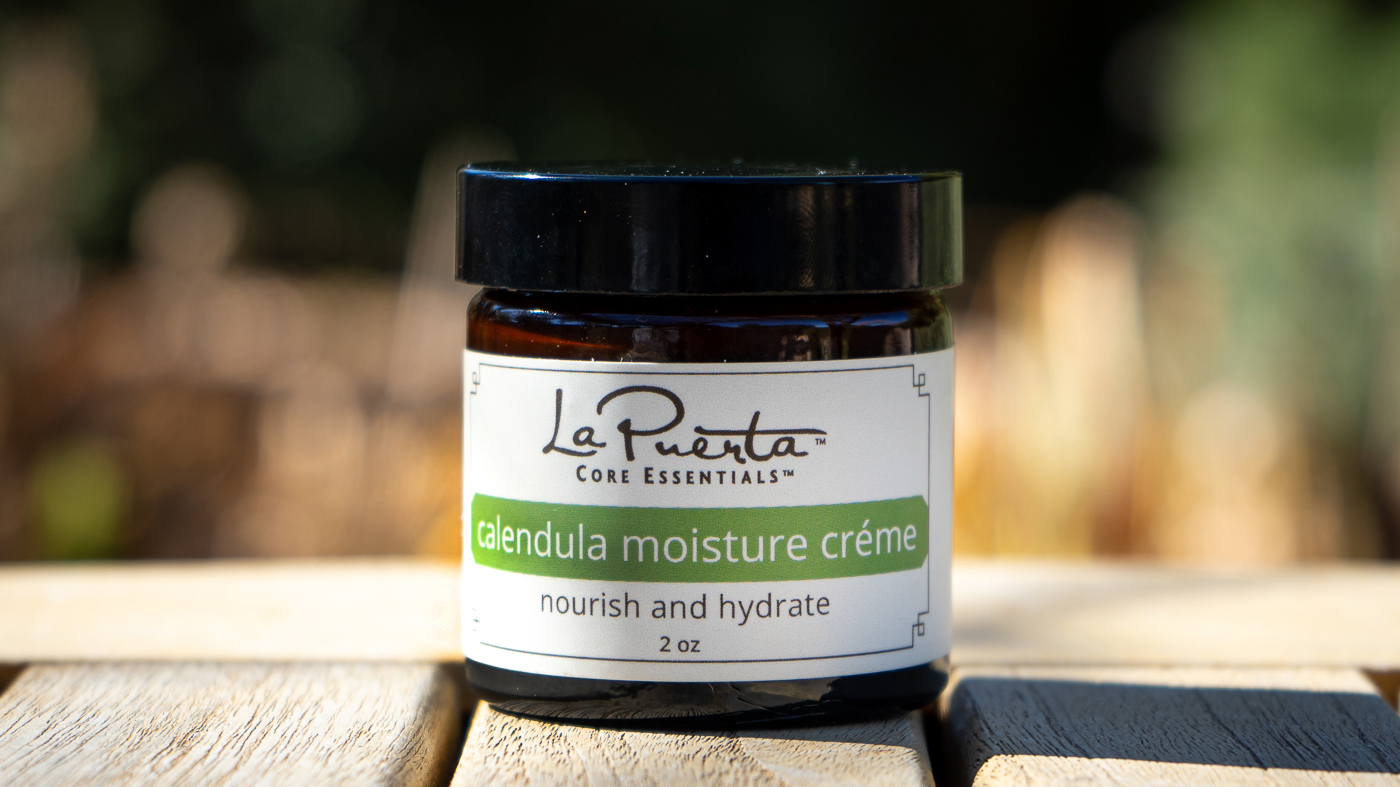 Home Hand Spa Experience:
Exfoliate: Mix one teaspoon of body oil and one teaspoon of botanical salts. Scrub hands together for 20 seconds to slough off dry skin.
Moisturize: Apply Calendula Moisture Créme, which includes Aloe Vera Leaf Juice, Shea Nut Butter, and Calendula Flower Extract to help nourish the skin. If you want to add an aromatherapy boost, add a dash of a Signature Body Oil into the crème.
Apply a Hand Mask at Bedtime: Core Essentials Antioxidant Créme Mask will work wonders for your face – and will also help heal your hands. It's packed with ingredients to boost hydration, nourish and soften, including Neroli Flower, Borage Seed and Palmarosa Leaf Oils.
Enjoy your silky-smooth hands and lips!
Want to learn more about holistic skincare? See Seven Tips To Eating for Healthier Skin.