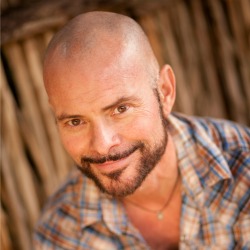 Barry Shingle is one of our favorite people. He's worked at The Ranch for fourteen years, starting out as a Guest Instructor, then as our Fitness Manager, and he is currently the Director of Guest Relations and Programming.
If you've been to RLP, chances are you've attended Bingo with Barry, one of the most popular activities at The Ranch.  Barry is much loved for his humor and witty personality, but those that know him best also love him for his kindness and compassion.  He is one-of-a-kind and adds magic and fun to The Ranch experience.  We hope you enjoy learning more about Barry's view on wellness and fitness in the interview below!
Kate Bello:  What's your background with fitness and health?
Barry Shingle:  I studied Exercise Science as an undergraduate and started teaching group fitness classes in college.  I also have a Masters of Arts in Journalism.
KB:  How did you become involved with The Ranch?
BS:  When I first graduated with my undergrad I found an ad for RLP in a magazine and sent my resume and audition tape to Phyllis who was the director at that time.  They offered me a job, but I had just met my now ex-wife and my life moved in a different direction.  Then about six years later one of my personal training clients had been to RLP and I decided to see if I could come as a guest instructor.  They still had my resume and said yes.
KB:  Has The Ranch changed you in how you apply wellness practices to your own life?
BS:  Over the years I have made many adjustments in my life, though I always tried to eat healthy and exercise, The Ranch has made it easy.  I have learned a lot from the amazing presenters that we bring as well, I feel it allows me to keep my life in balance.
KB:  What is your exercise routine and how do you stay in such great shape?
BS:  I do some form of exercise everyday though I try to mix it up.  I lift weights three times a week, do yoga a couple times and do 30 minutes of cardio everyday whether it be hiking, running, climbing stairs or with cardio equipment.  I walk a lot.
KB:  What are your other interests besides fitness?
BS:  I like comedy, hanging out with friends, going dancing and having a good glass of wine. I spend as much time with my daughter, Morgan, as possible.  We try to text every day and talk often.
KB: What advice could you give a guest so that they get the most out of their week?
BS:  Try to mix it up, try things you don't normally do, take time to relax, reflect, and meditate.  And see if you can take a vacation from your cell phone, emails and craziness of normal life.  If you can take a week and just focus on you, it is amazing what comes up.  It is a great place for profound realizations and moments.  Spend time in nature – we have a lot of wonderful places to explore.
KB:  Any last words of advice about staying in shape for our readers?
BS:  For me, staying in shape is more than just the physical. It means keeping your spirit, mind, and body on the same page.  We need to nourish our souls, not just our bodies.  You will meet amazing guests at The Ranch; inspiration is all around.