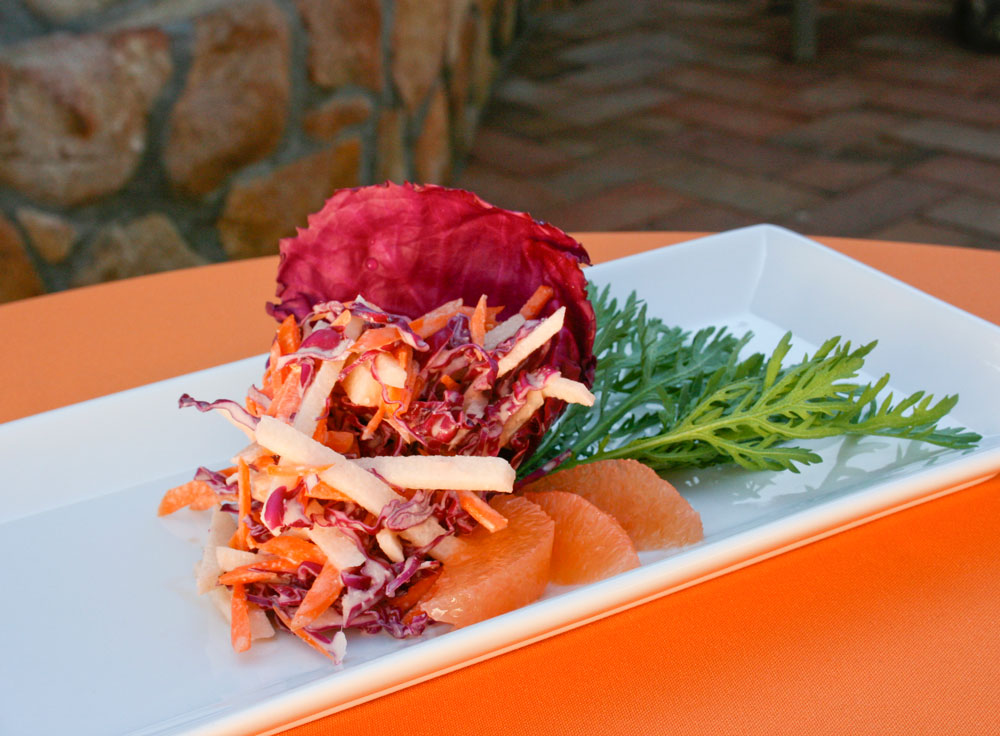 Beneath its rough skin, jicama is pearly white, mildly sweet, and addictively juicy and crunchy, especially with a squeeze of lime. Slice it into elegant julienne and mix it with red cabbage and shredded carrots from the garden. The last of winter's limes and grapefruit sparkle in the exotic citrus-based dressing. Use this recipe to inspire sea­sonal variations throughout the year—our Chef often substitutes cucumbers or zucchini in summer and small kohlrabis in fall. In class, she uses this recipe to teach knife technique and how to cut fine shreds (julienne.)
Serves 6
Ingredients:
½ small jicama
3 medium carrots, peeled
½ small head red cabbage, cored
¼ cup fresh lime juice (about 2 limes)
1 ½ tablespoons vegetable oil
2 teaspoons minced peeled fresh ginger
1 ½ tablespoons smooth peanut butter or other nut butter
¼ cup coconut milk
3 tablespoons water
Zest of ½ lemon (about 1 teaspoon)
½ teaspoon white pepper
2 pink grapefruits
6 lettuce or red cabbage leaves
6 sprigs fresh cilantro
Directions:
1. With a sharp knife, mandolin, or box grater, cut the jicama, carrots, and red cabbage into fine shreds and place in a 2-quart bowl.
2. In a blender, combine the lime juice, oil, ginger, peanut butter, coconut milk, water, lemon zest, and white pepper. Add the dressing to the shredded vegetables and toss to combine. Cover and chill.
3. Cut away all the peel and white pith from the grapefruit. Then cut alongside each of the membranes to release the grapefruit segments, catching as much of the juice as you can, and add it to the slaw.
4. Serve the slaw mounded on a lettuce leaf and surrounded by a few grapefruit segments. Top the salad with a cilantro sprig.
Variations
※ Substitute napa cabbage, bok choy, or any green that appeals to you, for jicama.
※ Chop ¼ cup unsalted roasted peanuts and mix into the salad.
※ Wash, stem, and chop the leaves from 6 sprigs of cilantro or 2 sprigs of basil and stir into the salad just before serving.
Enjoy!