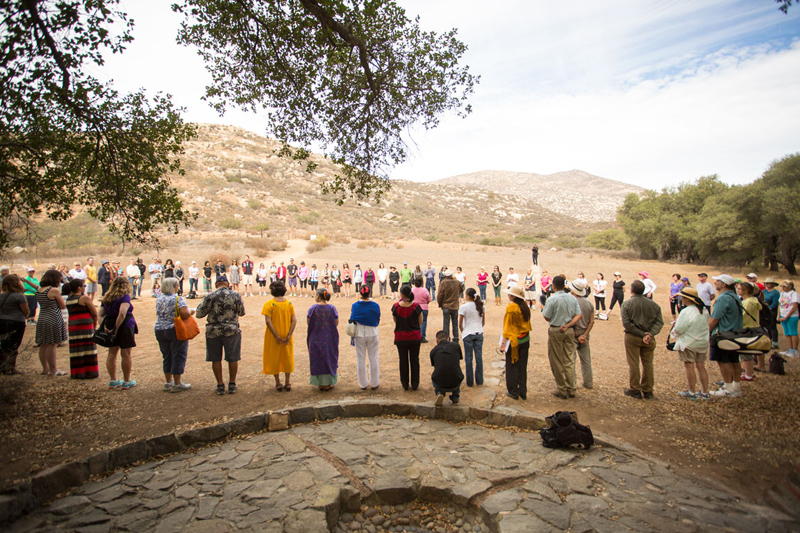 Before the festivities began at our recent Baja Culinary Day, something incredibly special took place at The Ranch.  Guests gathered near Kuchumaa Passage at the base of Mt. Kuchumaa for a Kumeyaay blessing.  The native Kumeyaay once lived on the land where The Ranch now stands.  They consider Mt. Kuchumaa an extremely sacred place.
It was a beautiful ceremony filled with scents of sage, dancing and chanting.  Local anthropologist, Michael Wilken-Robertson translated the blessings into English for Ranch guests. Michael specializes in organizing binational cultural exchange activities. He has worked with the native peoples of Baja California for many years and brings together cultural experts from Baja California's indigenous groups with US tribes, museums, universities, states and national parks.
Below Michael describes the Kumeyaay blessing that took place at the culinary event:
"The Kumeyaay blessing was led by Jon Meza, a distinguished Kumeyaay Indian singer who has lived on both sides of the border. The Kumeyaay are the local native group whose ancestral territory extends from around Escondido, California down to Santo Tomas, Baja California. Jon sang ancient songs of his people in honor of the sacred Mt. Kuchumaa accompanied by the rhythm of a gourd rattle. Norma Meza, a recognized Kumeyaay cultural authority from Ja'aa (Cottonwood Canyon) of the local Neji indigenous community not far from Tecate, also participated in the ceremony with prayers in her native language and the burning of sage as a blessing for all who gathered in a great circle at Kuuchumaa Passage. Guests enjoyed participating in joyful dances led by members of our local Kumeyaay community."
I feel honored to have witnessed something so close to the heart and origins of Tecate!