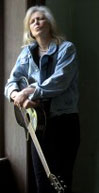 Singer-songwriter Marshall Chapman recently rocked the house at the Oak Tree Pavilion, thrilling Ranch guests with an energizing concert of her original songs and readings from her memoir. With over 13 albums, two books, a lifetime of touring and a handful of movie acting roles including the film Mississippi Grind with Ryan Reynolds, Chapman knows how to enthrall an audience. American Songwriter magazine said Marshall was, "One of the first women on a major label playing original, Southern-based, crackling rock and roll, she broke gender barriers most didn't realize existed."  Chapman recently spent a few weeks at The Ranch practicing Yoga, performing and taking time to recharge with a well-deserved break.
RLP: For a lady in her 60s, you perform with more vigor, singing and playing guitar, then some bands I've seen lately that are half your age. You have so much energy, and your performance the other night was inspiring and a lot of fun. You said you felt rusty but it didn't show. What's the secret?
MC: Attitude … and, in the case of the other night … body English! The Ranch is all about mind, body, and spirit, right? So that performance was definitely mind over matter, because I was not feeling well on top of having not played in over four months. Believe it or not, I have never missed a performance in over forty-five years of performing, so I wasn't about to let that one be my first!
RLP: It seems like a long road from your birthplace in South Carolina in the '50s to Rancho La Puerta today with a lot of dips and turns along the way.  How did you get here?  How'd you discover it? When did you first come?  Why do you keep coming back?
MC: It's a long road from my birthplace in South Carolina to ANYWHERE! [Laughs.] But especially to here.
I first heard of Rancho La Puerta from an author-friend, Kathi Kamen Goldmark who lived in the Bay Area. When my first book was published, Kathi said, "You've got to go to this fabulous place in Baja. It's this spa where they have authors. All you have to do is a little presentation and you and a friend get to stay a week for free." Then she gave me the name of the contact person at The Ranch and I wrote this great letter — I thought it was great anyway — to Victoria Larrea, The Ranch's guest presenter coordinator. When I didn't hear anything back after a year or so, I forgot about it. This was in 2003. Okay. Fast forward nine years. My husband Chris Fletcher and I took part in this fundraiser in Nashville called LOVE IS DEAF. It takes place every Valentine's Day night at a music club there. Twenty or so couples perform. Each couple gets up and sings one song. The only criteria … one has to be a known singer and the other can't sing a lick. Which means Amy Grant & Vince Gill are automatically disqualified because they can both sing, right? I couldn't believe Chris agreed to do this. So we get up in front of this packed audience and sing "Everyday," that great song by Buddy Holly. When Chris started singing the second verse in his tone-deaf voice, the place went berserk. That's how it works. The worse you sing, the bigger the applause. As fate would have it, someone filmed our performance and it ended up on YouTube. (See it here.) Victoria Larrea, happened to see this, and the next thing Chris and I know, we're invited to Rancho La Puerta for the week of Valentine's Day the following year, which was 2013. So I ended up performing a special Valentine's show at Oaktree. Chris got up and we sang "Everyday" together. He was so out of his element. The guests loved it. Everybody fell in love, and, the rest, as they say, is history.
RLP: How often do you come and how long have you been coming?
MC: I've been coming once or twice a year ever since. This week is my seventh—or fifth time. I like coming for two weeks at a time. I'd like to try coming for three. It's easier to settle in.
RLP: When we talked the other night it sounded like you came to The Ranch for a much-needed break. Sounds like it's been an intense couple of years. There's been a lot of talk of The Ranch and other spas being good places to grieve and "feel."  Has that been your experience?
MC: Yes, most definitely. My guest this time is a longtime friend from South Carolina. We've both been through a lot of trauma this past year. So we've been doing a lot of grieving. But there's been a lot of laughter, too. Being Southern girls, we know all about "laughter through tears."
RLP: What's your favorite part(s) of The Ranch? Do you do yoga? Or other fitness?  Get room service and hide in your room and write?
MC: I move around the Ranch like those semi-feral cats you see around here. I'll find a spot in the sun, and, next thing I know, a guest or employee happens by and we'll start talking. More than anything, I love the people at The Ranch. Whether it's a guest or an employee, this place seems to attract special people. People who care about their health and the health of this planet we all share. I've met a lot of interesting people here, and some I've kept up with over the years.
RLP: Must be a nice break from your acting career?  What should we look for you in soon?
MC: I've pretty much retired from playing music on the road. And … since Nature abhors a vacuum, right?… it's been crazy, but I've done five movies since I turned sixty-two—three in the past year. Those three will probably be released by the end of this year or some time in 2017. In Lovesong, I play the mother of the groom. I wear Prada clothes … the works. Rosanna Arquette plays the mother of the bride and we became good friends during filming. In Where the Fast Lane Ends, I play "Aunt Kate," the pain-in-the-ass sister of Big Jim [played by singer/actor Mac Davis]. I actually get to slap this guy during a scene where we're all playing paint-ball! In the most recent one, Novitiate, I play an elderly nun who loses her mind. Making movies is like being in the circus, only the food is better. You might be eating in a tent in the pouring rain or freezing cold, but the food's always great.
RLP: Did your hair really catch fire the night you met Billy Joe Shaver?  That actually seems like an appropriate response.  Seems things are always moving sideways around him.
MC: Yes, it did. And looking back on it (and considering the times), it was indeed an appropriate response!
RLP: How do you Savor The Ranch? How do you take The Ranch home?
MC: Oh, The Ranch stays with me in a lot of little ways. You know how they cut the ends off limes [in the kitchen] because it makes the juice so much easier to squeeze out? Well, ever since I noticed that, I've been cutting my limes the same way at home.
The Ranch stays with you. I carry it home in my heart.
RLP: Thank you!!
MC: De nada.