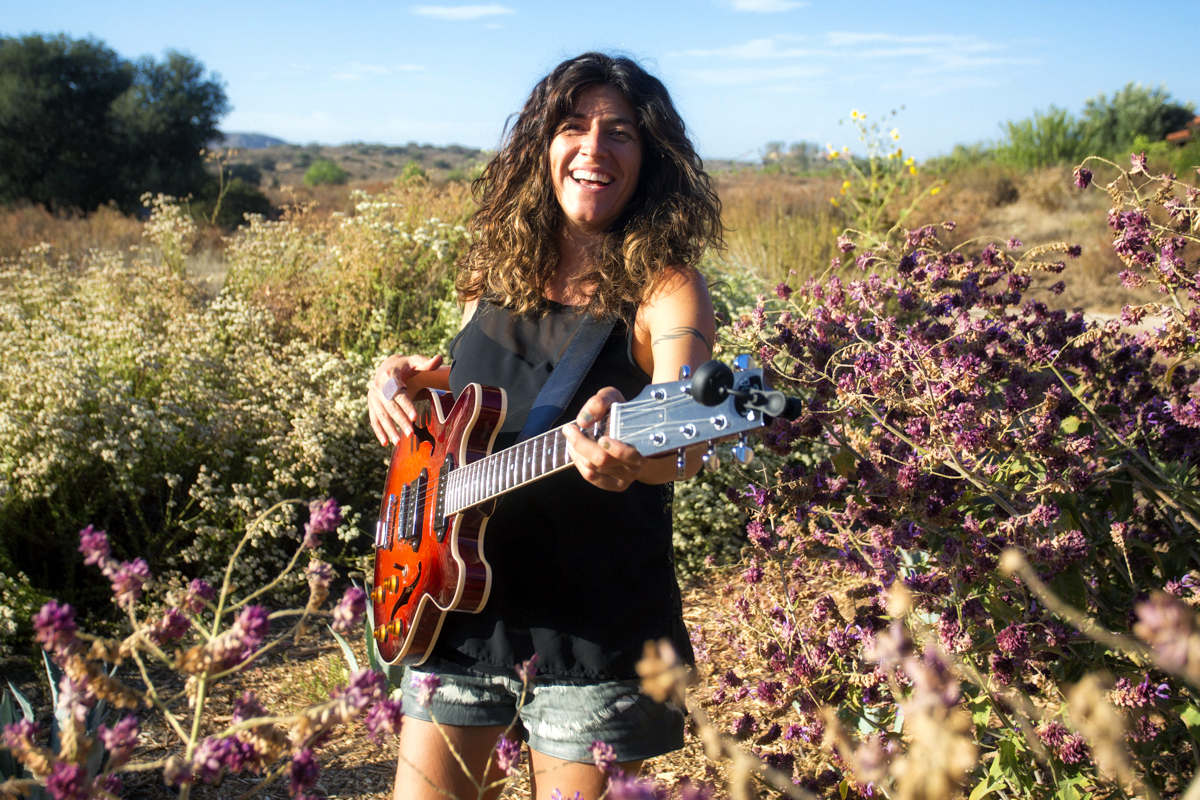 San Diego musician and singer Steph Johnson's earthy voice has been compared to jazz icon Cassandra Wilson, and her musical style to Marvin Gaye. Her fingers slide and pluck their way around on her hollow-body guitar as you float on the sea of her voice. Then she invites you to her party as she smiles and turns on her disarming charm. She recently played at The Ranch's Bazaar Del Sol and will be back August 20 and other times through the year.
Where did you grow up?
I grew up in San Diego and also on a chicken farm in Arkansas, in an Ozark town of 314 people. I was in Arkansas at my dad's for summers plus one year of schooling. I also grew up in the Quad Cities at my grandparents' home in Davenport, Iowa. But I have been in San Diego forever.
When did you start singing and performing?
I sang as a kid in school choirs. My mother sang and played music. Singing was around the house—everybody was singing—but it wasn't until I was 21 and feeling lost, working a lot and not really happy, that I found my dad's old acoustic Guild guitar from the '70s in my grandma's garage.  I heard somebody play some jazzy chords, like a minor 9 or something at a guitar shop, and said, "Show me how to play THAT." I went home and played that chord progression for eight hours.  I had never gotten lost in something like that before. I spent the whole day trying to rhythmically connect my singing to my playing. I realized that I really wanted it. It felt natural to me. Then I began the whole journey of [playing at] open mics and meeting/networking with musicians.
Who are your influences?
I grew up listening to Ray Charles and Aretha Franklin…a lot of soul music. I love Wes Montgomery for guitar, George Benson, Emily Remler, Herbie Hancock, and Jill Scott too. Toward the end of high school I heard one of her albums and she was singing A Long Walk. It was the first time I heard a woman singing in my register. I could sing within my range.
When did you start singing professionally?
Well, I saw ads for singing lessons with two ladies. The first lady was really expensive. She critiqued me and told me what was wrong with my voice. I didn't have much confidence in my voice at the time. So I took that and along with all the other negative voices I heard and I thought I shouldn't be singing.  But the other teacher…she called me back and I sang a Jill Scott song for her.  The whole time I was singing she had her head down and wasn't looking at me. In my mind, I thought, "I'm never going to sing. This is it, the final "You're no good." So I finished and she said, "I have one question for you. Why aren't you singing professionally right now?"  No one had ever told me that. I got a gig about a month and a half later and started to work and play out.  It took somebody I connected with to believe in me, to say "you sound good."  Singing is really all about confidence.
How scary was it to leave a full-time job as a banker for a lifestyle as a musician?
I worked in banking from the time I was 16 until I was about 28 years old in 2008 when the market dropped.  All my coworkers had been putting all their money in their 401k's and those dwindled.  Clients that had millions of dollars in real estate lost their money.  It was a crazy time in the financial world. I looked around at people who lost some of their worth and stability yet continued on, being who they wanted to be in life. I saw it as an opportunity to be ME.  I thought, "If I'm going to die, it's not going to be here—it will be out playing my guitar." So I quit and had all these plans and things lined up but all the plans fell through. I had maybe a couple hundred bucks to my name and was completely overwhelmed.  I remember lying in bed, buried in my blankets for many days in a row. To go from having an entity that you constantly report to and "clock in" with, to only checking in with yourself, was totally overwhelming.  It took me a while to figure out how to get started.
How would describe your music for people who haven't heard it? 
A recent review compared my new album, which is available August 4, to Marvin Gaye. It's full of songs about life, gratitude and change. I have witnessed so much suffering in my life. These songs are like my personal anthems! These songs reflect the way I choose joy, regardless.
When you're alone in your car or at home what do you sing?
When I'm at home, I'm usually playing my guitar, practicing a scale or a new song.  Out of that practice, new ideas come forward and I start singing what's on my mind.
What do you do outside music that feeds your life and your creativity?
I actively support human rights and fight for those without a voice. I presented a ballot proposal to City Council recently to bring to light the increase in homelessness in our city. With the success and support I received from my community, I quickly created the San Diego Artists for Change with my friend, fellow musician and artist Nina Leilani. We are starting an adult and children's choir comprised of individuals experiencing homelessness and/or who are supporters of the cause. Outside that, I am an avid ocean swimmer, bike rider and gardener who LOVES to cook and eat healthy, delicious meals. 
What's your next project? 
My new album, Music Is Art, comes out August 4th and was produced by Kamau Kenyatta.  He was an associate producer on Gregory Porter's Grammy-Award-winning album Liquid Spirit. Thanks to him and this upshift in attention, my career is moving to a new level.  You'll be able to get the new album on my site, stephjohnsonband.com, iTunes and in stores very soon!
What's it like performing at The Ranch?
There's nothing like The Ranch.  I've been to a lot of special places—sacred monasteries, places that you go to enrich your life spiritually, holistically, health-wise—but at The Ranch it's easy to be grounded and centered. You walk the path from place to place and it's very natural, very earthy. I can be myself!
Steph Johnson west-coast tour starts in the Fall. She'll be back at The Ranch August 22th.