Brave New Ranch: More About The Huxley Connection
Many of you who follow our history blog are aware that author Aldous Huxley was a frequent guest at The Ranch in the early 1960s Because of his fame as the author of the dystopian novel "Brave New World," as well as his fascination with the "human potential" movement, we have often dwelled on Mr. Huxley alone.
What about his wife Laura?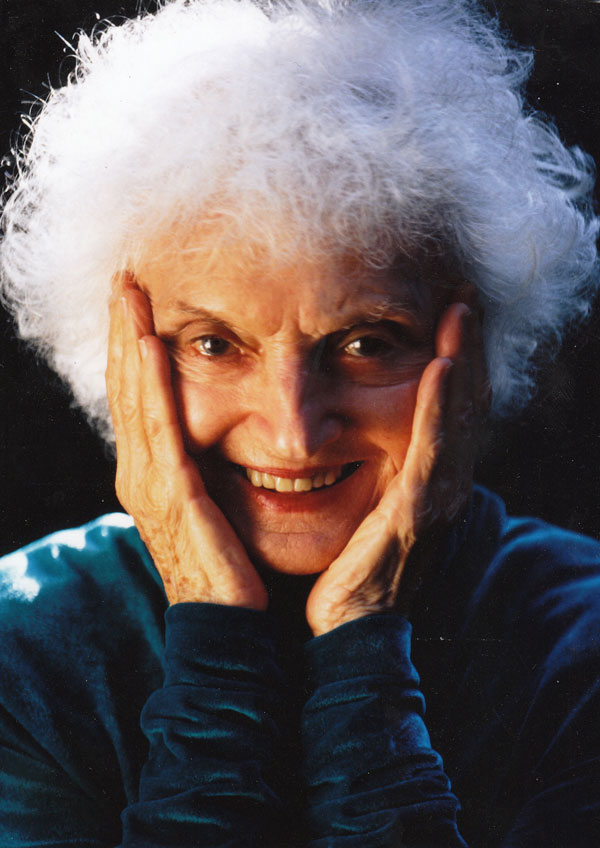 Laura Huxley  (1911-2007) was a famous author as well, and was certainly well-known and loved at Rancho La Puerta in the early '60s, where she did some writing for her book, "You Are Not the Target: A Practical Manual of How to Cope With a World of Bewildering Change."
"Aldous and Laura were at Rancho La Puerta off and on during the entire year of 1962 while Laura was working on her book," recalls Deborah Szekely.
"It was published in 1963. While writing it, she worked with the guests as a therapist and perfected some of her anger- and conflict-resolution techniques.
"Laura knew about us, so she was really the decision maker about coming to The Ranch. She wanted to be at something like a retreat center while working on her book. Aldous's first wife had passed away, and she had told him, while ill, that he should consider marrying Laura Archera, who had been helpful to them both. Laura had recently arrived from Italy and was working in the film industry—which had also brought Aldous to Hollywood. Laura had, shall I say, an esoteric approach to life. Theirs was a good marriage."
Where did they stay at The Ranch?
"In those days we gave him the best of the best," says Deborah, "but our simplest casita today is far better than the best in those days. There's no comparison: it was 1962! Aldous was not fussy; not at all. They stayed in a casita on the edge of all guest housing, and it had lots of privacy and quiet. He didn't care about his surroundings, in part because he was almost blind. He was easy to work with—what I would call a real 'sweetie pie.' His casita is no longer a guest accommodation; like many buildings at the Ranch from the early days it was remodeled many times and is now a part of a staff dining room well away from today's guest areas."
Deborah says that Professor Edmond Szekely and Aldous Huxley had a strong connection. "Aldous and Edmond respected each other's writings…they had much in common and had great conversations. Both were philosophers who looked at the big picture and the future of mankind—and that future concerned them both, greatly."
Deborah remained Mrs. Huxley's friend for many years after the death of Aldous Huxley, and still has an unpublished manuscript Mrs. Huxley gave her, in which she exhorts readers to "Die Healthy." In it Mrs. Huxley exhibits a keen interest in every individual's "human potential" as well as a wry and challenging sense of humor.
Recently, while thumbing through the manuscript, we came across this story that exemplifies Laura Huxley's amazing and magnetic personality as well as her spirited approach to life. Here she is exhorting people to exercise:
"…the moment we move, everything changes. I have known this since, a long time ago, as a violinist, I would pace up and down the room while practicing. I wouldn't keep still. Later, when I wrote 'You Are Not The Target,' the one recipe out of 33 that got the most responses was 'Dance Naked With Music.' I received a great number of letters from people telling me how movement helped them get out of their mental and emotional straightjackets, and feel better. Sometimes a little movement goes a long way, I realized, and may be more effective than hours and hours of psychotherapy lying on a couch."
To learn more about Laura Huxley, visit laurahuxley.com. The site also supports Mrs. Huxley's legacy, COUI (Children: Our Ultimate Investment); a non-profit "committed to helping at-risk teens become productive citizens of society." To purchase Laura Huxley's books, we suggest you go to Amazon via the Laura Huxley website—if you do so, a percentage of each book's sale goes to COUI. All of the proceeds from "Let's Die Healthy," which is only on sale at the Huxley site, go to COUI.