Origins of the Ranch, Part XXXIV
How the Szekelys found Tecate…and a theory on insects that lacked passports
By Peter Jensen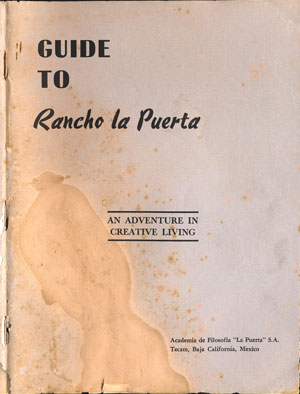 We turn again to an original Rancho La Puerta brochure from 1955: a time of great growth in the number of guests who were discovering "The Ranch" and its many new classes and programs. Few people outside of northern Baja California, Mexico, had heard of the town of Tecate, and most were unsure of its location. The location's "undeveloped" qualities, rather than being thought backward, were highly desirable and respected by health-seekers. Professor Edmond Bordeaux Szekely set the record clear on why he and Deborah chose this particular place…this valley. Here is the brochure's original description, possibly written by "The Prof" himself:
WHY TECATE?
The first precondition for a spa is climate, one that is warm in winter; yet not hot in summer. In 1939, weather maps and charts secured by Dr. Szekely from the United States and Mexican governments all showed that the climate in the inland areas of San Diego County and the parallel areas in Baja California would be among the best in the world.
The yearly average is 341 sunny days. The average rainfall, in recent years, has been about 7 inches. One can sunbathe almost daily, year round. For the easterner, one of the joys of La Puerta is basking in the sun while reading of the blizzards back home. Tecate is located high enough to escape fog and humidity, yet close enough to the ocean to be swept by cool breezes during the summer. Smog is entirely unknown.
A further advantage in selecting Rancho La Puerta as the site of the new health spa was the virgin soil of this lush valley in a semi-desert area. Until the early part of the present century, Baja California was almost completely uninhabited. The valleys sheltered towering oaks and wild cattle that trickled across the border from the "Gringo" herds. The five farms that supply Rancho La Puerta are all nestled in such valleys.
The virgin ground makes organic gardening a simple joy, the vegetables and grains grown on this rich soil are delectable dishes in themselves. No wonder guests at the Rancho are delighted with their meals! Commercial sprays and fertilizers are unknown not only on our farms, but on the neighboring ones as well. In this newly developed land, methods of agriculture are the same as those used for centuries in the back countries of the world; the horse is still a most important member of the family.
Whether it is because of these methods, is disputed, but the insect population confines itself principally to the civilized side of the border.