For all you Ranch "regulars"—take a look back via this rare 1974 map
By Peter Jensen

Think you know The Ranch? People who have visited us more than once love to recall the "good old days"—even if those days were just last year. This isn't a negative exercise of "you should have been here back when…" but more of a "watch us grow" commentary amongst guests. Everyone who returns again and again loves to note the changes, especially to the landscape and other elements they love most.
Why? We think it's because The Ranch is ever-changing, ever-improving—and that's the heart and soul of its motto "Siempre Mejor" (Always Better!). Co-Founder Deborah Szekely believed in it, and so did her late son Alex, and so, today, does her daughter Sarah Livia, the Ranch's president. They have all made massive improvements to the property's buildings and just as significantly, the grounds (Sarah Livia's passion and forté).
In this author's case, his personal history extends back to 1982: a shocking passage of time that is closing in on 35 years. I remember the "old" dining room (#14) that preceded today's beautiful structure at a different location, which was once the guest parking lot (#26). Many of us ate outdoors under an arbor. The peanut grinder (to make peanut butter) was over in the northeast corner, and it became my best friend. My gosh, that peanut butter wasgood when smeared onto toasted whole-wheat bread, sprinkled with salt and a fresh grind of black pepper!
Other oddities, none of which exist today and were gone by the early 1980s include: two "Vapor Bath" buildings (#11 & #12); an Outdoor Fireplace (#22); a Putting Green (#25), an outdoor Gym Arena (#27); a Children's Playground (#29); a Driving Range (#41); and the legendary Sunbathing Bins (#33) located in the far southwest and northwest corners of the property.
The Sunbins were designed for very private sunbathing, and although this photograph shows one being enjoyed as a kind of playhouse by a family, they were really used by some guests for sunbathing sans suits in a country where modesty was (still is) very much the norm. The sides sloped outward, and the platform was located well above the ground. Entry was gained through a stair and "trapdoor" in one sloping side.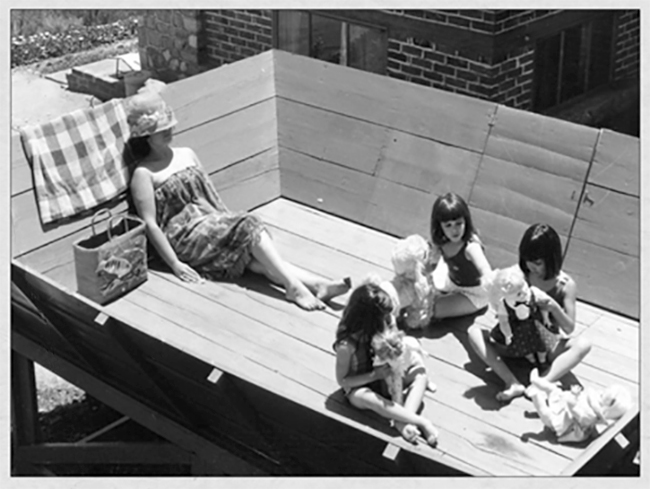 All Sunbins are gone today, but you can still see the remnants of a couple units that have been repurposed into storage cabañas for the exercise pool area.
Even our logo was quite different: designed by a noted San Diego printmaker/jewelry designer/consummate craftsman Barney Reid, it featured a whimsical quail with a partridge-like tail singing its heart out. Reid, a giant in San Diego's Modernist era, also did much of the design work for the Golden Door.
Yes, those were the days.
You can see our current map here. Or learn more about our Grounds here.